Loro Piana Interiors has unveiled its new collection at the Paris Déco Off—the benchmark event for the debut of new interior design collections—in January. The natural properties of the fibers, which Loro Piana Interiors has painstakingly explored and brought to the surface with meticulous processing as the consequence of a long tradition and innovation in textiles, served as the beginning point for the study of fabrics and accessories.
The collection's wallcoverings, textiles, throws, and accessories are all directly influenced by the works of nature. While wallcoverings made of wool channel the enveloping warmth of the fiber, those made of raffia and jute provide textural interest with their appealingly uneven consistency. Japanese igusa rush enhances interiors with qualities that have been valued since antiquity. Extremely pure materials like silk, mohair, and cashmere intensify colors, guarantee softness, and dance with light while delighting in pattern and weave innovation. On the other hand, linen's adaptability has been celebrated, highlighting its lightness in unexpectedly smooth surfaces.
All the undyed fabrics, which include colors and designs made utilizing combinations of fibers in their natural tones, also reflect the light of nature. The natural colors used by Cashmere Raw and Pecora Nera® range from the palest beige to buckwheat, dove grey, and brown. These textiles are made without the use of dyes from carefully chosen fiber spun from the wool of dark New Zealand merino sheep and Cashmere goats. Similar to the miracles created by nature, each blend is special and one-of-a-kind.
"Loro Piana Interiors has always stood out for its expertise with natural fibres," explains Francesco Pergamo, Director of Loro Piana Interiors. "Our time-honoured textile know-how, advanced research and development activities and fully verticalized production process enable us to turn extraordinary raw materials into even more exceptional fabrics and accessories. In this case we wanted to develop an especially original interpretation of the chosen fibres, and the result is a very polished collection with a modern, urban spirit."
The 2023 collection includes a wide range of solid-color and patterned velvets in addition to rich and vibrantly colored fabrics that frequently add silk's characteristic sheen. Diamonds and stripes adorn both fabrics and wallcoverings in the patterns, which have a geometric theme and are inspired by fashion trends from the middle of the 20th century. The Japanese igusa rush is similarly characterized by geometry and symmetry.
Pergamo continues:
"Completing the collection is a selection of extremely exclusive fabrics that are pure Loro Piana. Cashmere Raw and Pecora Nera® double showcase new patterns, celebrating the beauty of nature in their exquisite, unique shades. They are presented alongside other fabrics in our collection – vicuña, The Lotus Flower® and Cashmere Ice – to create a range of very precious, entirely natural materials for different purposes: upholstery, décor, accessories and curtains for clients who want to welcome the purity of nature into their interiors, with an elegant, refined aesthetic."
In addition to its store and showroom at 7, Rue Furstemberg, Loro Piana Interiors will also host visitors by appointment only in a temporary location at Rue des Saints Pères.
The Loro Piana Interiors Collection
Gleaming velvet
The collection featutres velvets of the finest quality in rich, brilliant colors. Grand Salon, a cashmere and silk velvet made from fine yarns that combines the subtle luminosity of silk with the warmth and softness of cashmere, is the centerpiece of the collection.
Ballroom, a plain mohair velvet with a color range of twenty colours, is a new addition to this line. It has a lovely tactile quality, is crease-resistant, and is quite adaptable. Another brand-new silk velvet, Salon is purposefully full-bodied to make it more robust. Cotton velvets called Parlour and Gallery include raised stripes and geometric patterns in vibrant colors, experimenting with textures and lighting effects. Jacquard velvet in the shape of Library has a geometric design.
The versatility of cotton and linen
Cotton and linen, which are durable, cool, and incredibly soft, are also renowned for their unmatched adaptability. They are shown in their most exquisite attire in the new collection. Palace & Estate is a full-bodied, durable fabric with stripes of various widths on a compact diagonal-weave base. The impression of contrasting stitching that highlights the stripes is added using silk.
Villa, created on a jacquard loom with striped designs in various colors and weaves, combines cotton and linen.
Two very elegant satin-weave fabrics—Pavilion, which comes in a single color, and Townhouse, which has a subtle tone-on-tone stripe—use pure linen.
The original, incredibly adaptable tweed Lodge combines linen with silk and viscose, while Conservatory is a pure cotton original light-weight bouclé.
Resilient raffia, jute and wool
The new wallcoverings combine the insulating and damp-resistant qualities of jute, raffia, and wool with their excellent durability to create incredibly elegant design solutions. The jute and raffia's appealingly asymmetrical textures give the geometric designs more individuality and textural interest. In four separate wallcoverings called Astratto, Astratto Stripe, Moirée, and Diamond, sisal raffia and cotton are combined to create a solid color, striped design, moiré effect print, and pattern of tiny diamonds. Each of these items is loom-woven before being attached to a unique support and installed on the wall. The numerous designs can be mixed and matched with the solid colors to present a sleek, urban style.
Additionally, Loro Piana Interiors created a unique jute and cotton blend that is displayed as a wallcovering with a jacquard weaving. This fabric employs a printed jute yarn to produce purposefully asymmetrical color effects.
The first fil posé fabric in wool with a hint of linen and viscose, either in mélange colours (Chiné) or with brush-stroke stripes (Degradé), both printed, is featured in this collection. This one-of-a-kind wallcovering boasts all the remarkable qualities of wool, including temperature regulation, damp-proofing, and heat and flame resistance. The haptic and enticing handfeel is pleasing.
Sinuoso, a fil posé in technical fiber and linen printed with an asymmetrical diamond pattern, completes the line.
The scent of Igusa
Igusa is a brand-new addition to the wallcoverings lineup, a one-of-a-kind item that honors the elegance and beauty of Japanese traditions. Tatamis, woven mats used as floor covering in Japan, are made from igusa, a rush. Igusa is a superb natural product with a remarkable history, starting with the gathering and drying of the rushes and ending with the weaving on a handloom to produce panels slightly over 80 cm broad and flawlessly completed on both sides.
Because of its spongy structure of overlapping hexagonal cells, it collects moisture and releases it in a controlled manner, maintaining humidity at a consistent level. Additionally, this structure serves as an air filter, cleaning the air and minimizing odors by absorbing the chemical compounds responsible for them. Igusa has the traditional scent of a Japanese home: it is a comforting, enveloping, grassy aroma with undertones of vanilla and black tea that gives the impression that you are in the middle of nature.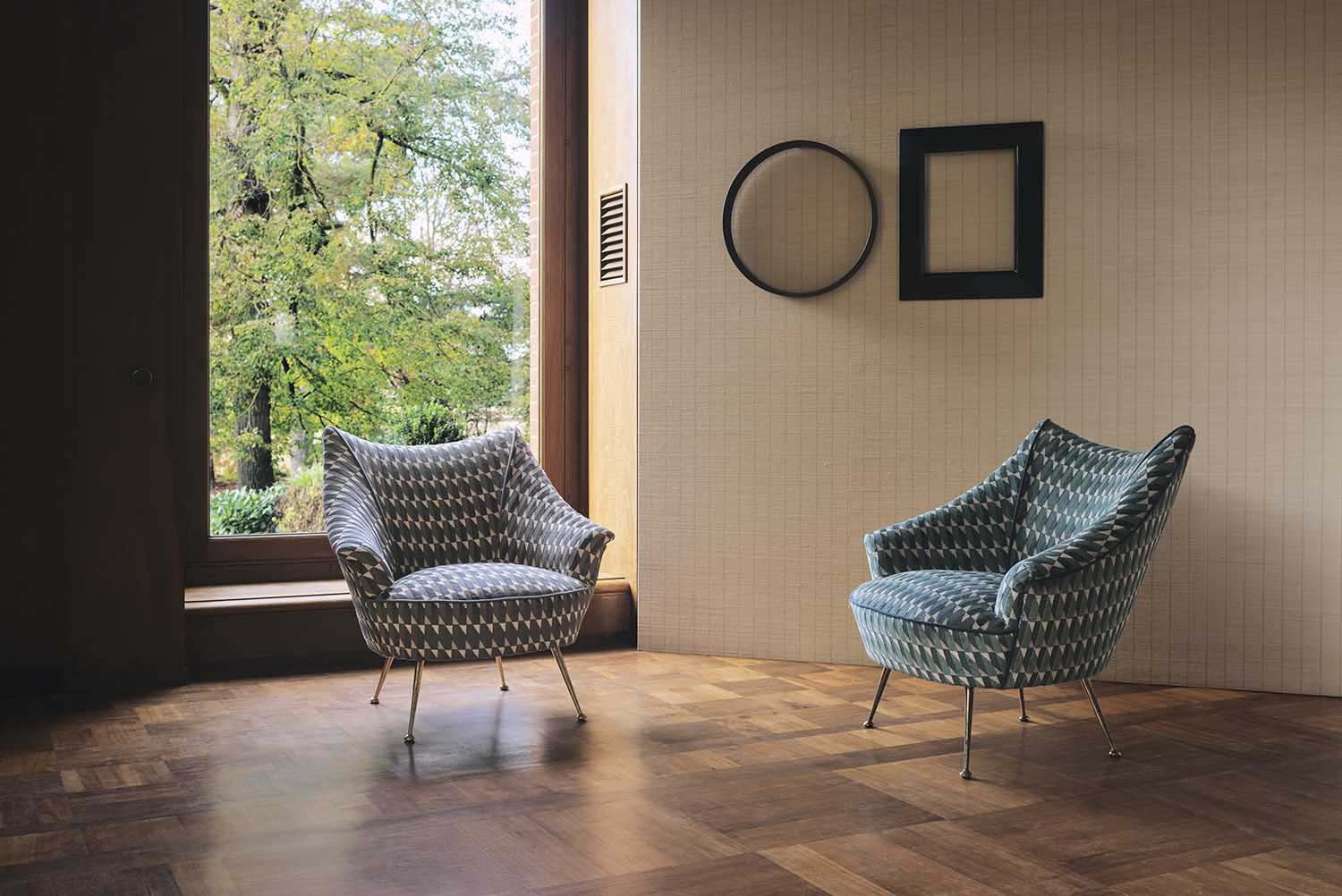 The uniqueness of Cashmere Raw and Pecora Nera®
The Capra Hircus goat's underfur comes in three colors: white, brown, and grey. These various colors are expertly blended to create a totally unique, one-of-a-kind color impact in the Cashmere Raw textiles. This cashmere fiber's utmost purity highlights its exquisite softness. There are two variations of cashmere raw: a lighter weight fabric for adorning and accessories and a fuller weight fabric for upholstery on both large and small pieces of furniture.
The wool of dark-colored merino sheep that were specifically chosen by a committed New Zealand breeder provides Pecora Nera® with its range of colors, from beige to chocolate brown. The light-colored sheep that are now common are a result of white wool being specifically chosen and bred for because it is more adaptable and simple to dye than the dark color that is truly the natural tone of sheep's wool. Pecora Nera® thus looks to the past, but with a very future-focused slant: these are entirely natural, sustainable fabrics that take less water and less chemicals to produce because they aren't even remotely coloured. The entire fiber is treated, spun, and woven into luxurious double textiles in Italy.
The softness of cashmere and wool
Wool and cashmere are both inherently soft materials. We are in the presence of a miniature work of textile art when this beautiful material is created into unique textures and strikingly unusual weaves.
Like the Atacama blanket and complementing cushions, which have a herringbone motif and are framed by a pattern of contrasting dashes shade in a jacquard-weave wool and cashmere fabric with a cozy knit-like appearance. The blanket stitch is used to hand-finish the edges.
The cashmere yarn used to knit the most recognizable Loro Piana garments is used to make the Turkana throw. The finished throw has stripes that cross at the base to create a big check and is incredibly soft and light. The Turkana is also offered in Cashmere Raw's natural tones.
And the cozy blanket Diamir, whose softness is enhanced by a blend of the purest cashmere, silk, and cashmere bouclé yarn. Additionally, the intricacies provide real elegance while the weaving draws on advanced knowledge. Using a six-ply twisted yarn especially created to accommodate the fabric's softness and mobility, the blanket is finished by hand with saddle stitch.
Discover the complete colection at Loro Piana Interiors