Land Morphology has recently completed works the expansion to the Leach Botanical Garden in Portland, Oregon. The first phase of Leach Botanical Garden's twenty-year Master Plan has now been completed. The proposal comprises a number of new, dynamic gardens as well as the foundation for more garden growth, a potential new administrative structure, and a lecture hall/common area. The 16-acre garden is situated in southeast Portland.
"The Master plan captures ecological and cultural values that will be an asset to Southeast Portland. It will educate visitors while serving as a regional attraction for Portland residents—not to mention the\ benefits to local tourism."
notes Richard Hartlage, Land Morphology founder and Principal in charge of the project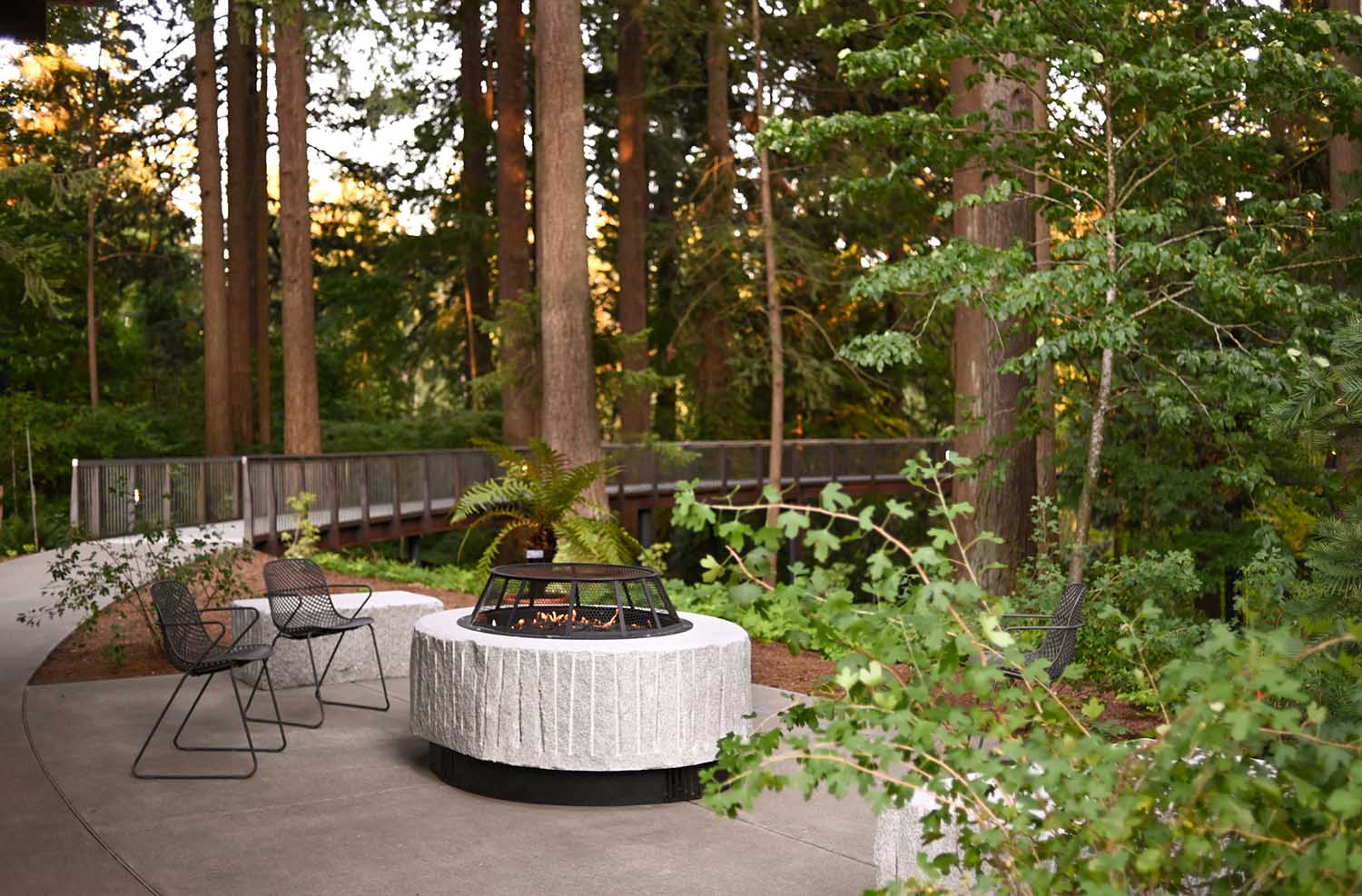 The goal of phase one was to introduce and inform a larger audience about the garden. Starting at grade from the new pavilion and fireplace terrace is the highlight, an elevated tree path. It rises more than 35 feet above the ground at its highest point. The objective of the encounter is to understand and experience the Northwest Native forest ecology. The Douglas fir and western cedar woodland that currently exists is traversed by the ovoid-shaped tree path. Bar grate decking enhances the feeling of being in the tree canopy while allowing guests to see through to the forest bottom. The restoration also improved the site's organization with concrete and compacted gravel pedestrian walkways. The historic lower garden is now connected to the upper site by a grand stairway.
Ecologically conscious, the Pollinator Meadow is a multi-seasonal floral display. This three-quarter acre planting contains more than 200 distinct plant species. The visitor is taken on a tour of the lush vegetation along winding trails in the meadow, which acts as the pavilion's foreground.
"It is exciting after all of the collaboration, hard work, visioning, and hurdles to see implementation of Phase 1 development for the Upper Garden. Perfectly aligned with the new development happening in Southeast Portland, Leach Garden is an exciting opportunity to celebrate the new, reconnect with the past, and provide momentum for the future."
notes Lindsey Heller, Land Morphology's Design Principal and Project Manager
Land Morphology fostered communication between the consultant team, the Leach Garden Friends, a 14-person Community Advisory Committee, and the City of Portland during the length of the project.
Land Morphology Design Team
Richard Hartlage, Principal in charge
Lindsey Heller, Project Manager
Sandy Fischer, Lead Planner
Garrett Devier, Project Landscape Architect
Brandon Burlingame, Landscape Designer
Project team (Phase One: Upper Garden Development-Permitting and Construction Documents)
Land Morphology (prime consultant and landscape architecture)
Olson Kundig (architecture)
Reyes Engineering (electrical engineering)
Anderson Krygier, Inc. (landscape architecture – QA/QC and construction administration)
Janet Turner Engineering, LLC (civil engineering)
Lund Opsahl LLC (structural Engineering)
Morgan Holen and Associates LLC (arborist)
Mitali and Associates (cost estimating)
Northwest Geotech, Inc. (geotechnical engineering)
Project team (Strategic Master Planning, Design Development and Entitlement Phases)
Land Morphology (prime consultant and landscape architecture)
Capital Engineering & Consulting, LLC (civil engineering)
Lancaster Engineering (transportation engineering)
Greenworks, P.C. (stormwater and entitlement)
Hodaie Engineering (mechanical engineering)
Suenn Ho Design (wayfinding)
Winterbrook Planning (permitting)
Find more projects by Land Morphology: www.landmorphology.com