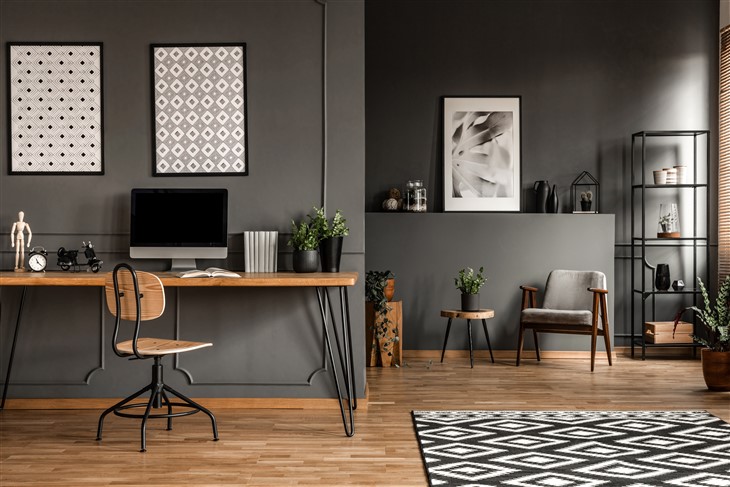 There are many advantages to working from home, but there are also disadvantages. If working from home is your work option at this time and you have decided to create your own workspace, you need to think carefully about where and how you will do it. Otherwise, you could make the mistake of creating a workspace you don't like, and it won't help you work better. Many people think that those who work from home are privileged. That they are the owners of their time at all times and that they have the option to work or not work as they please, that they do not have a schedule and that, in the middle of the working day, they can leave all business obligations and devote themselves to household activities, and that even in this way they gain even more free time. On this occasion, we will ignore the fact that these opinions are wrong and that the reality is much different, and we will concentrate on the desire of everyone who works from home to create their own work corner at home. Right at the beginning, let us point out that it is not just about setting up a table, chair and computer. That is the basis of the work space, but if you want a pleasant working environment, you have to keep something else in mind. First, the space must be pleasant to work in and at the same time practical. Otherwise, the only thing you'll get is that you'll be sick of the house and can't wait to get out of there. ArchiScene team brings you the most important rules to keep in mind when furnishing a space for working from home, as well as a few design ideas that will help you in this.
Classic
Classic is another term for eternal and timeless. The best part about classic style desks is that you can get very creative even with what you probably already have in your office. The timeless table is the perfect anchor for the latest and greatest technologies. Keep his desktop clean and uncluttered with separate drawers for papers and folders. You can emphasize the empty space that is created on this occasion with flowers in a pot and some nice storage for various paperwork or a pastel box for pencils, or perhaps some custom products that will upgrade the setting with something personal of yours.
Minimalist
You can easily guess that everything you've read so far about what you should put on front tables and how to design them, is the complete opposite approach when it comes to minimalist tables. Forget the need to decorate. Minimalist tables strive for simplicity. All you need to create a minimalist desk is just your computer and a desk lamp. After all, you'll want to maintain this style by providing plenty of storage space elsewhere in your room, be it drawers, baskets, or even an old wardrobe, but you'll soon notice that the lack of things in your office gives the space a strong zen effect and an ability to concentrate on your business.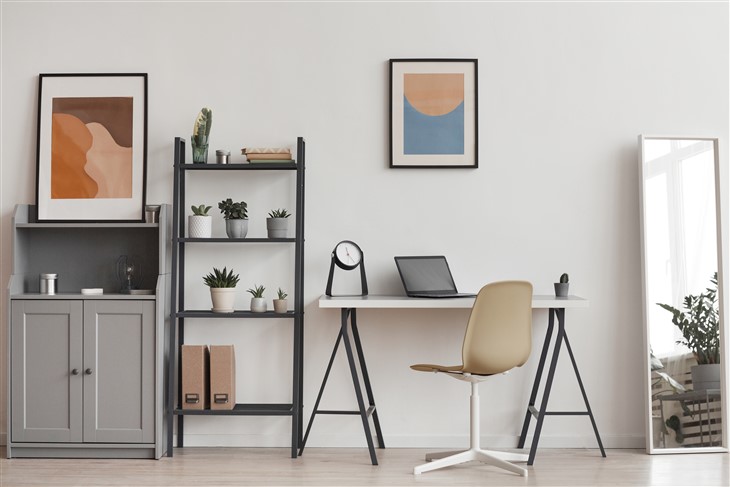 Eclectic
The eclectic space is probably a favorite for most people. A good eclectic desk will incorporate patterns and plants into your office and perfectly balance white and wood tones. These tables are also for all those who find inspiration for their design on the Internet and printed motivational materials. Print out a few topics you like and hang them above your workspace to make it as easy as possible to get through the morning madness at work. One more thing, while an eclectic style is the best option for mixing and matching, make sure your storage space is diverse yet cohesive. Instead of buying a set of fitted wicker baskets, opt for a wire, designer box and a brightly painted ring plate. Don't forget your metallic ceramic animal, because every eclectic table has one.
Modern
The modern look of the table is somewhat difficult to achieve, but one very important aspect of the connection is the fact that they are completely clean. Very relieved and free of all excess. Most of the office spaces opt for this kind of look, so why wouldn't you make your home office just like it. Keep your folders, pens in drawers, your staples off your desk, and your sticky notes neat and tidy. Buy table accessories that are mostly black and white, with maybe a pop of color here and there. So when you're looking for items to decorate your modern desk, opt for pieces that are simple and linear.
Manly
Designers consider the surfaces of men's tables need to be very comfortable. They contain a lot of deep dark shades of natural patina wood and gloomy colors. It certainly helps to have a few leather calendars as additional notes to the overall design. Choose lighter wood colors that have metallic bronze or copper tones, pair them with a striking, framed, inspirational quote and you have a table that is every man's dream.
Final Thoughts
Everything you need to store, classify, consult from time to time, put in a predefined place for it. And once you decide where what is, don't change the place of the material without immediate need. That way, you'll always know where a certain thing is, and you won't waste time or nerves looking for it. If you don't have room for a chest of drawers or shelves next to the table, consider hanging shelves that can fit a lot and can also beautify your workspace with their appearance. At workplaces in the house, order takes on a completely different dimension, we dare say that it becomes even more important than in a home where no work is done. If you're lucky enough to have a spare room to put your own office in, great! But if your working corner is in the living room or in the bedroom, the question of order becomes more relevant. In these cases, you need to find a solution to leave a clean and tidy space when you are done working. Otherwise, the feeling of disorder will be transferred to the entire stay.