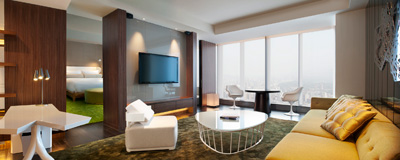 Project: W Taipei
Location: Taipei, Taiwan
Architects: G.A. Design International from London
Design Concept: Nature Electrified; Fuses The Rural Surroundings of Taipei with the Vibrant, High Voltage of the City
Website: www.starwoodhotels.com
Couple of months ago we shared the first preview of W Hotel's Taipei address, it is time to feature a look inside the impeccably designed guestrooms in the newly opened hotel.
Fore more images and info continue after the jump:

Taipei's 405 guestrooms and suites, the largest of Taipei's luxury hotels, have been designed as private sanctuaries inspired by nature with spectacular urban views. Warm-colored stones, burnished wood and lush electrified floral carpeting contrast with modern, subtle lighting inspired by Chinese lantern boxes. The guestrooms feature an interior balcony/play pad, a great place to relax in the serenity of the room amidst cosmopolitan Taipei, the signature ultra-comfortable W Bed with its 350-thread count linens and a sleek, modern white work station with a leather ergonomic chair. An oversized vacation-style islander tub takes command in the bathroom, set against red or chartreuse-colored subway-inspired wall tile and a wooden partition. Of course, each room has been designed with the international jet-setter in mind, with state-of-the-art in-room technology, including high-speed wired and wireless Internet access; flat-screen, 42-inch LCD televisions; Bose sound systems; iPod charging docks; IP phone with voicemail; and a W Taipei signature zodiac animal – a whimsical touch to the room.
Several guestrooms also receive a Taipei-infused twist with a deconstructed map, titled "Where Are You," mounted on the wooden wall of the guestrooms, overlooking the surrounding Yangmingshan range of mountains that cradle the red-hot crucible of electrified Taipei. The deconstructed map is a representation of electrified Taipei and gives guests a sense of escape. – from W Hotels