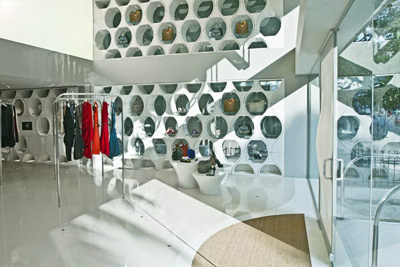 Project: Maison Boutique
Designed by Sybarite
Architects: RC Architecture, Bengaluru (Nandan Damle, Suraj Anchan)
Client: 23 Carat / Prestige Group, India (Sana Rezwan, Rezwan Razack, AM Shameem)
Shop Area: 300 m2
Location: Bangalore, India
Website: www.syb.co.uk
Maison Boutique design created for a very radiant space in Indian city of Bangalore, this chic interior is work of Sybarite studio.
From the Architects:
Whilst the design for this 300 square meter multi-brand store in Bangalore is sleek and modern, the inspiration came from the intricate decorative patterns of Indo-Islamic art and architecture achieved through repetition of geometric forms. Echoing the famous dome of the Taj Mahal and other landmarks of the Mughal period, a stylised hourglass form is repeated, building a texture and rhythm reminiscent of traditional patterns but made modern in its application, simplicity and materiality. Composed of translucent natural fibreglass, a module based on this simple geometry is the building block from which all of the interior walls emerge, both an architectural feature in their own right as well as the primary means of display.