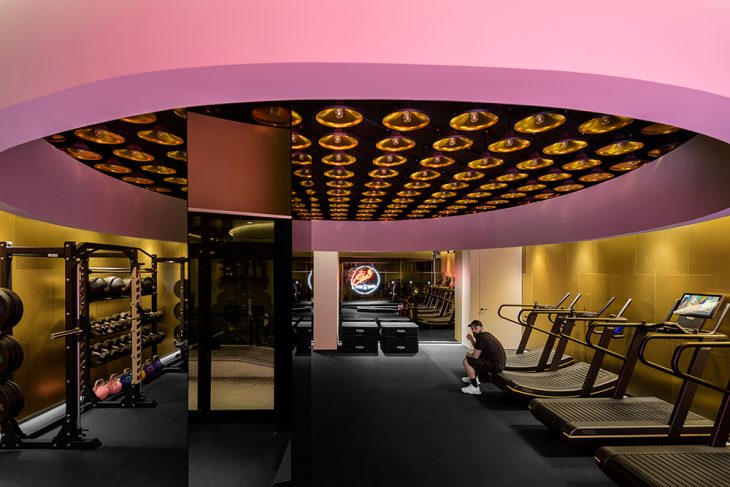 Studio ESQVTA recently completed the project for the third studio of One2One's Fitness Centre in Porto, Portugal. Within the 110 square meters available, the program develops into a large central area for functional training, a locker room and a corridor that connects this studio to the two existing ones. Take a look at the complete story after the jump.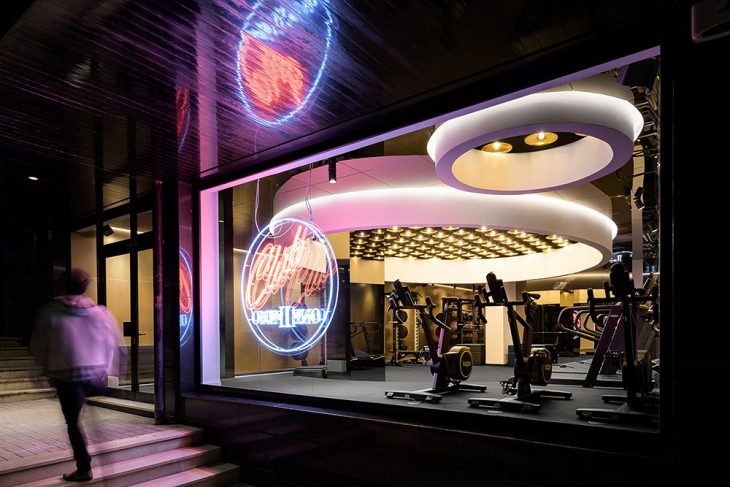 From the architects: This project was born from the need to expand a Fitness Center by creating a studio that would complement its two existing ones. The client's request was of an area with a very different design approach from the first two studios of the brand – though spatially connected. An area that would ask its users constantly: "Put Me In Your Instastories!"
Within the 10m-by-10m room available, the program was divided into 3 distinct areas: a large central one for functional training, a locker room and a corridor that connects this new studio to the pre-existing ones.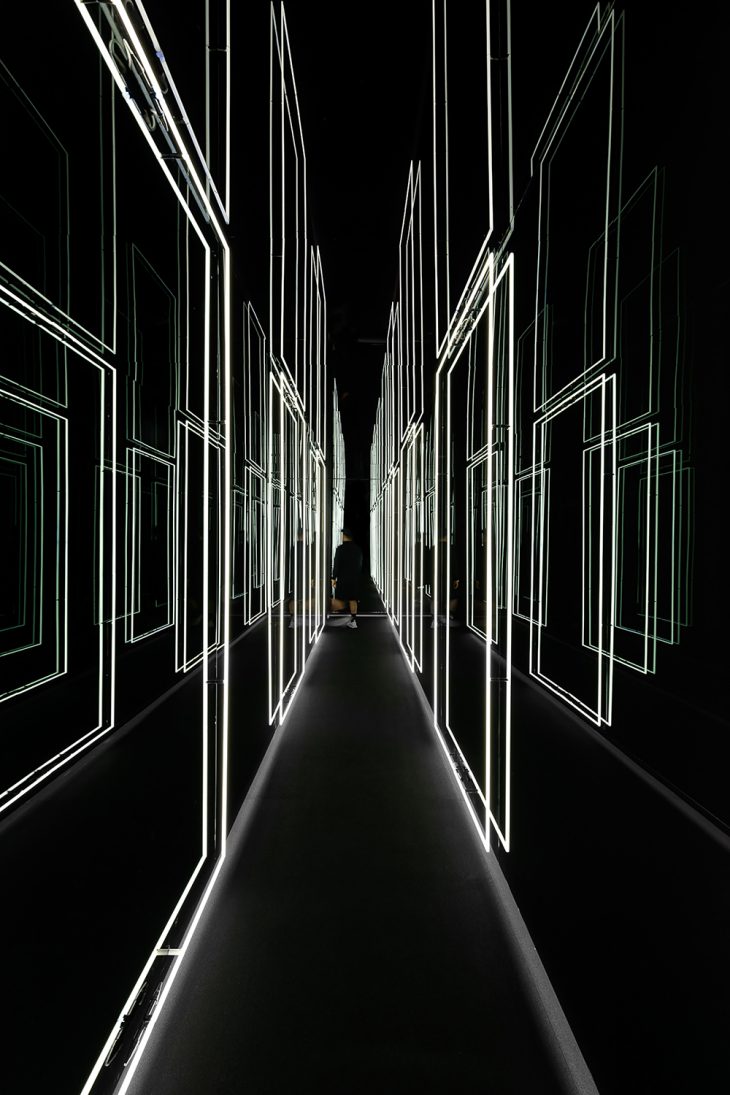 The intervention area was previously an office space, with multiple rooms, that had now to be cleared. Upon demolition, some structural elements required for adjustments of the initial proposal, since the careful matching of the various stereotomy's of brass plates and mirrors had to be perfectly done.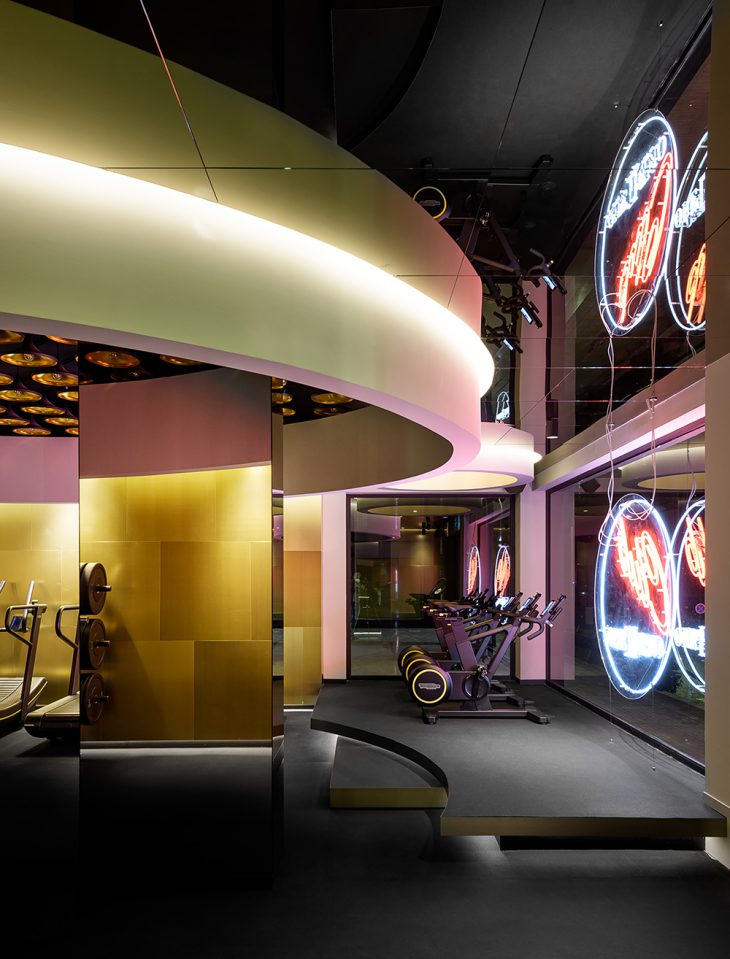 The planning of the locker room also created a challenge because of the small space destined to it. An area with 8 lockers and the washbasin precedes a linked lavatory and shower room, since individual access to each wasn't possible.
Regarding Design, each of these areas was to have a striking image. With full creative freedom, 70s and 80s references were used, with inspiration from the pop and underground cultures, between eccentric hedonism, the cult of the body and creative expression explosions with a unique purpose: create the most exuberant and exclusive training studio in the city.
The access to this new training area is made through a corridor that announces itself as a transition experience.
Completely lined with mirror, glass and neon frames, the space creates a sort of simulated reality, where walls and ceilings merge creating an almost labyrinthine circuit.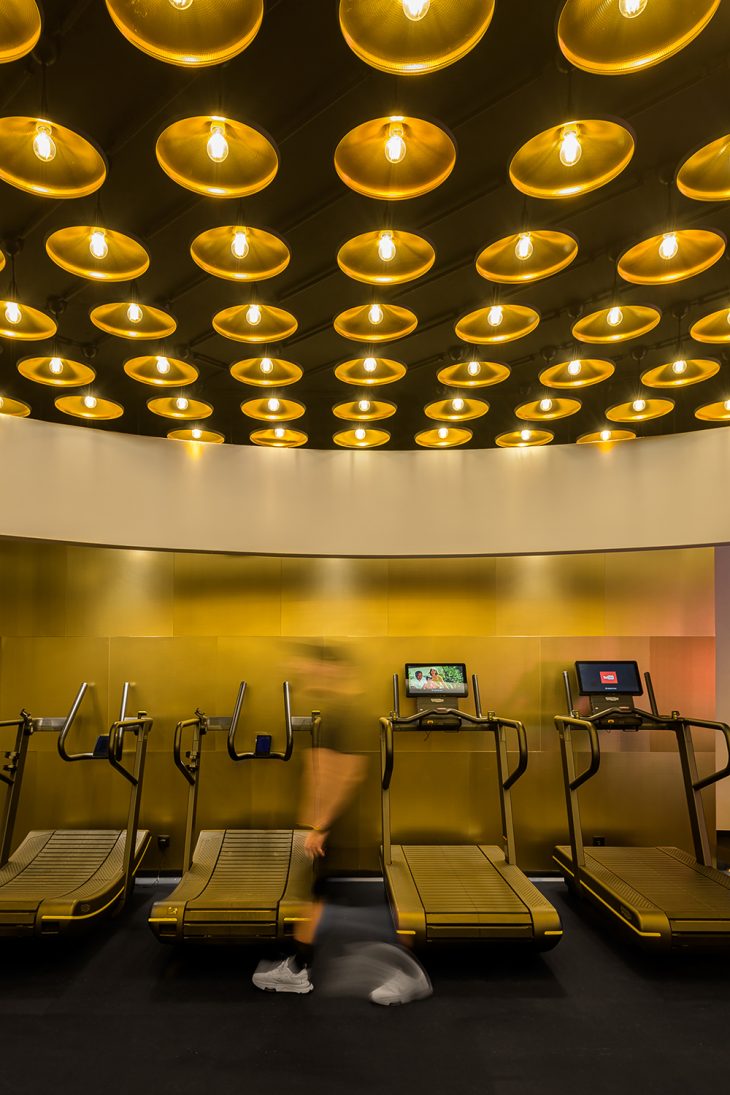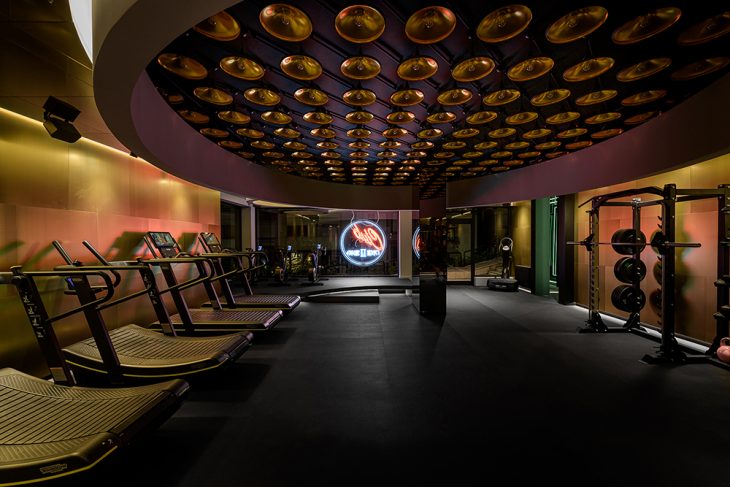 With the sound of "If You Could Read My Mind", the training area was designed with the image of a dance floor in mind, where the mirror ball is replaced by a ceiling filled with golden lamps. Mirrored ceilings and walls emphasize an atmosphere of hedonism and vanity. Side walls fully lined with brass plates close this cycle of unexpected and luxurious materials.
The lighting is also a major protagonist in this studio, making it multifaceted and chameleonic, oscillating between ample lighting and a night club environment.
On the way out, a note recalls: "Do It For Your Selfie".
Project Name:One2One Fitness Studio
Office Name:ESQVTA – www.esqvta.com
Firm Location:R. da Venezuela, 53, 4150-744 Porto, Portugal
Completion Year: 2021
Gross Built Area (m2/ ft2):110m2
Project location: Rua da Alegria 1948, Porto, Portugal
Program: Fitness Studio
Lead Architects: Vitor Almeida
Collaborators: Sara Pinto
Archviz: Tiago Castro
Photography by Ricardo Oliveira Alves – www.ricardooliveiraalves.com