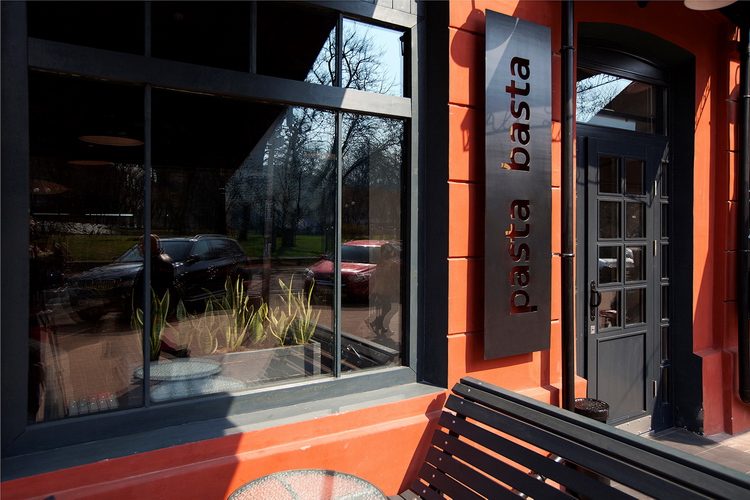 Soboleva_Storozhuk Design practice is a Kyiv, Ukraine architect/design studio specializing in restaurant & café interiors. Their recent project Pasta-Basta is an Italian specialty restaurant located in the center of Chernihiv.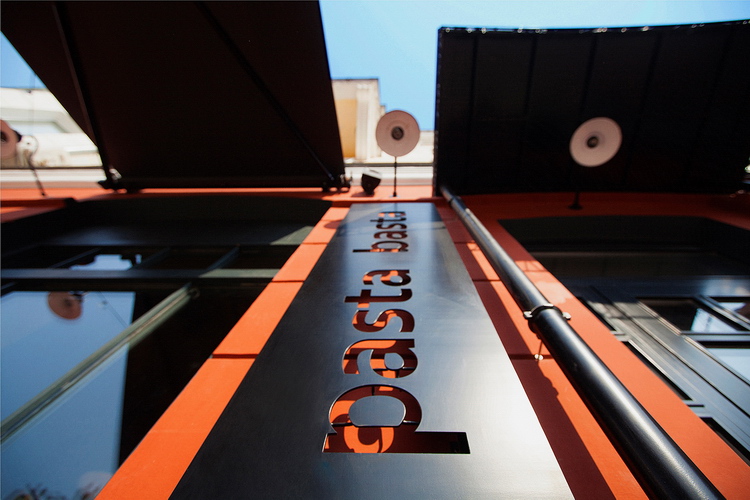 From the Architects:
Pasta-Basta is an Italian specialty restaurant located in the center of Chernihiv.
The front of the building with big picture windows, massive front door, metal signboard and vintage lanterns reflects the general interior style.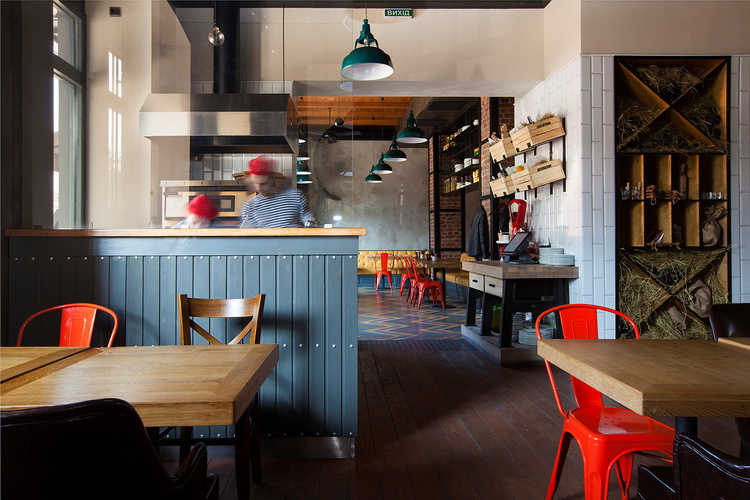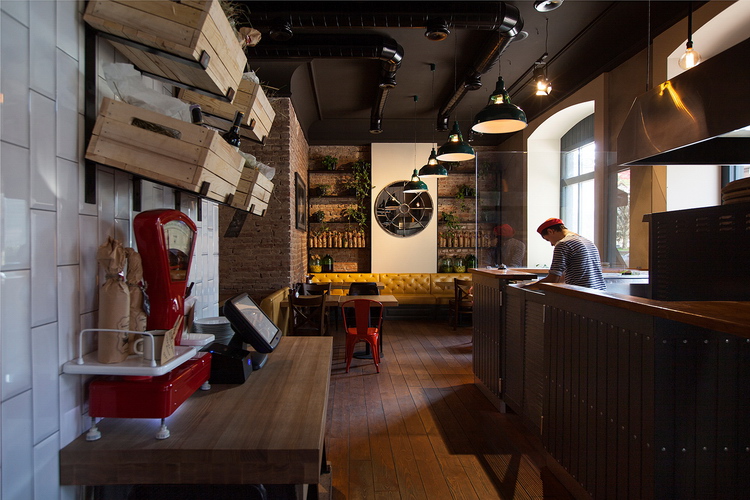 The inside space is divided into two rooms. The first room consists of 2 areas: sitting area for visitors and work area – buffet. The buffet area is joined with an open kitchen. A round wooden table with colorful chairs stands near the window; the solution for the rest of the seats is couches at the wall and a variety of chairs. The most striking design element in this room is the floor. It is made of individually painted parquet boards. The walls and the ceiling of neutral colors and textures create a background for metal decorative elements and "factory" lamps. A large sheep is almost inconspicuously displayed on the background of a concrete wall.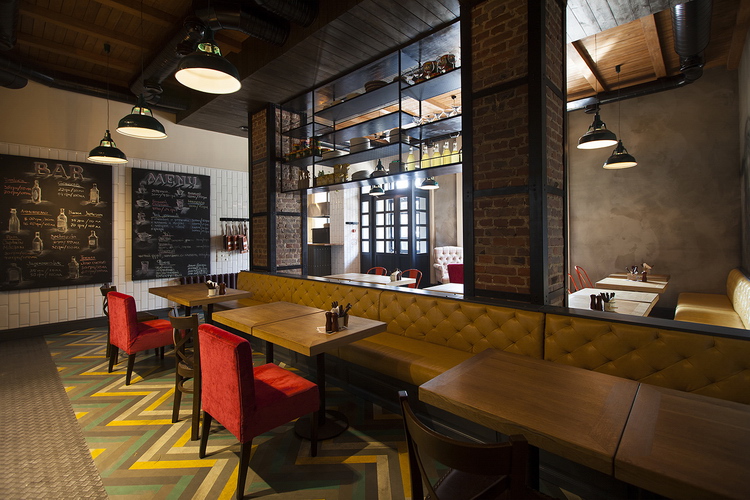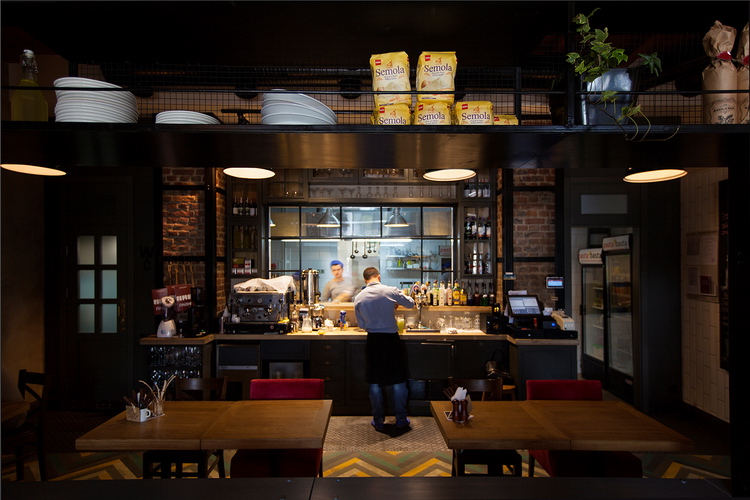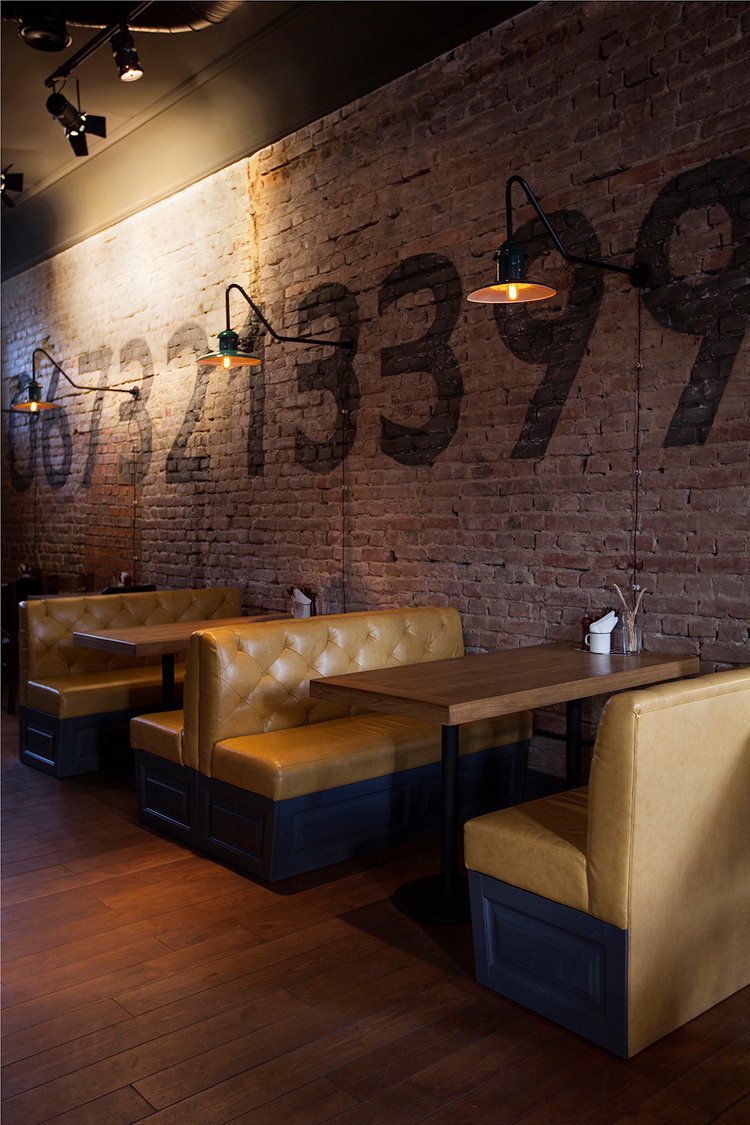 The pizzaiolo's counter with an oven is located at the entrance to the second room. The preparation of pizza can be observed not only from the room, but also while sitting within the summer dinning area or just passing by. The color scheme of this room is black and white and based on the shades of natural materials used in the decoration. The active texture and color of this room are created by polished and varnished brickwork. The ceiling was restored to its original form using plaster moldings. The lamps were purchased at a flea market and restored. Their vintage appearance is provided by winding exposed wires and Edison bulbs. They flood the whole room with warm light in the evening hours. The decoration of this room is not abundant as well. A round mirror, a decorative shelving unit for wine bottles, a door to the pantry and a concrete-based table for waiters were made ​​at V. Popravka's workshop in the city of Cherkassy. All the elements are integral parts of the interior and not just complement it but constitute its basis.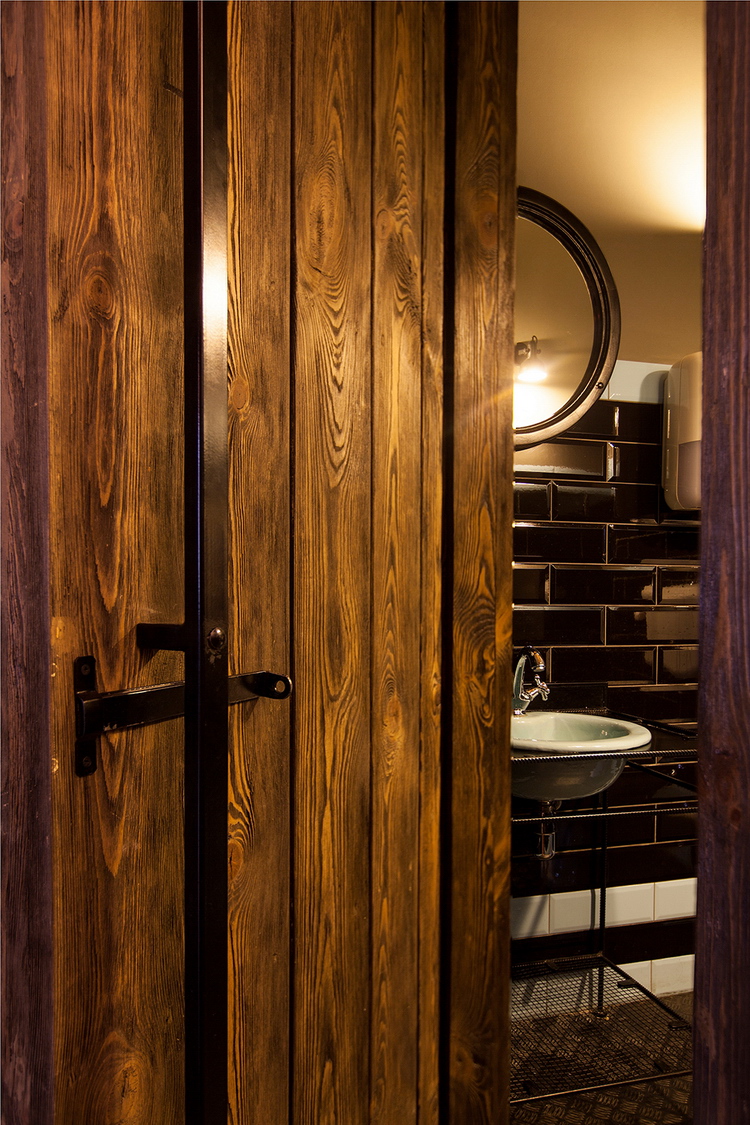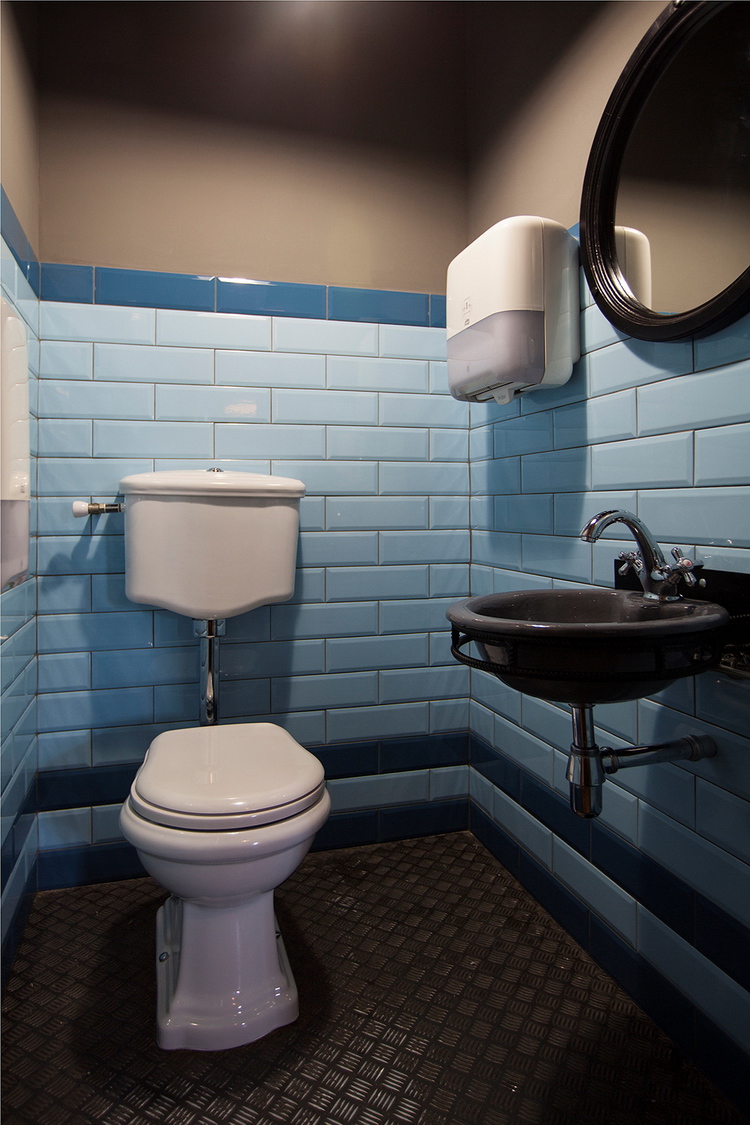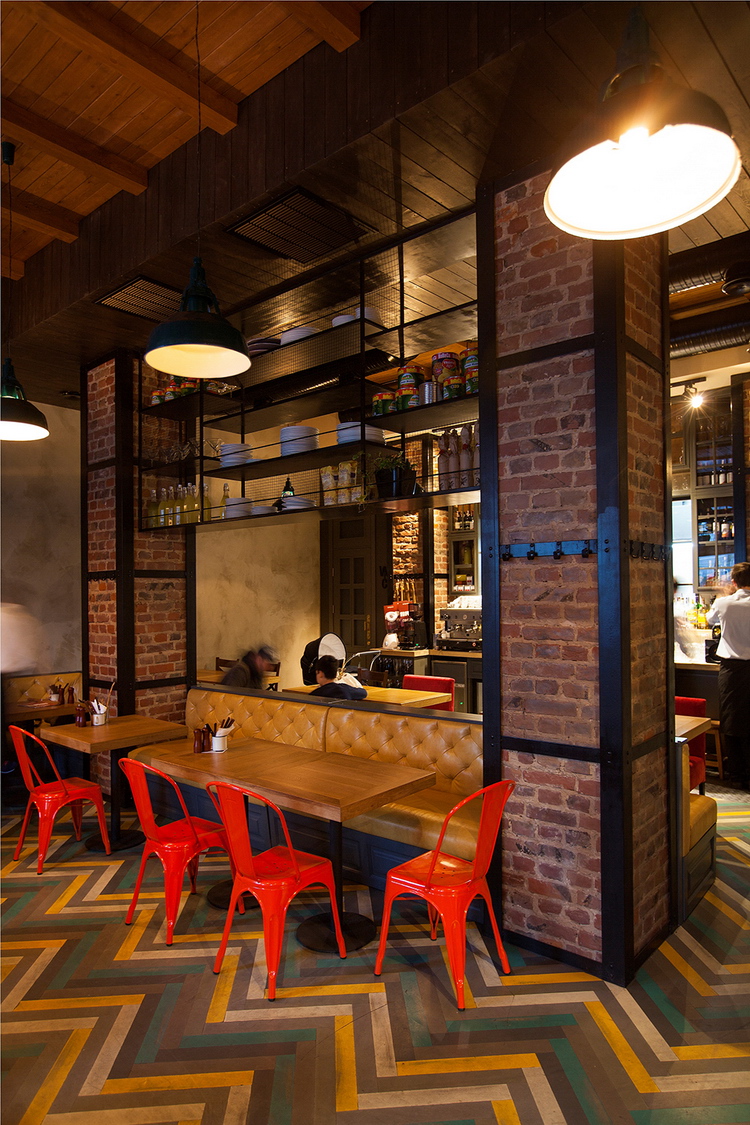 A secret wood block door leads to one of the guest bathrooms where designer elements made of metal fittings and ceramics are also used.
In whole, the interior is very individual and lively. The design is based on the combination of common and clear methods (white tiles, bricks, wood planks, Tolix chairs) which remind visitors of the interiors of European restaurants and original solutions creating a unique atmosphere. All interior elements and decorations (except for two models of chairs) were developed by designers and performed by Ukrainian manufacturers.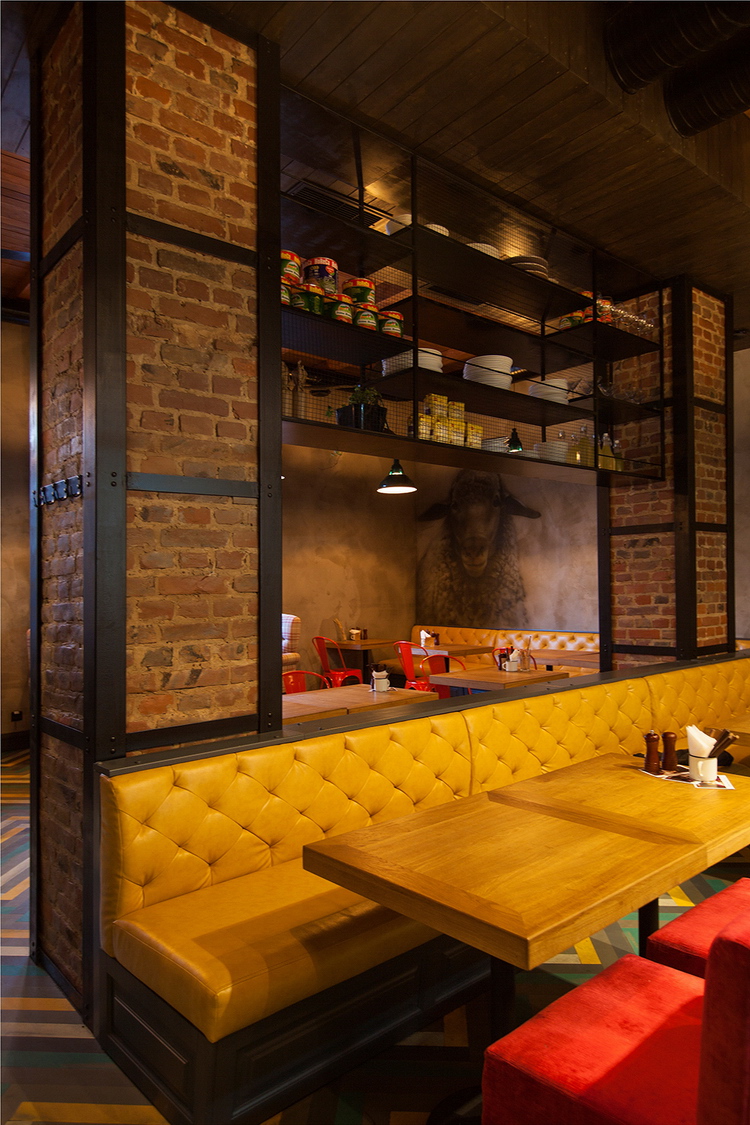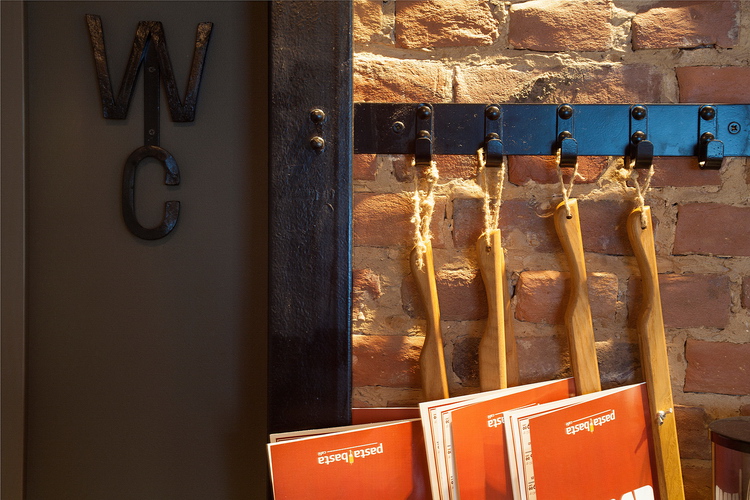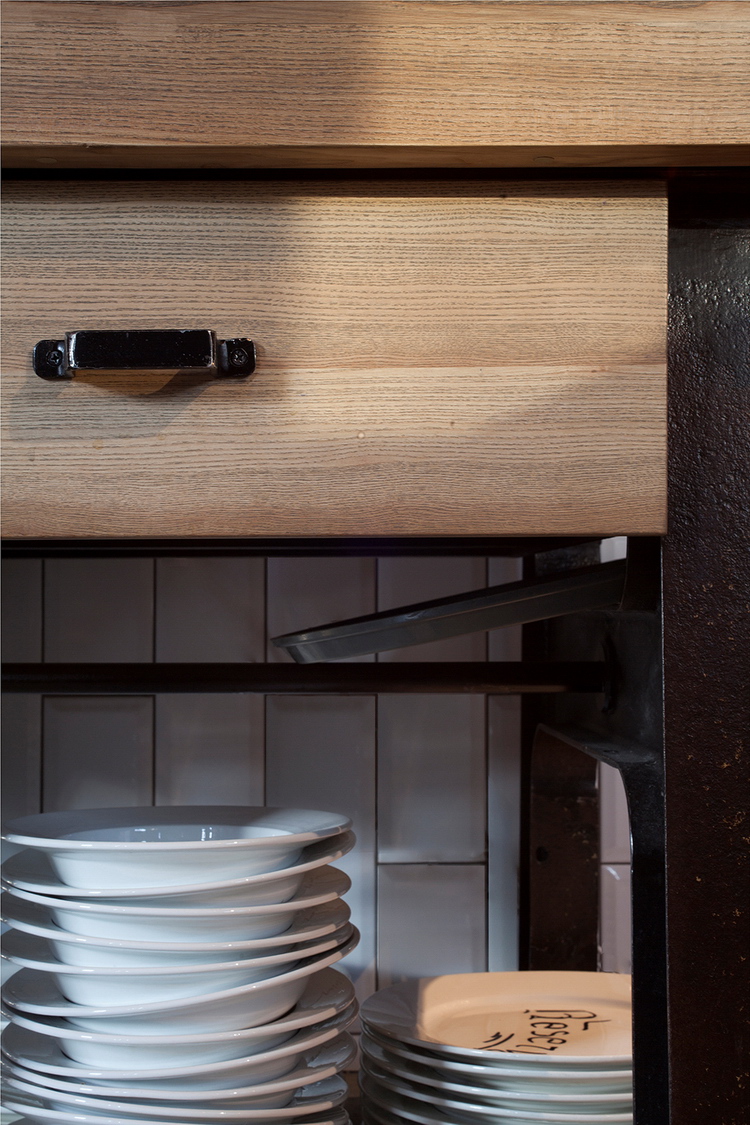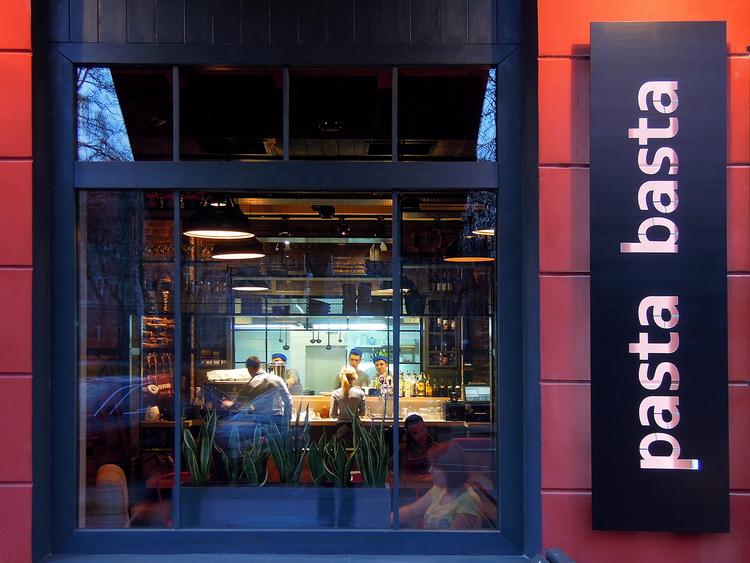 Project: Pasta Basta Restaurant
Designed by Soboleva_Storozhuk Design
Interior Design: Ekaterina Storozhuk, Nataliia Soboleva, Olga Shirina
Photography: Aleksei Bykov
Customer: Valerii Galperin
Finishing Work: Vitalii Pirneu
Joinery: Viacheslav Popravka's workshop
Location: Chernihiv, Ukraine
Website: www.behance.net/Soboleva_Storozhuk