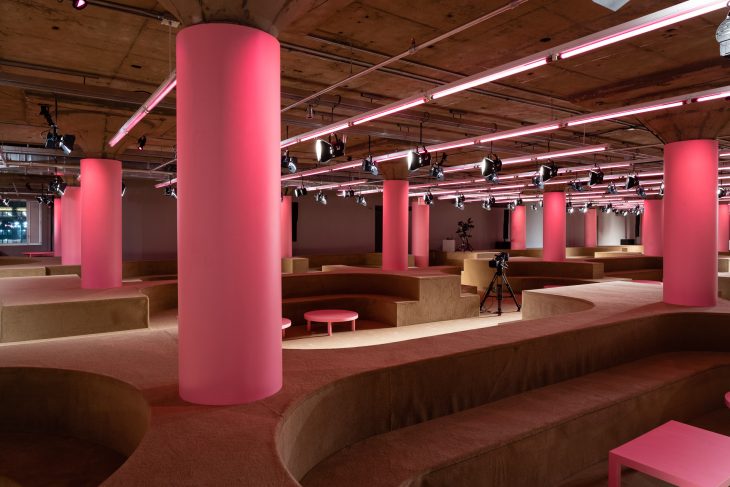 Take a tour of the PRADA Resort 2020 showspace designed by the label's longtime collaborator famed architecture practice OMA and it's research and design studio AMO. When it comes to Prada's latest showspace the architects wanted a unique mix of industrial and domestic while creating a lounge like environment of the showspace. The resort 2020 fashion show took place in the Prada's United States headquarters the Prada Piano Factory in New York. The idea behind AMO and Prada's showspace was creating a sentiment of a peculiar blend of everyone's socials and work lives. AMO team has taken on velvet like rose nuances allowing their dominance over the space.
"The set for the show, conceived for the seventh floor of the Herzog & de Meuron-designed building, is devised as a tactile interior to contrast with the industrial character of the architecture. A series of lounging areas fill the space, providing a sense of comfort and coziness, an 'endless' camel-toned carpet covering both floor and integrated seating elements. All other aspects of the set, from coffee tables to columns, are characterized by a gloss pink coating, the panorama bathed in the glow of pink neon, transforming the utilitarian inside into a fantasy of summer outside." – from PRADA
For the PRADA Resort 2020 runway show even AMO team worked on transforming the entire Prada Piano Factory building from the industrial courtyard and the parking space all the way to the seventh floor. The rose tinted hue showcased a dreamy cityscape of New York City viewed from the building's seventh floor. For the sixth floor which was the location of Prada's after party columns coloured pink and bars clash with the concrete floors of the Prada building. The work environment of the building itself is blended in by allowing the hints of the offices and meeting rooms showing through the glass walls.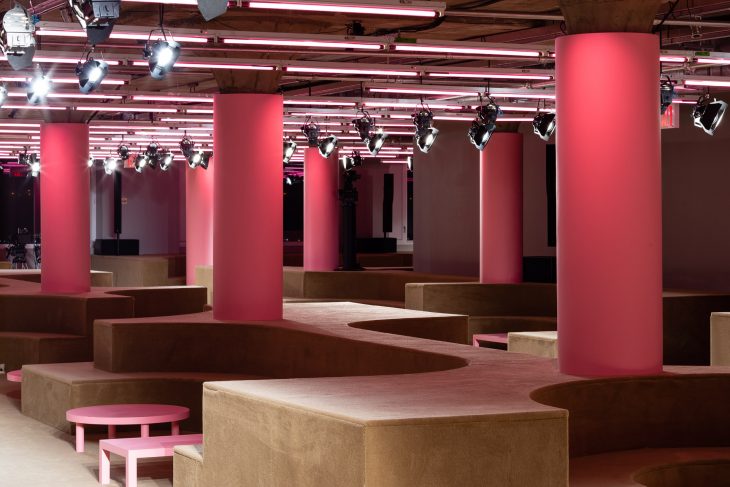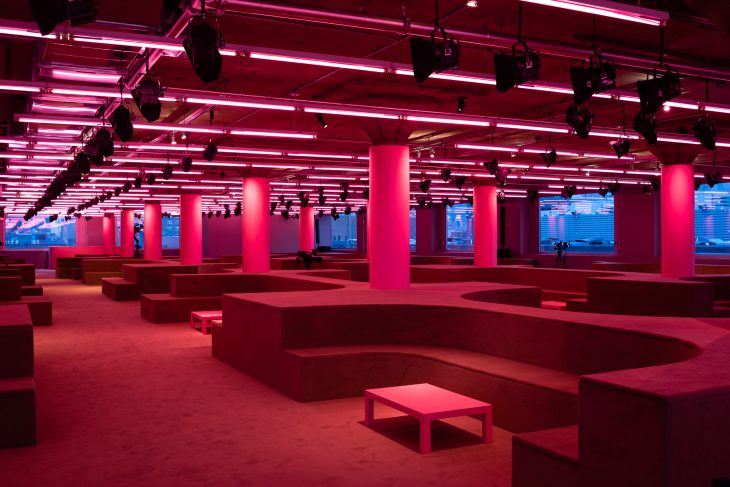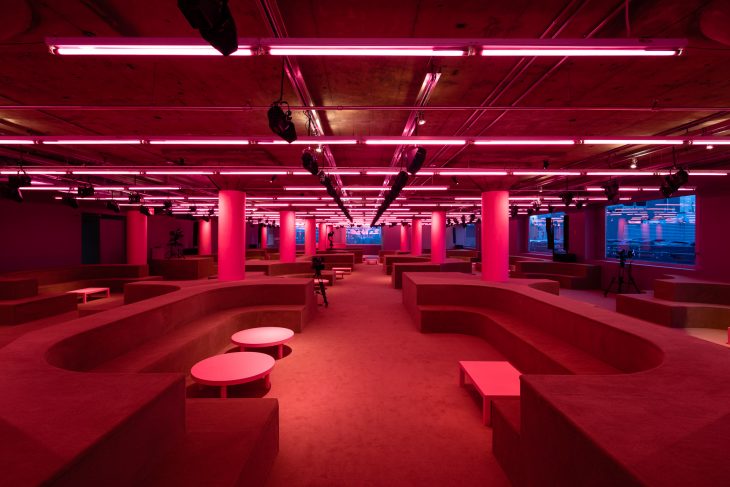 Discover the PRADA Resort 2020 collection on DESIGN SCENE magazine's PRADA page.
All images courtesy of ©PRADA – Take a virtual tour of the PRADA Resort 2010 OMA/AMO showspace project.