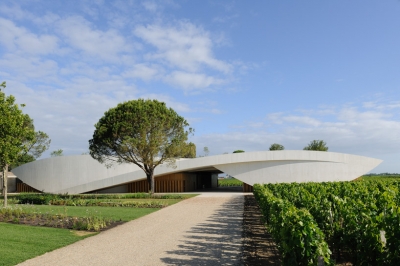 Project: The Winery Under the Hill – Chateau Cheval Blanc
Designed by Christian de Portzamparc
Location: Saint-emilion, France
Website: www.chdeportzamparc.com
The impressive Winery Under the Hill project is work of Christian de Portzamparc studio shaped for a location in French Saint-emilion.
About the Project:
The entirely concrete construction boasts six curvilinear load-bearing walls that flow through the program as the main support system connected by a series of crossbeams. The canopy is pulled away from the immense members creating skylights that create the opportunity for natural light to subtly find its way inside.

The re-purposed orangery, originally part of the chateau, now acts as the reception with a small glass enclosure connecting it to the new project that extends views towards the exterior. Proceeding to the cuvier, 52 custom-made vats line the interior partitions, constituting the most expansive volume in the design. An open courtyard serves as a multipurpose area used for sorting and bottling and provides an entry sequence to the workshops, a wood-clad space used for packaging. Undulating polished concrete girders held by round columns enclose the wine cellar capable of holding 566 barrels, with brick mashrabiya walls that hide the mechanical components behind. The green roof invites the user to view the revered vineyard landscape responsible for the success of the business.
Source Designboom. *