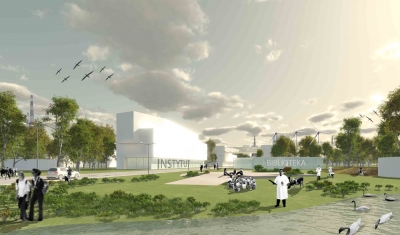 Project: Nowa Huta of the Future
Designed by Basic City A+U
Location: Nowa Huta, Krakow, Poland
Website: www.basiccity.eu
Shaped for a location in Krakow is Nowa Huta of the Future project designed by Basic City A+U in collaboration with Felixx, M.Szczypka and A.Molenda (mo.st).
From the Architects:
Nowa Huta should become a city where the entrepreneurial spirit and optimism are combined with active and healthy lifestyle.
Reinvention of the non-operating industrial land of the Arcelor Mittal steel industry complex into a seedbed of the new age industries, close relation to the nature, presence of the agriculture production (hence fresh food supply from local resources), variety of recreational activities, regeneration of the existing historic villages (aimed at the preservation of the historic ambient and densification via increased variety of residential typologies) as well as adjacent attractive river landscape are recognised as the cornerstones of Nowa Huta's future development.
Our plan connects, reinforces and enhances all those given assets into a unique urban condition that offers all at once: urban ambient, proximity of the genuine nature and production landscape, active and healthy lifestyle, intensity and emptiness. New ways to live and work! It is fine and robust at the same time. Urban and rural. The first one of the kind. Forerunner and the ultimate model for the transformation of similar urban conditions in Europe.
The plan (re)engages all the available resources of Nowa Huta, from human to infrastructure and natural. It helps rethink the leftover industrial space, employ the redundant work force, reuse the unattended infrastructure, feasibly remediate the polluted land, fine-tune the relation between built land, nature and agriculture.
It establishes Nowa Huta as an urban entity with a distinct quality to its bigger neighbours, Krakow and Stara Nowa Huta. Developed as such, Nowa Huta adds critical quality to the Krakow's arising metropolitan area, reinforcing and empowering its position in the European context.