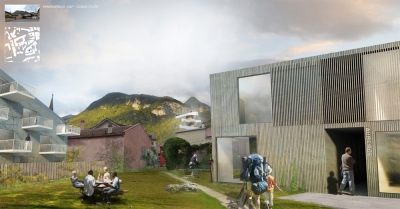 Project: Scénes et Places
Designed by 2:pm Architectures + Dauphins Architecture
Team Project: Paul Rolland, Faïçal Oudor, Cyrille Beirnaert
Location: Aigle, Switzerland
Website: www.2pmarchitectures.com
2:pm Architectures share with us their design for Scénes et Places project formed for town of Aigle placed near a mountainous Swiss location. Discover more of this massive project after the jump:
From the Architects:
The urban shape is clarified. A huge ground treatment unifies the whole center of the city and two complementary squares, an open one and a contained one, harmonize the spaces. New spots to discover are offered to strollers and improve the urban pattern.
Urban Stage. The surrounding vineyard parcels landscapes inspire the new ground pattern. It is made with a panel of five different stone types. The groundfloor becomes a stage of new uses, a free identitary expression space.
Network Mesh. The pedestrian has conquered the historical center. Now only soft trafic and public transport (bikes, bus, train) can distribute the new refounded spaces. Marked road cycling are punctuate with bike parks, replacing road cars. The historical center is now forbiden to cars except center residents and for shops activity.
Car Spaces degrease. It is important to rethink the car statement in the city center. Big areas are refounded by mutualising existing car spaces. Car park silos allows to clear the ground and its explotation is no longer hold up.
Social Spaces. As the whole historical center became a big pedestrian aera, it can be filled with different programatical interventions wich are surgicaly distributed to dynamise Aigle. Two major programs increase the attractivity of the city : the Wine Research and Learning Center and the Fontaines festival. The cultural patrimony acts as a reliable support of the city blossom.
Spatial occupation. As the urban intervention unifies and the priority is given to the pedestrian, the historical center becomes a real stage where cultural events can happen. The Aigle space and identity is offered to the stalker.
To avoid the historical center exodus, it is crucial to rethink parcel occupation to give inhabitable space. The urban fabric densification seems to be a necessity. Some urban seams clear the blocks limits. Non defined space become today a real densification potential.
Destroy and rebuild are part of a urban fabric requalification only if it is made with harmony with existing urban scale. The new place du Moulin takes place in a squares network giving to the city center many urban events. Beyond the old stone, the heritage preservation has to preserve a collective memory as well, wich could be in harmless buildings.
Making a contained square brings here bridge building morphology. This singularity is a reference to the urban memory of the historical center.