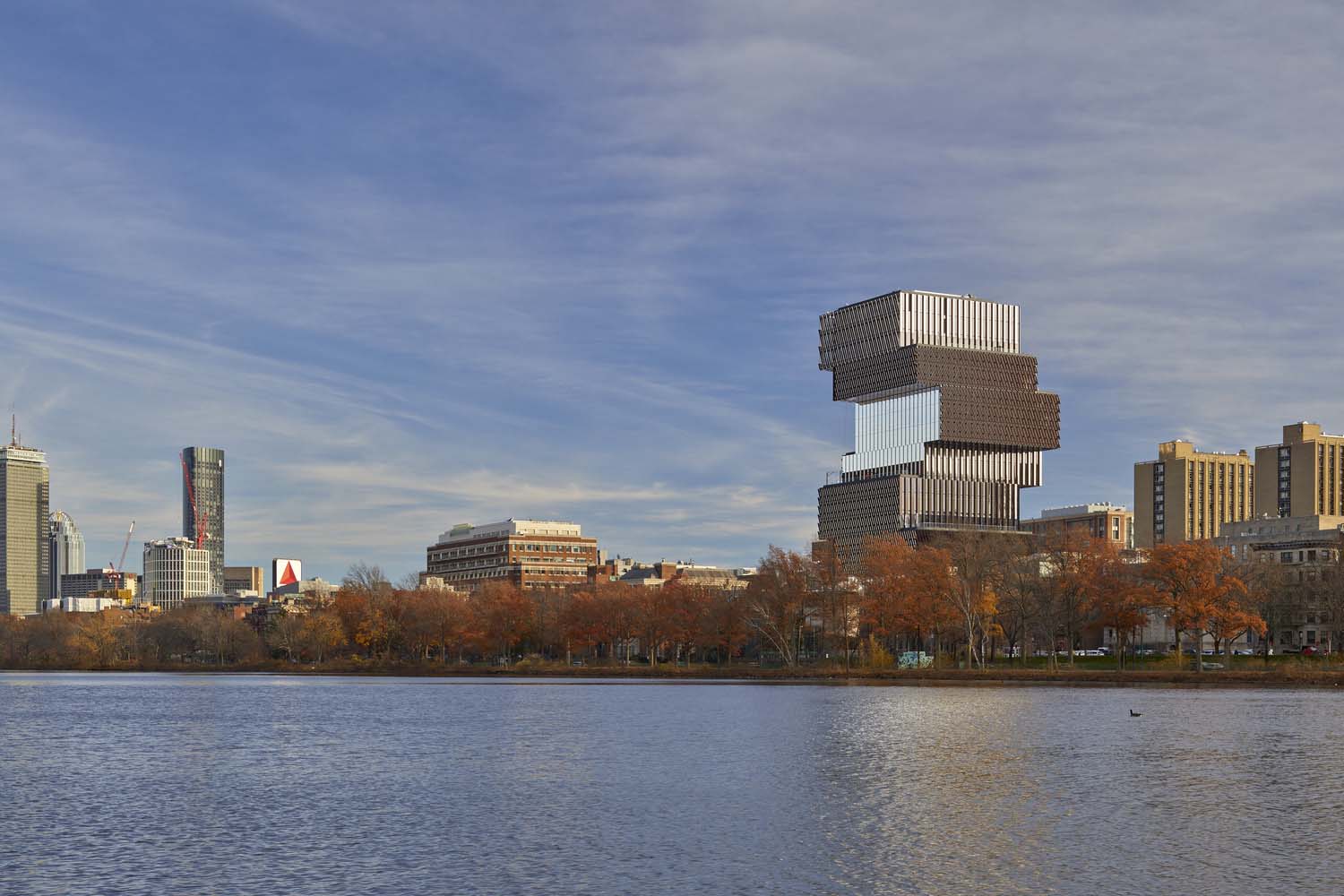 In a remarkable feat of architectural innovation, KPMB Architects have unveiled their design for the Boston University Center for Computing & Data Sciences. This project not only reshapes the city's skyline but also represents a paradigm shift in sustainable construction and human-centered design. The Center, standing tall at 19 stories and spanning 345,000 square feet, is set to become a hub of collaboration and academic excellence, uniting the mathematics, statistics, and computer science departments under one roof.
What truly sets this project apart is its bold commitment to sustainability. The Center for Computing & Data Sciences is poised to become Boston's largest operational fossil fuel-free building, marking a significant stride toward a greener future. Adorned with cantilevered volumes that incorporate diagonal louvered panels to mitigate solar gain and mirrored sawtooth facades that offer a dazzling visual contrast, the Center's design seamlessly merges form and function. These innovative elements not only enhance the building's distinctive aesthetic but also contribute to its energy efficiency, creating a comfortable environment year-round.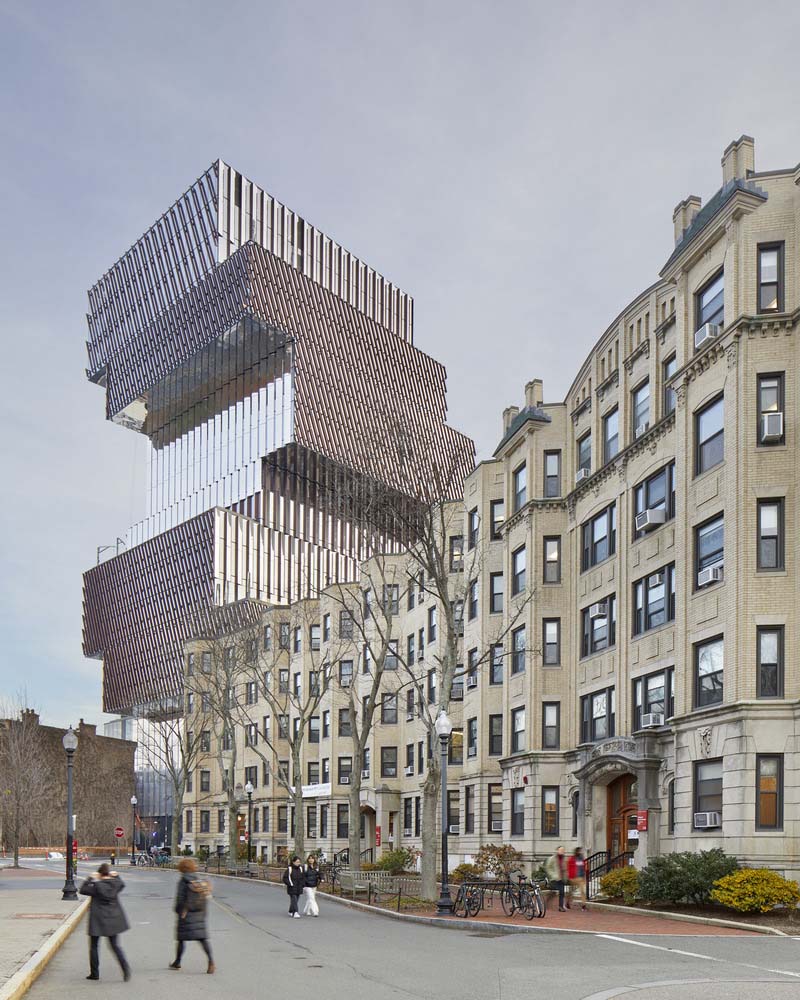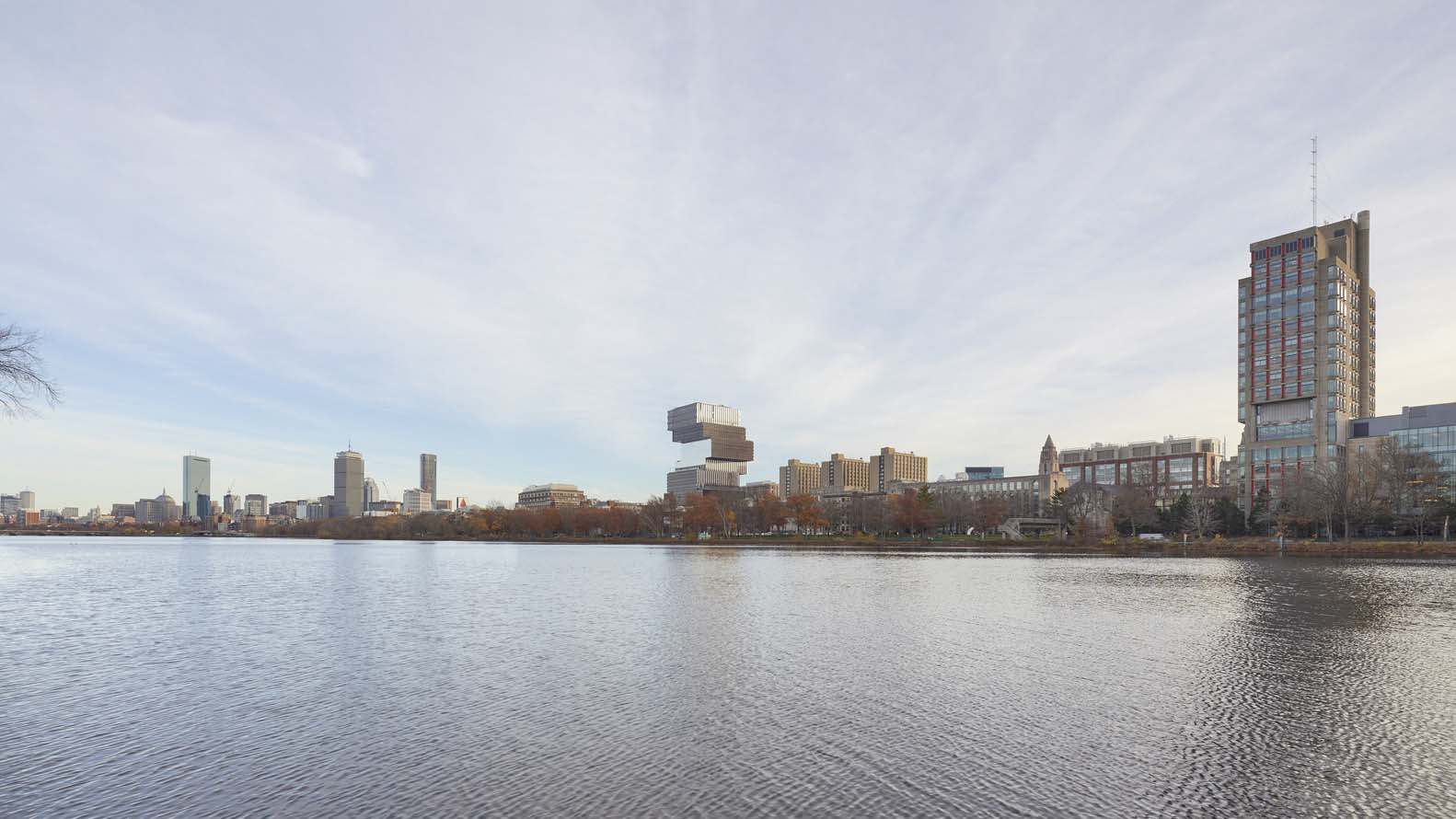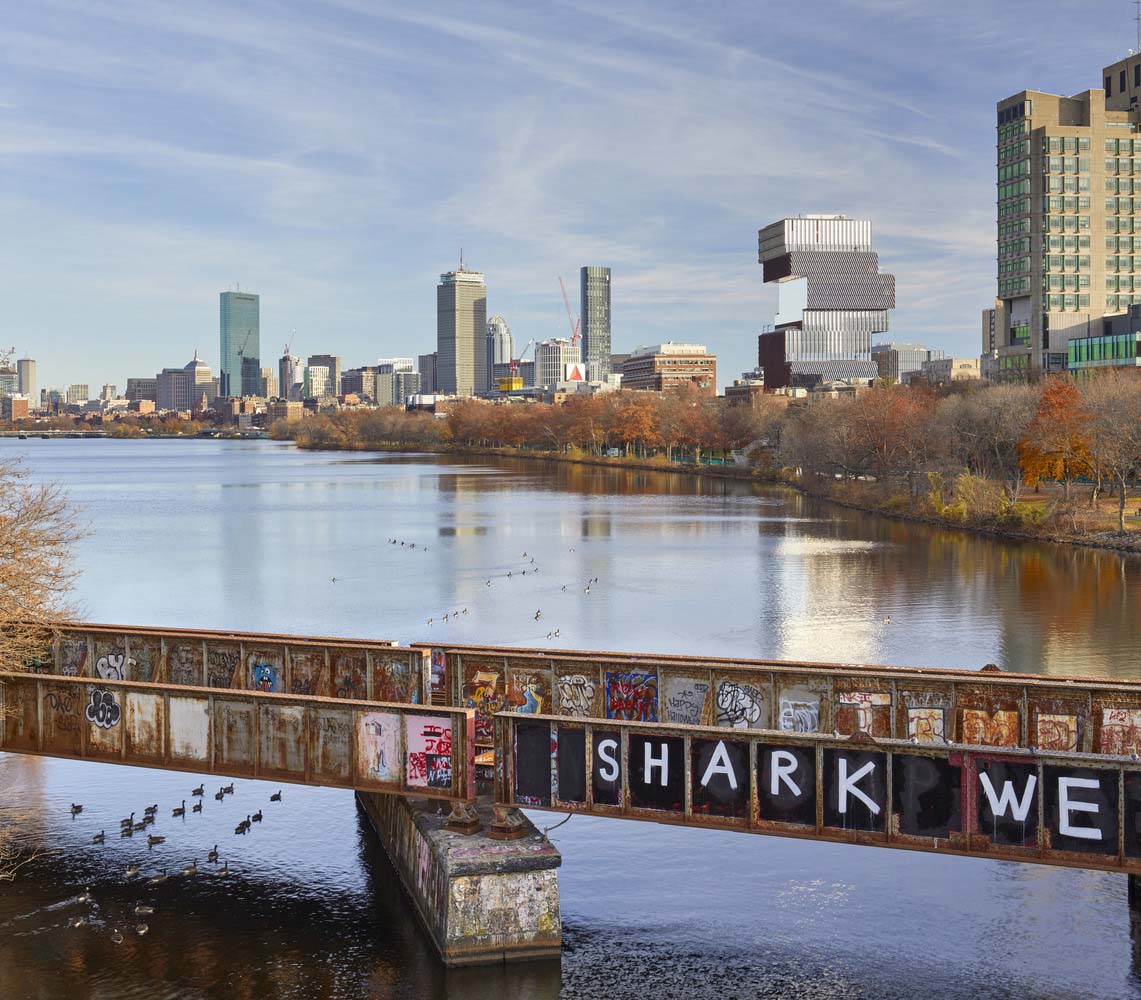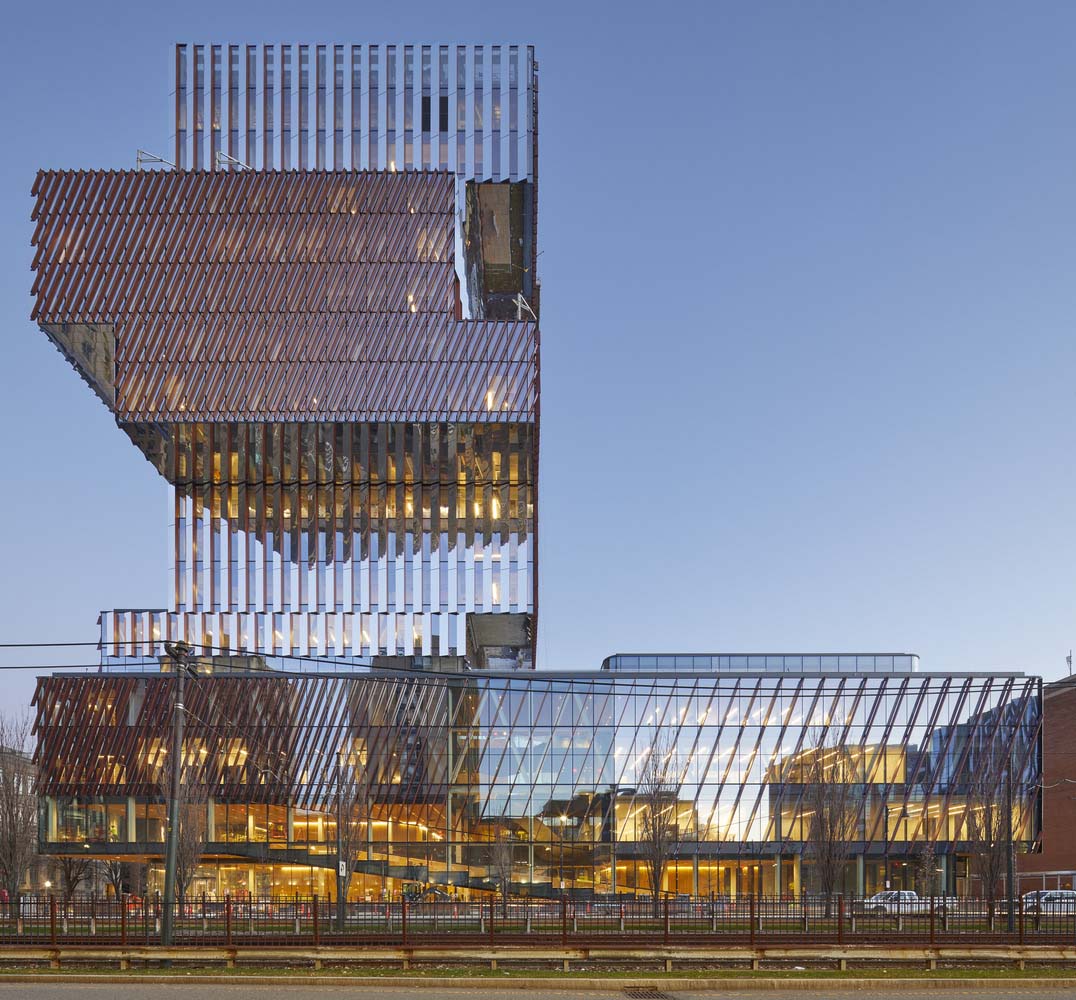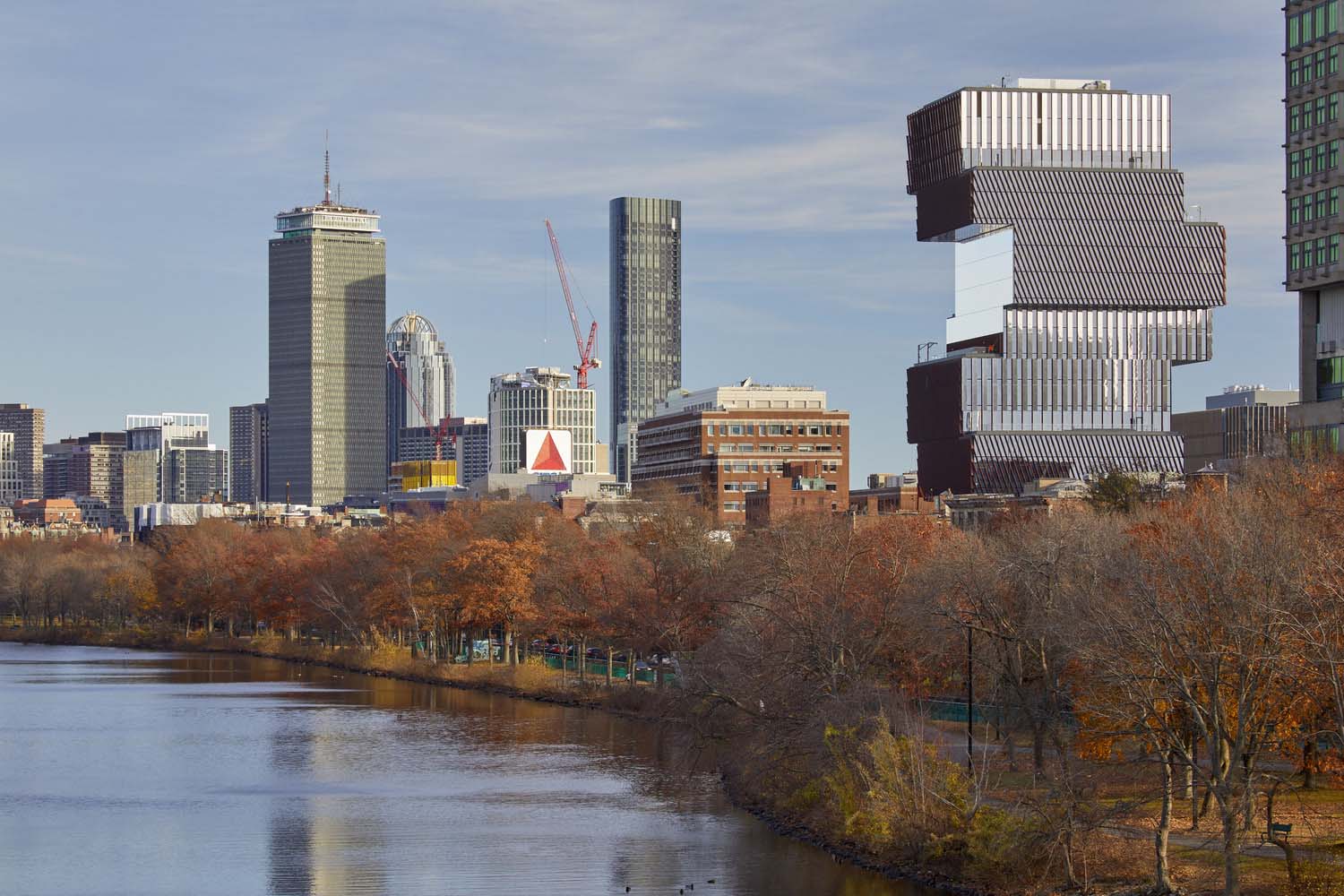 Anchoring the building's design is an engaging urban podium that extends over Commonwealth Avenue, generating a vibrant street scene and inviting pedestrians to partake in its dynamic ambiance. With transparency and accessibility in mind, the podium serves as a hub for arrivals, study sessions, and gatherings, reinforcing the sense of community that the Center seeks to foster. As an academic haven, the building's layout intelligently organizes its spaces, dedicating lower floors to mathematics and statistics, middle floors to computer science, and upper floors to interdisciplinary collaboration and public areas.
A central atrium forms the heart of the Center, cultivating an atmosphere of collaboration and interaction among faculty and students. An interconnected staircase winds its way through the structure, weaving together 138 floors across various disciplines and catalyzing the exchange of ideas and chance encounters.
The sustainable ethos of the Center is in alignment with Boston University's ambitious Climate Action Plan, which aspires to achieve carbon neutrality by 2040. The Center is poised to achieve LEED Platinum certification and operates 100% fossil-fuel free. A geothermal closed-loop system efficiently heats and cools the building using ground source heat pumps. Embracing renewable energy and cutting-edge shading systems, the Center further demonstrates its commitment to responsible architecture.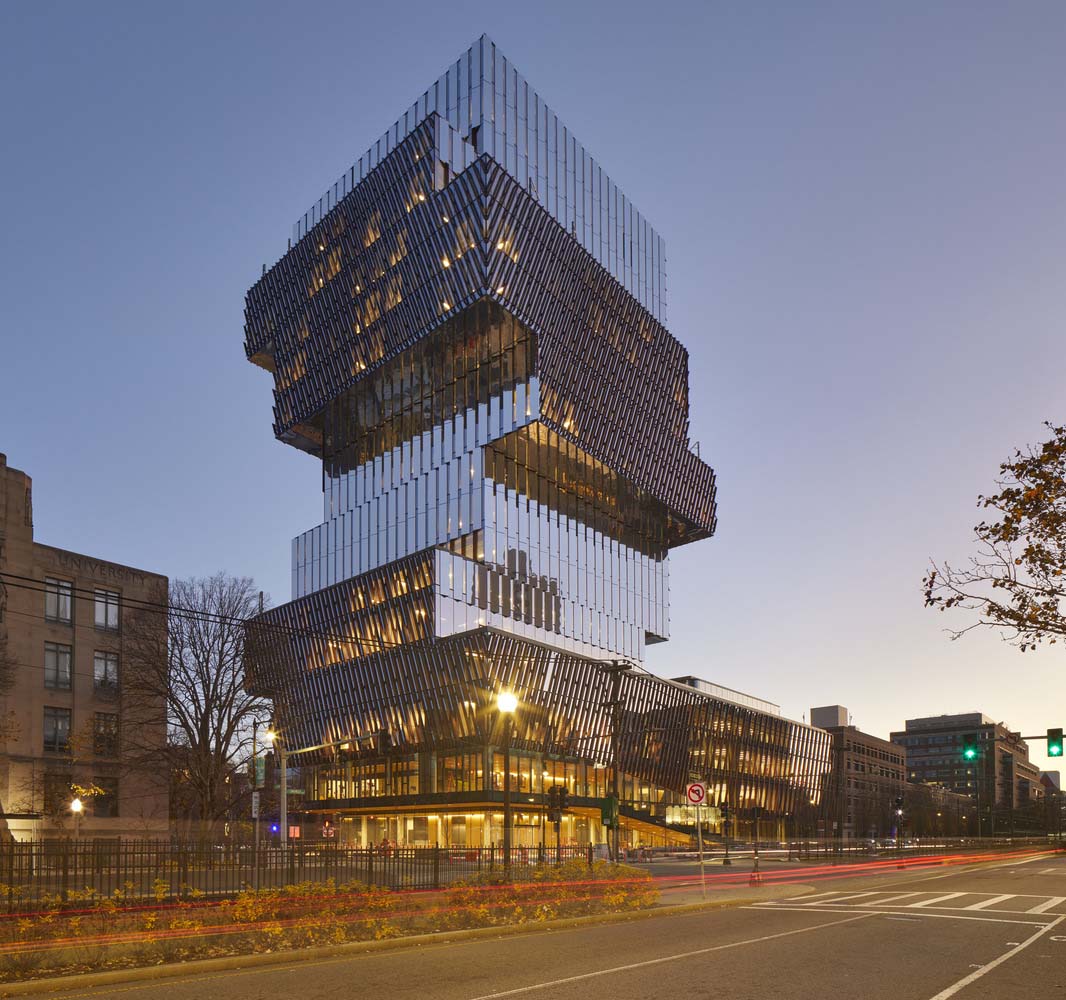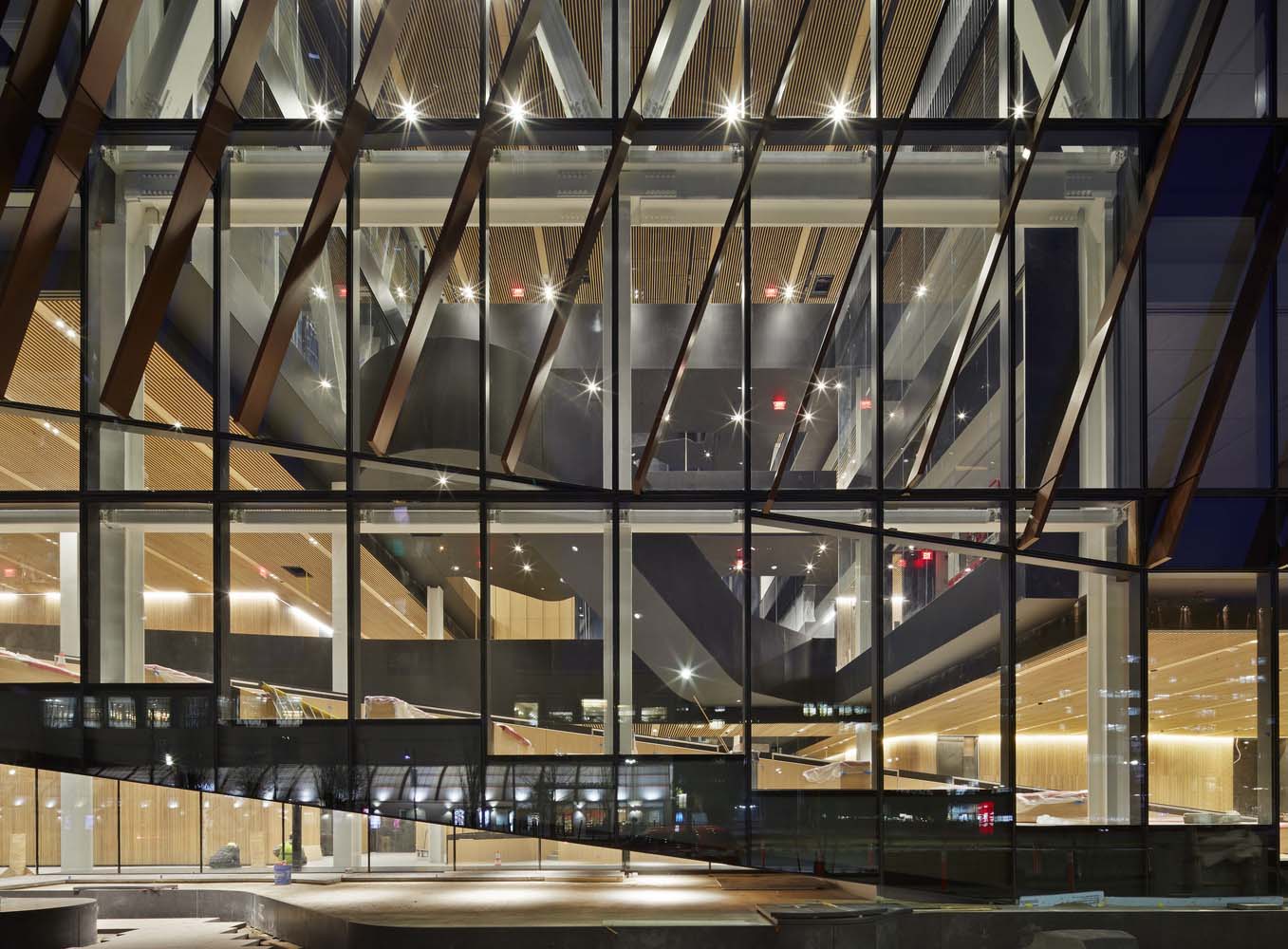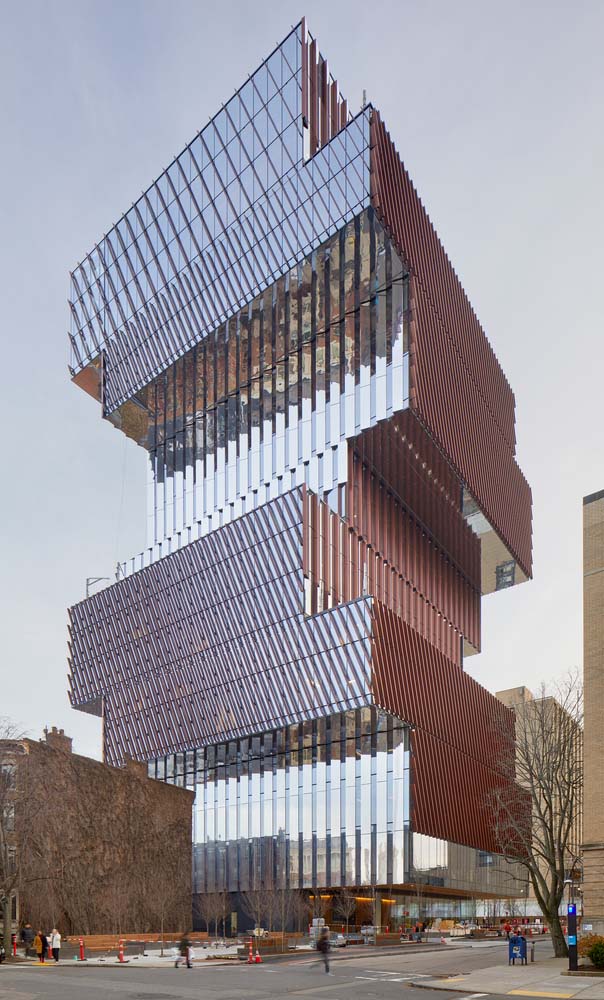 Internally, the building optimally employs natural light and the breathtaking riverside location to create an inspiring learning environment. With classrooms, collaboration spaces, and a café adorning its interiors, the Center becomes a hub of intellectual exchange and creativity. The inclusion of whiteboard walls throughout the building nurtures collaborative ideation while offering insight into ongoing processes.
The new building houses 12 classrooms, two computer labs, and numerous collaborative zones. A ground-floor café invites interactions, while an outdoor plaza with a covered bike shelter embodies the sustainable lifestyle the Center champions. The structure culminates in an expansive event space and a three-story open-air pavilion, fostering a connection with nature and encouraging reflection.
Project information
Architects: KPMB Architects – www.kpmbarchitects.com
Area: 345 ft²
Year: 2022
Photographs: Tom Arban
Manufacturers: UniFor, Aarco, Armstrong Ceilings, Dadanco, Millworks Custom Manufacturing (2001) Inc.
Lead Architects: Bruce Kuwabara, Marianne McKenna, Luigi LaRocca, Paulo Rocha, Lucy Timbers, David Smythe, Kael Opie, Tyler Loewen, Melissa Ng, Matt Krivosudsky, Tyler Hall, Amin Monsefi, Victor Garzon, Samantha Hart, Nicholas Wong, Olivia di Filice, Jason Chang, Fotini Pitoglou, Carolyn Lee, Kayley Mullings, Arminé Tadevosyan
Partner In Charge: Marianne McKenna
Senior Associate: Lucy Timbers, David Smythe, Kael Opie, Carolyn Lee, Kayley Mullings, Armine Tadevosyan
Associate: Tyler Loewen, Matt Krivosudsky, Tyler Hall, Melissa Ng, Amin Monsefi, Victor Garzon, Samantha Hart, Nicholas Wong, Olivia di Filice, Jason Chang, Fontini Pitoglou
Design Partner: Bruce Kuwabara, Paulo Rocha
Founding Principal: Luigi LaRocca
MEP: BR+A Consulting Engineers
Structural Design: Entuitive + LeMessurier Consultants
Building Envelope: Entuitive
Cost Calculator: Turner & Townsend
Landscape Design: Richard Burck Associates Inc.
Lighting Design: Dot Dash
Climate Engineering: Transsolar
LEED: The Green Engineer
Civil Engineering: Nitsch Engineering Inc
Elevator: Soberman Engineering
Fire And Life Safety: Jensen Hughes
Geotechnical Consulting: Haley & Aldrich
Acoustics / Av / It: Acentech
Environmental Engineers: RWDI Inc
Façade Access Consultant: Learch Bates
Hardware: Robbie McCabe Consulting
Food Services: Ricca Design Studios
Signage System: Entro Communications
Specifications: Brian Ballantyne Specifications
City: Boston
Country: United States