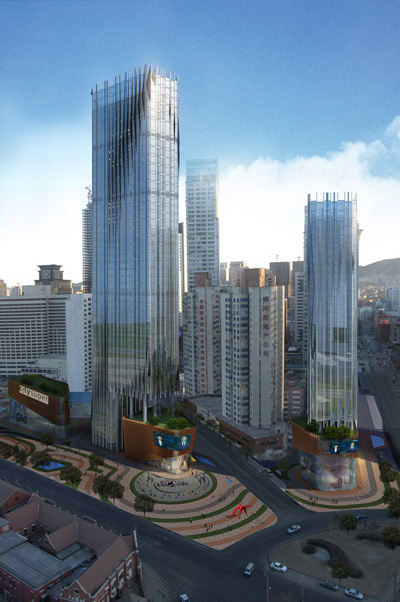 Project: Dalian Minzhu Plaza
Designed by Leigh & Orange Design
Location: Dalian, China
Website: web.leighorange.com
Leigh & Orange Design with their project for Dalian Minzhu Plaza create a new landmark for this fast-growing Chinese City. For more of the project continue after the jump:
About the Project:
The architects researched the history of Minzhu Plaza and found that it was the only plaza in Dalian which had a tram passing through. Consequently, at the bottom retail space, they introduce a new tram line passing through the commercial plaza, as well as different movement patterns on the ground plane via landscape elements, bring the 'illusion' of dynamic movement across the site .
The new urban landscape offers a showcase which keeps and reminds of 'collective memory' in people's city life. As for the podium and tower elevation design, the architects designed the façade as an integrated cultural element of the city. Based on the analysis of the urban fabric and the colours of the neighbourhood, the new tower's exterior is formed in a double-layering of grey glass and screens of varying densities made of terra-cotta frame, optimising views and shading. At night, the glowing public space will become an iconic activity marker in the neighbourhood.
Source WorldArchitectureNews. *