The architecture companies Hessamfar & Vérons and Moon Safari just completed Cap Leeuwin, a new mixed-use lot in Bordeaux, France. This operation is part of the Bassins à Flot urban revitalization initiative, and it brings together four separate programmatic entities: offices, a 3-star hotel with 124 rooms, a residential hotel with 128 studios, and an active retail base.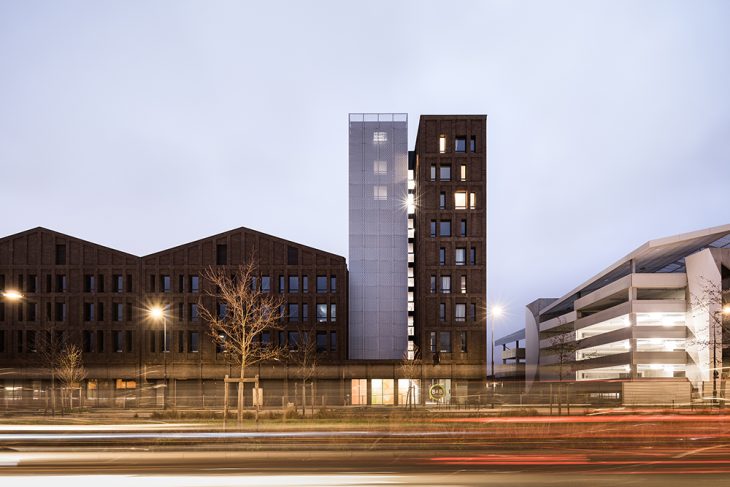 Cap Leeuwin is part of the urban renewal initiative of Bordeaux's Bassins à Flot (industrial wet docks). The Bassins à Flot, located on the left bank of the Garonne River between the Chartrons and Bacalan districts, were a major center of Bordeaux's trade and marine activities until the 1980s, when the port was relocated downriver. Coupled with the shipbuilding industry's economic downturn, the site lost its vibrancy and was eventually abandoned.
The Bassins à Flot urban renewal project began in 2010 with the launch of the district-wide redevelopment program, which was led by Bordeaux Métropole, the City of Bordeaux, and Bordeaux Port Atlantique, and was advised by the architect-urbanist who designed the master plan, Agence Nicolas Michelin et Associés. The proposal intended to revitalize and improve this remarkable property while also including it into the continuity of the city's center by connecting it to other areas.
Cap Leeuwin, the first symbolic monument signaling the resurgence of the Bassins à Flot region, marks the entry to the city and its ports.It's design pays homage to the site's past as an industrial port by reinterpreting it in a modern form. In reference to the site's industrial sheds on the quay side and the port docks on the Rue Lucien Faure side, the structure plays with volumes in a delicate blending of shapes and materials.
The architectural concept is also represented in the façade's two materials: brick and metal. The brick façade on the street side recalls the interaction with the city. The irregular appearance of the hand-moulded terra cotta brick, as well as its dark brown color with shades of black, add to the project's unique appearance, which is enhanced further by the architectural details and the sequence of apertures enlivening the façade.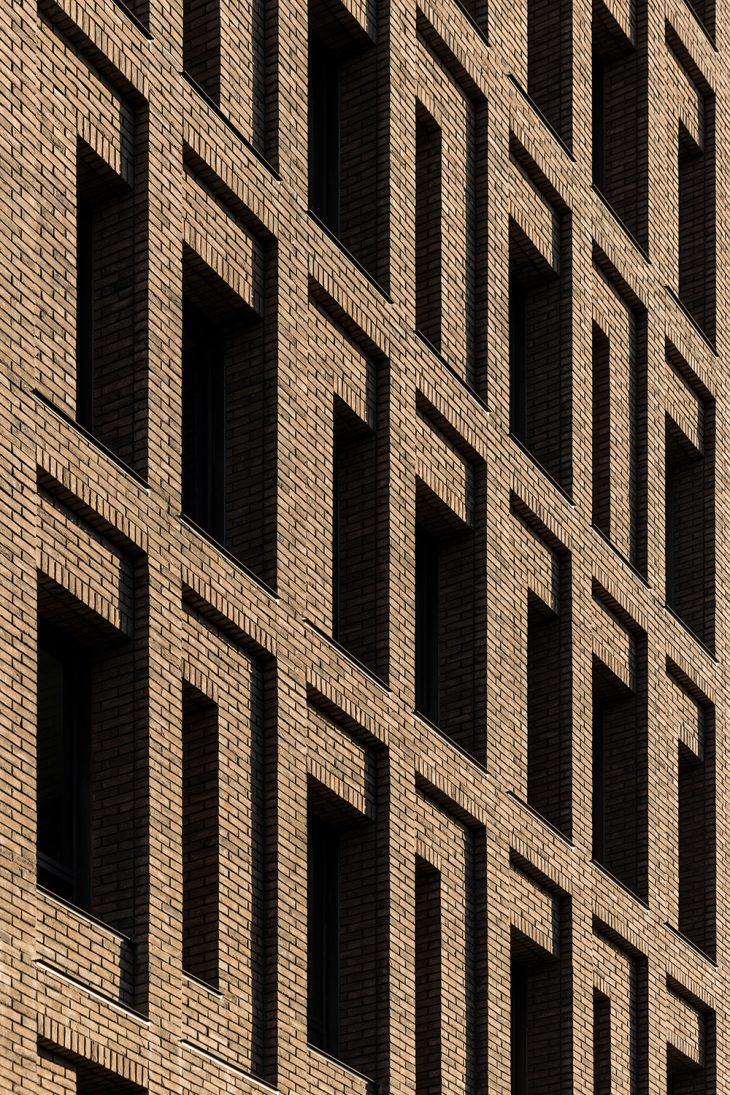 Cap Leeuwin is a 'alive' building at different times of the day due to the diversity of the programs that cohabit within it, adding to foot activity in the district. This combination of applications, however, results in particular features and needs for the numerous organizations in the original brief. To address these needs efficiently, we developed the project on the basis of a grid approach, which allowed us to harmonise the façades while also allowing us maximum flexibility in the organization of the different internal areas.
Cap Leeuwin in the Bassins à Flot, Bordeaux, France
Program: construction of a building comprising offices, a residential hotel with 128 studios, a hotel with 124 rooms and shops
Client: Fayat Immobilier / Pitch Promotion
Operators: Montempo (hotel residence), B&B (hotel)
Project management: Marjan Hessamfar & Joe Vérons architectes associés (lead architect), Moon Safari architecture & urbanisme (cocontractor architect)
All trade works engineering firm: Vivalto
Acoustics engineering firm: idB acoustique
Construction economist: Overdrive
Superficie : 15 119 m² floor area (offices: 5 755 m², residential: 3 392 m², hotel: 3 061 m², shops: 2 911 m²)
Cost of works: €21 800 000 € excl VAT
Delivered in 2021
Photo credits: ©Ivan Mathie
Find more projects by Moon Safari – www.moonsafari.archi and Hessamfar & Vérons – www.hessamfar-verons.fr