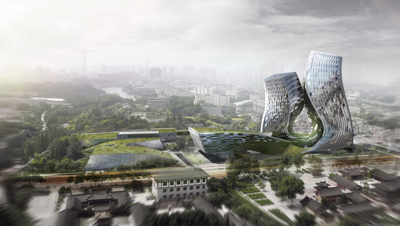 Project: Nanjing Jianning Highrise Complex
Designed by W2Y2L
Team Members: Xinyu Wan, Dingliang Yang, Keming Wang, Jialong Lai, Jie Li
Location: Nanjing, China
W2Y2L shapes the remarkable Nanjing Jianning Highrise Complex in China, design for this mixed use development finds inspiration in the traditional Chinese garden. For more images and architects description continue after the jump:
About the Project:
The distribution of architectural volumes in this design follows the idea of traditional Chinese Gardens, which transforming the elements of water, stones, hills, bridges and flowers into significant urban shapes animating and vitalizing the daily life of the entire district. As the site is in the traditional area, which is very sensitive to avant-garde architecture, this drives us to control the upground mass of the highrise. The proposal therefore lifts up the ground surface and transforms it into a flexible and lively vertical highrise with landscape integrating all the service and leisure facilities to provide an attractive and continuously active support for this traditional and cultural site.
To the open space, the idea is through "bottom elevated" to broaden the horizons, enhance ventilation, expand public space, and promote community interaction. Meanwhile by setting up "roof garden" to increase the accessibility and integration between the inner and outer space. Thus, an outstanding public space which allows citizens to have an unique and great spatial experience can be realized.
Besides, considering the different climate in Nanjing, this requires to pay a special attention on the facade during design period. In the podium part, the façade is in form of compound "green skin". The continuity of the urban environment is a necessary urban ecological factor.
Source Evolo. *