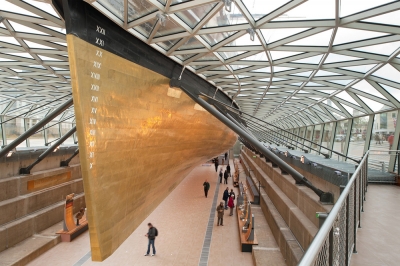 Project: The Cutty Sark
Designed by Grimshaw
Partner: Chris Nash
Associate Director: Diane Metcalfe
Project Architects:
 Jorrin Ten-Have, Den Farnworth
Architect: Joe Laslett
Principal: Steve Brown
Ckient: Cutty Sark Enterprises
Location: London, United Kingdom
Website: grimshaw-architects.com
The remarkable Cutty Sark project is work of Grimshaw architects, the architects found a splendid way to hold on to a piece of history. Discover more of the project after the jump:
From the Architects:
Cutty Sark epitomises the great age of sail and is the last surviving Tea Clipper. Her remarkable history is tangible evidence of the long-term importance of the sea trade to England, and to London's growth as the world's pre-eminent port and trading centre. Cutty Sark's iconic hull shape is defined by the revolutionary 19th century composite iron and timber shipbuilding technique. Specialist conservation work addresses the critical physical condition of the ship through a combination of electrolysis, mechanical cleaning and preventative coatings.
The fully accessible interior will be presented in its original, cargo carrying form, allowing visitors to explore the restored decks and crew accommodation. Grimshaw's innovative design proposes the raising of Cutty Sark within the dry berth – providing a new and captivating area for visitors under her revolutionary hull. A new supporting structure cradles the lifted ship's hull. In addition to this, an enveloping glass canopy, attached along the ship's waterline, will give year-round protection to visitors in the dry berth. The resulting air-conditioned, accessible space will become a place for catered events and will be used to articulate the Cutty Sark's unique story. All works will be complete for HM's Jubilee 2012 as a gift from the Duke of Edinburgh.