Project: Queensland Gallery of Modern Art
Location: Brisbane, Australia
Designed by Yazdani Studio
Website: www.yazdanistudio.com
The design of Queensland Gallery of Modern Art suggest that the experience of urban life and viewing art can exist in a continuous relationship. Contrary to the tendency to set museums apart and seal them off from the city, the spiral form of the gallery emphasizes its connection to the urban milieu, and reflects its charge of helping to revitalize the South bank area of Brisbane as an arts precinct.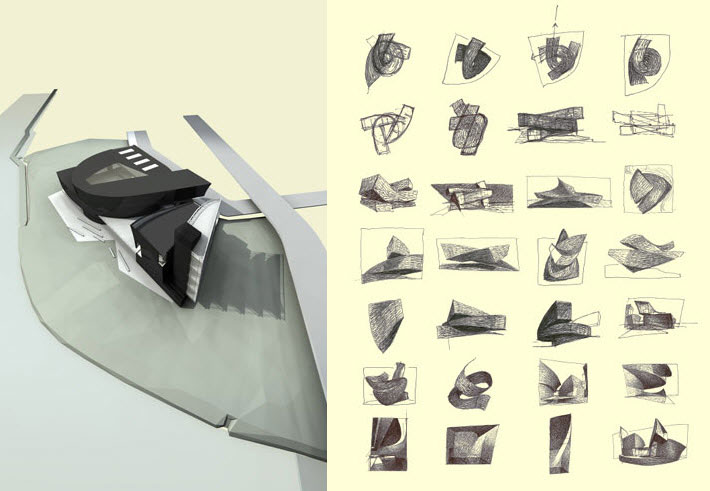 The Gallery was inspired by a spiraling seashell, which suggested possibilities for rethinking conventional tresholds between indoors and out. The dramatically black-clad planes of the spiral open to accept the public promenade rising up into the gallery. In place of a lobby, the central hall serves as the meeting place for both visitors and community, and is animated by cinemas, a gift shop and cafe. At its center rises spiraling ramp that creates a consistent reference point for the building, without eliminating the opportunity for exploration and discovery. A continuous path from and outdoor plaza into the central hall and up through a sequence of exhibition spaces demonstrates the continuity of experience from the street to the art. Yet the sequence of galleries is arranged so that visitors can either follow a rigid path or explore on their own – creating a playful tension between random activity and an organize museum visit.
The design demonstrates a new way of thinking about the relationship of art and architecture at a museum, a building can have a strong presence while remaining inviting to the public and materially connected to the city. Recognizing the appeal of the waterfront boardwalk as a civic space, the design conceives of the building as a continuation of that experience, becoming a metaphor for the ways in which art is a continuation of urban life.