Mark Odom Studio and Northwood Retail turned a found space in Austin's Domain Northside into a one-of-a-kind creative workplace for a gaming company's new Austin headquarters. This adaptive reuse project was created to lure innovative and forward-thinking IT companies to relocate to Austin. This is the architecture firm's fourth project in the Domain.
Northwood Retail, a privately held global real estate investment and management organization, created the open floor concept as an adaptive reuse project that transformed a big empty room into a dynamic work atmosphere.
The 9,468 SqFt found-space is positioned within a corridor that connects a parking garage to a popular retail sidewalk; because to its irregularly shaped footprint, it was not suitable for retail or a parking lot. The underused space was rebuilt by Mark Odom Studio as a light-filled, spacious creative office, understanding that it would appeal to a special type of tenant who did not require retail frontage, street access, or a standard office layout.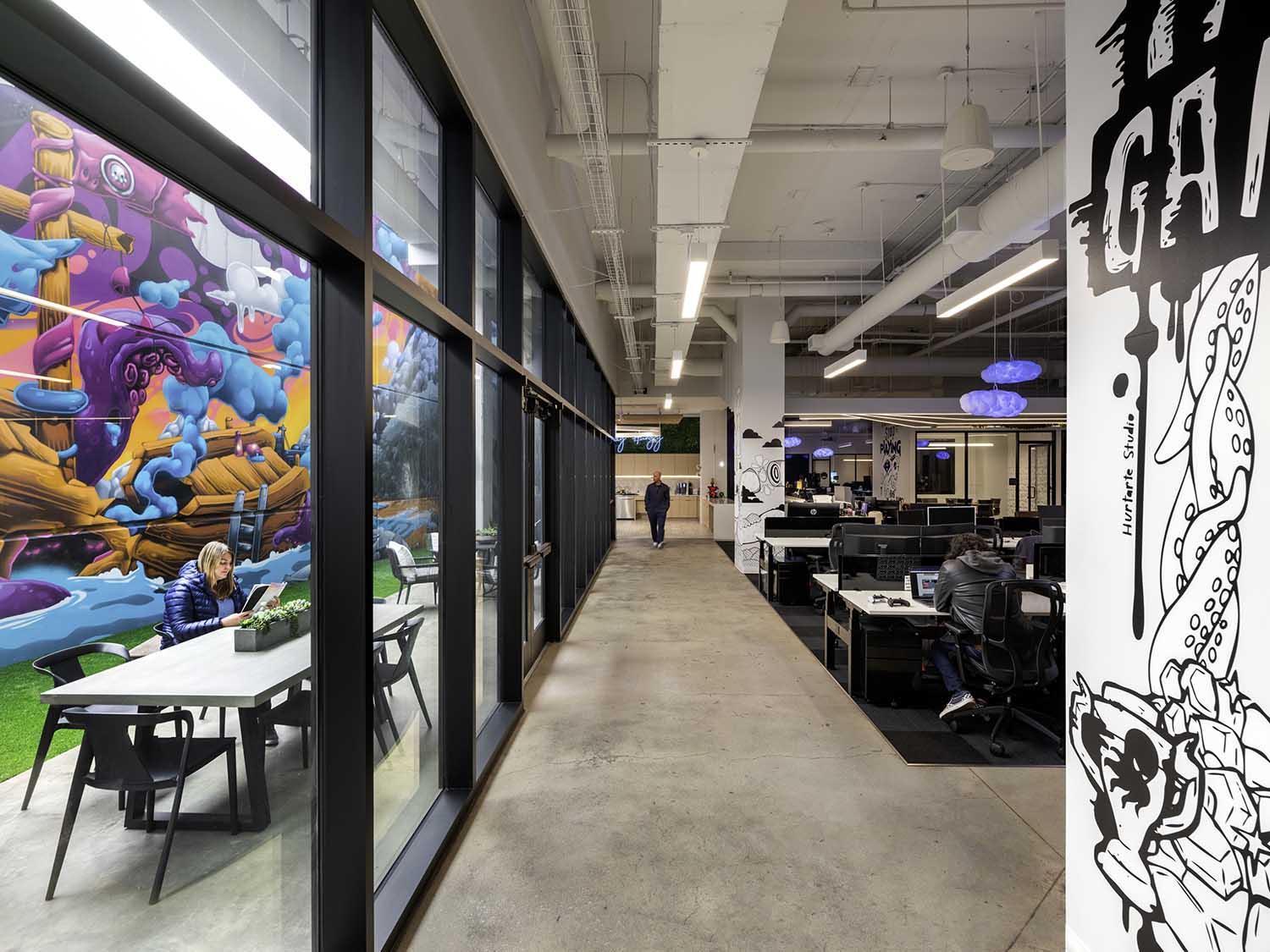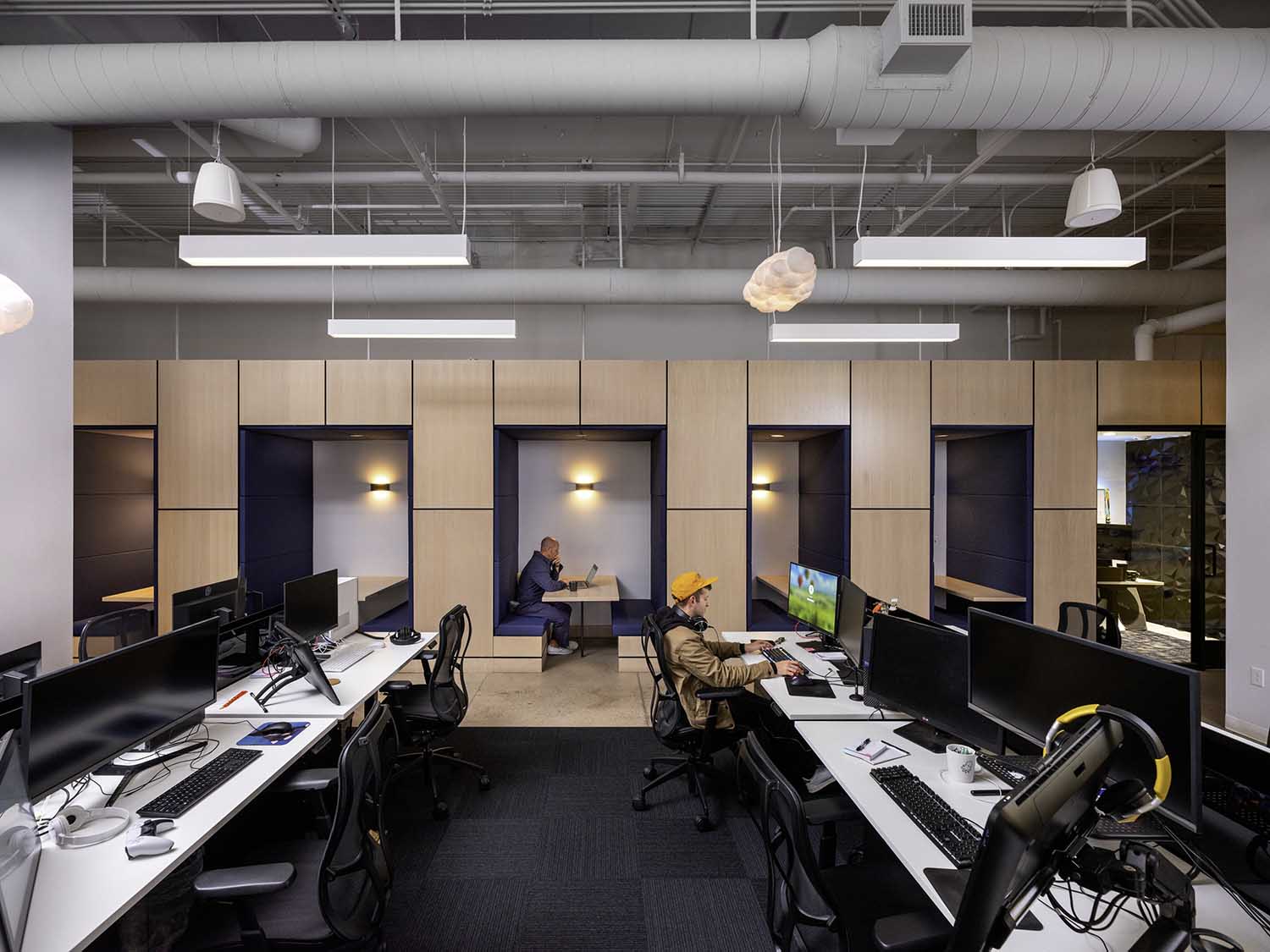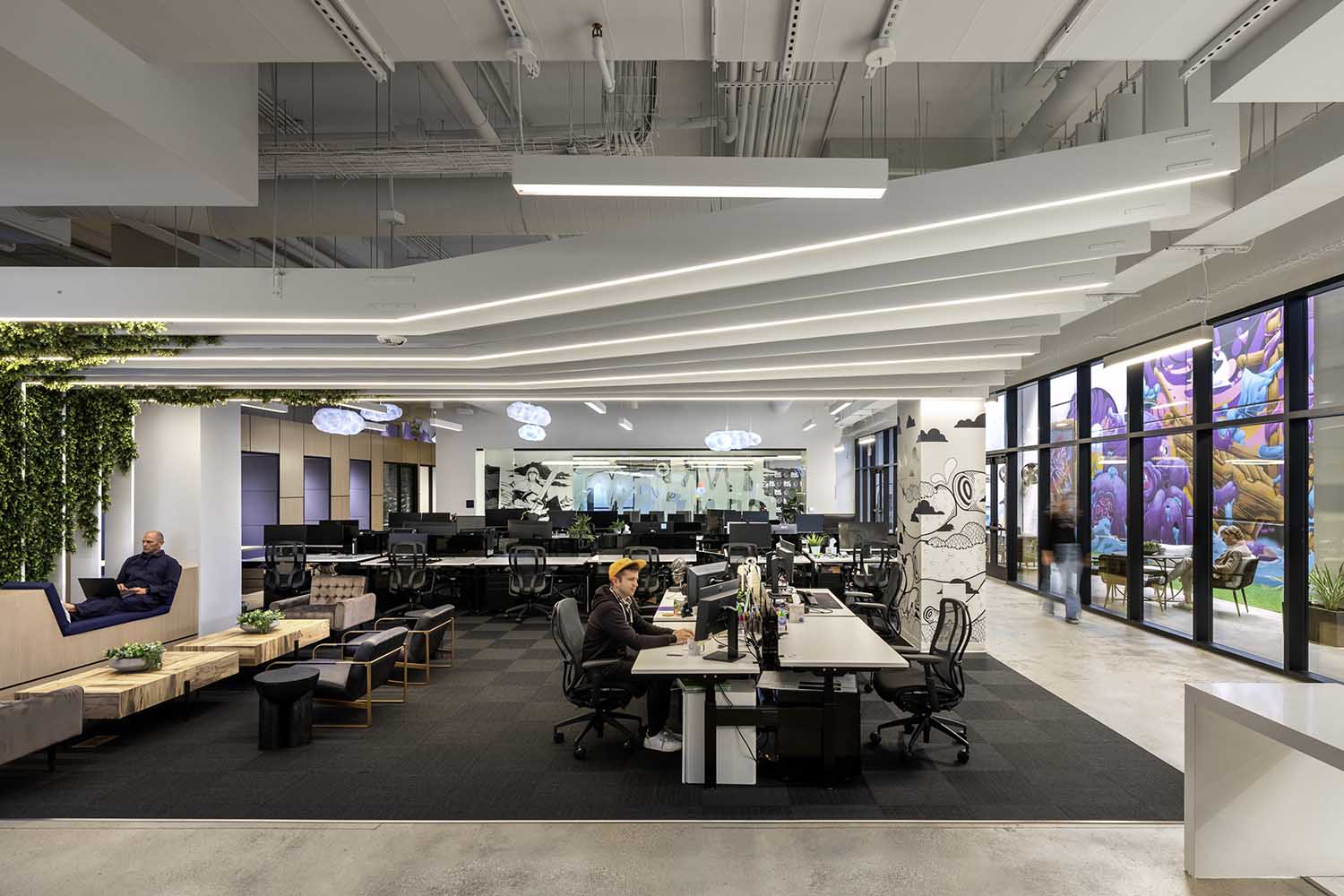 "We wanted the potential tenant to have immediate accessibility to a creative office space so we designed the floor plan accordingly. Creating a variety of different meeting spaces, work zones, and even gaming zones would appeal to certain types of creative tech companies. The idea was to encourage team collaboration both casually and formally throughout the work day."
says Erin Nies, Principal, Mark Odom Studio.
The original dry concrete shell was furnished by the design team with creative pods and collaborative zones to separate and organize the space. The aim was to include a variety of alternatives based on work style or requirement, such as private, semi-private, and communal work rooms. With dynamic linear wood dangling from the ceiling and stretching down to the ground, the inventive pods formed design focal points throughout the room. These characteristics were further emphasized by integrated linear lighting, which marked the area as unique.
Because of the unusual angles and footprint, there was a possibility to provide a huge private outdoor courtyard with simple access and communication from the inside. The space is a true fire separation situated between a massive parking garage and a leasable structure.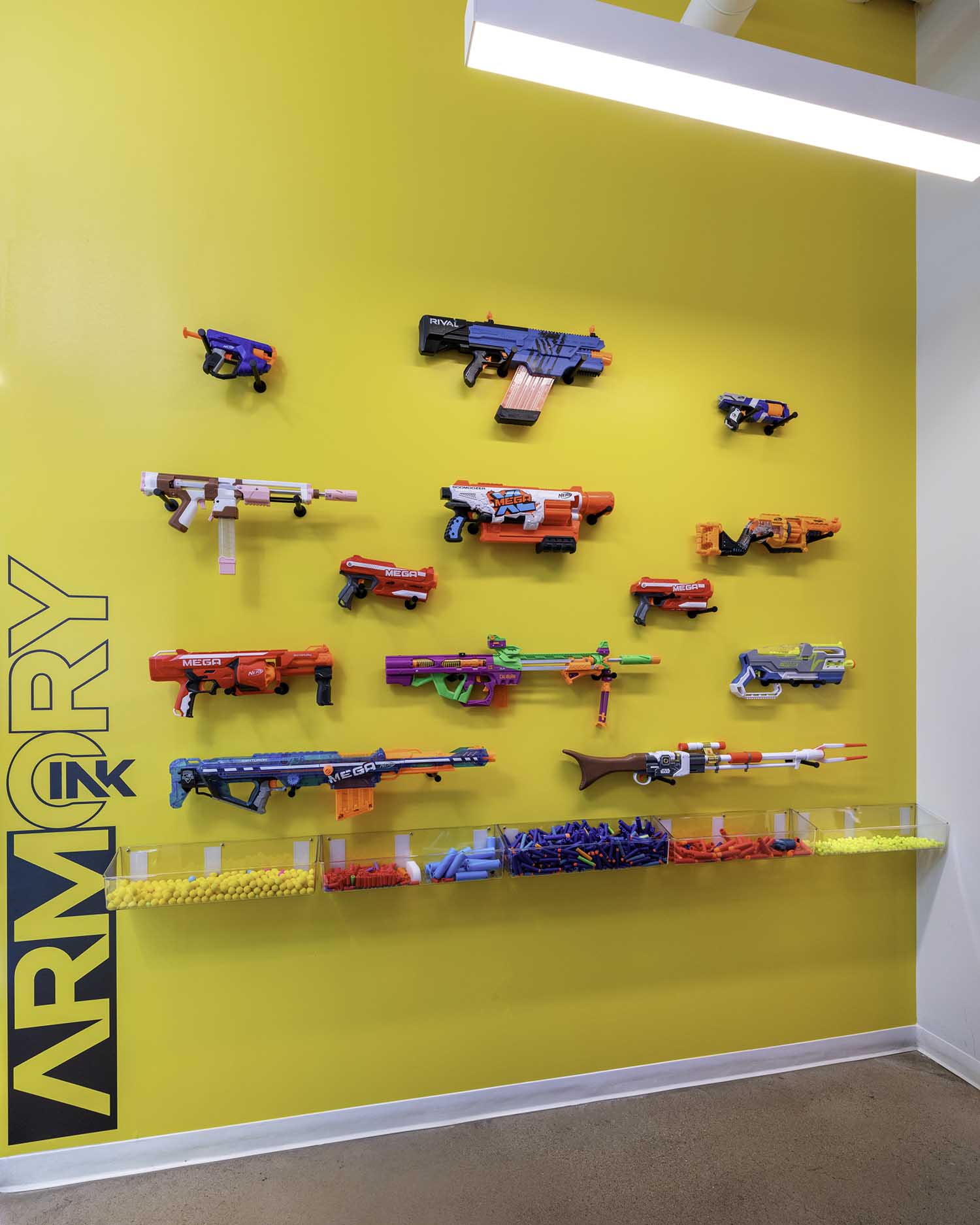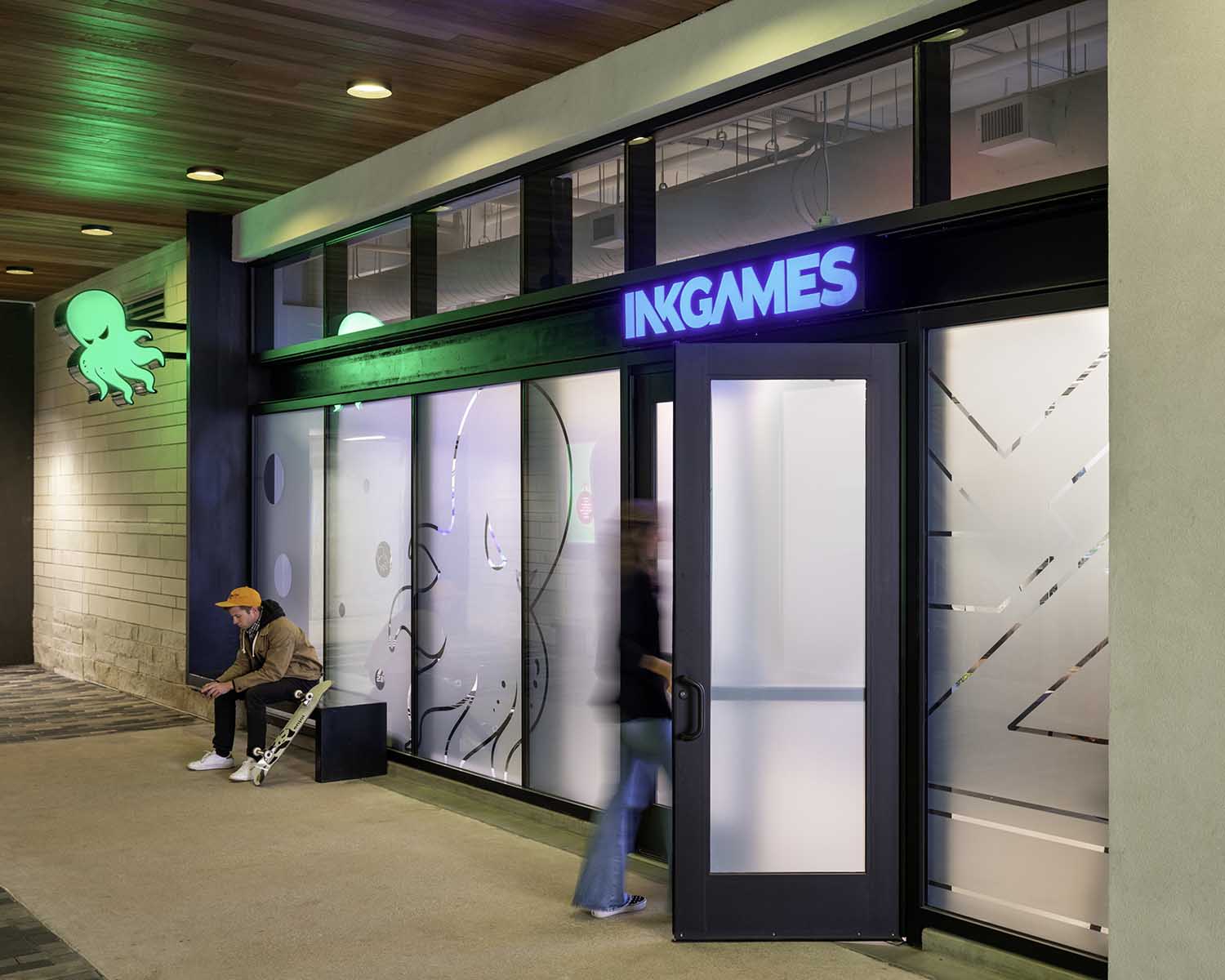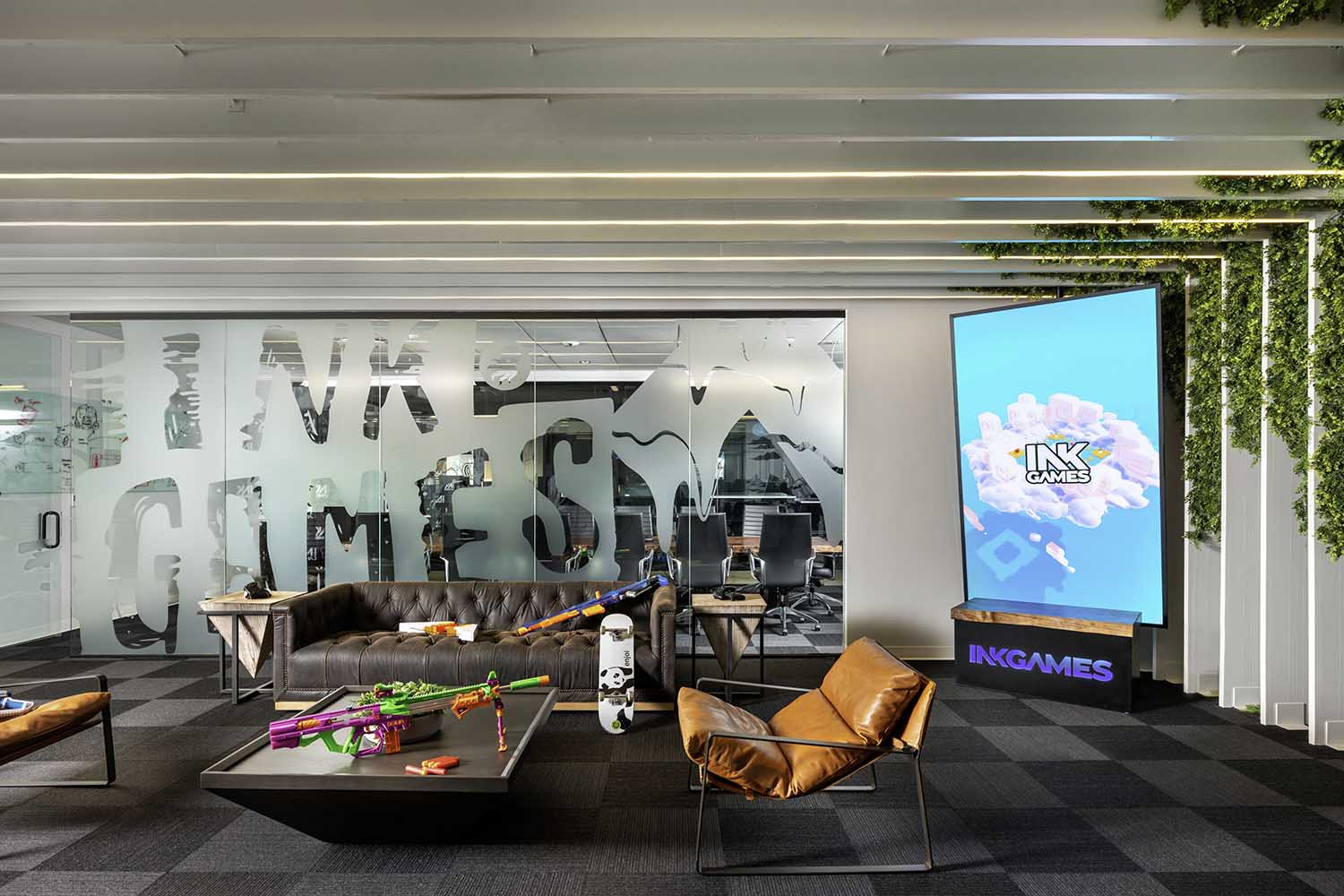 INK GamesTM, an innovative gaming firm that relocated its headquarters to Austin, TX last year, occupies the office space. The company infused its own personality into the area by enlisting legendary Texas muralist Tarbox to create an energizing focal point on the courtyard and inside walls, as well as other innovative art works like as a Nerf armory and live plant wall.
"Most of the commercial spaces along this part of Domain Northside cater to retail and restaurant clients. This surreptitious space is along the breezeway that leads to the main pedestrian sidewalk so it is tucked away while still very close to all the amenities and action without there being a distraction."
says says Erin Nies, Principal, Mark Odom Studio.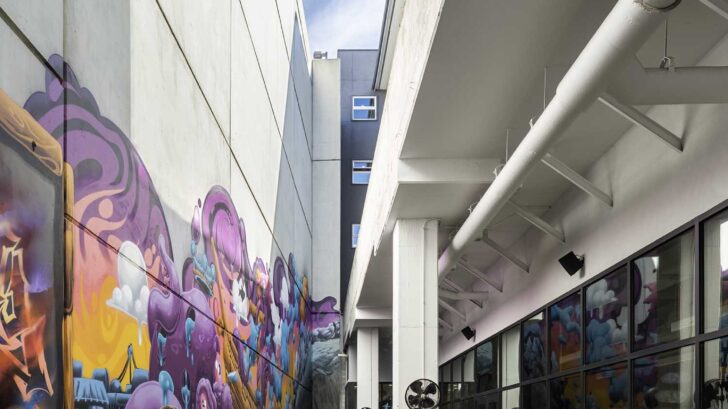 Project team:
Architect: Mark Odom Studio, Mark Odom, Erin Nies
MEP: Mint Engineering
Accessibility Consultant: Contour Collective
Structural: Bones Engineering & Design Studio
Developer: Northwood Retail, Ryan Muscott
Photos: Leonid Fermansky

Find more projects by Mark Odom Studio: markodomstudio.com