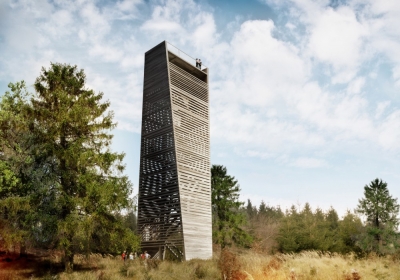 Project: Kelčský Javorník Observatory
Designed by Mimosa Architekti
Project Team: Pavel Matyska, Jana Zoubková, Petr Moráček, Kateřina Fryzelková
Collaboration: Statikon solutions Ltd., Ing. Michal Kupka
Client: Podhostynsky mikroregion
Location: Zlín, Czech Republic
Website: www.mimosa-architekti.cz|
Kelčský Javorník Observatory design from Mimosa Architekti took the second prize in the competition for the observatory project solution on the top of Kelcsky Javornik. For more images continue after the jump:
From the Architects:
The competition design of the observatory on the top of Kelcsky Javornik takes advantage of its unique location. The landscape difference between the highland of Wallachia on one side and the flat land of Haná region on the other side was taken as the main principle of the design. For all the way up to the top of the observatory, the view is stricly directed to one side only, thus the visitor has chance to view Haná characteristic landscape on north or Wallachia on south. On the top deck of the tower the division disappears and the view unites into 360 degrees unobstructed view to the surroundings. The form of the tower follows this principle.
Source Archdaily. *