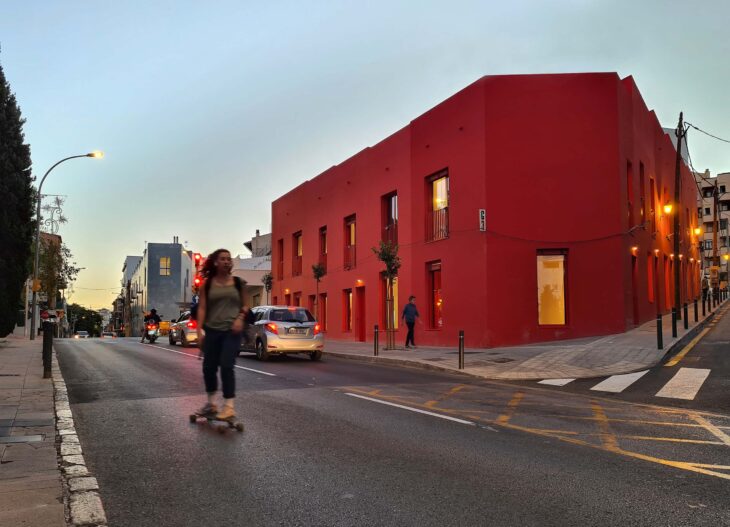 MVRDV has completed the construction of the first five out of the seven buildings that make up Project Gomila in Palma de Mallorca. Project Gomila, designed by MVRDV and GRAS Reynés Arquitectos, is a series of buildings, each with its own distinct character derived from its colors, materials, and rooflines, that is altering the region around Plaza Gomila in the El Terreno neighborhood. With a total of 60 new houses of all sizes and types, as well as new commercial spaces, Project Gomila is already well on its way to restoring El Terreno as a vibrant, green, and sustainable residential neighborhood.
"Project Gomila is an exciting architectural project – each of the seven buildings can stand alone as its own individual design, and yet at the same time they are also carefully considered as an ensemble that gives Gomila a fresh boost. When looked at together, you see a colourful collection of buildings that still somehow work together as a group."
MVRDV founding partner Jacob van Rijs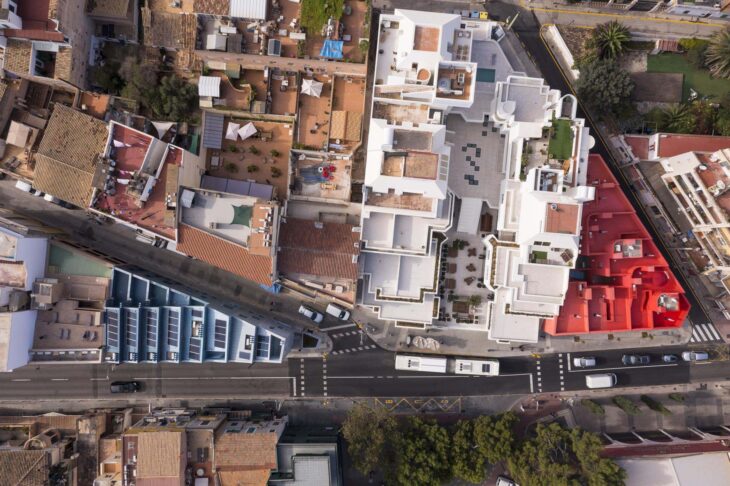 El Terreno, a historic area of Palma, is centered around Plaza Gomila and is adjacent to the city's harbor. In the 1960s and 1970s, it was well-known for its nightlife, hosting legendary performances by musicians like Jimi Hendrix, Ray Charles, and Tom Jones in its bohemian nightclubs. After a protracted period of neglect and decline, the Fluxà Family, owners of the Camper shoe company with its headquarters in Mallorca, bought a number of adjacent plots near the Plaza and launched a revitalization plan that reflected Camper's philosophy of fusing tradition with innovation and creativity.
The Gomila Center, the centerpiece of the neighborhood, is one of the five structures that were finished in phase one. This white structure, a refurbishment of a Pere Nicolau design from 1979, has a large patio on the main floor. A restaurant, offices, and flats rise in a succession of climbing terraces and balconies around this focal point. Las Casitas, a row of red townhouses next to the Gomila Center, have a network of rooftop terraces that enable the locals to interact with one another.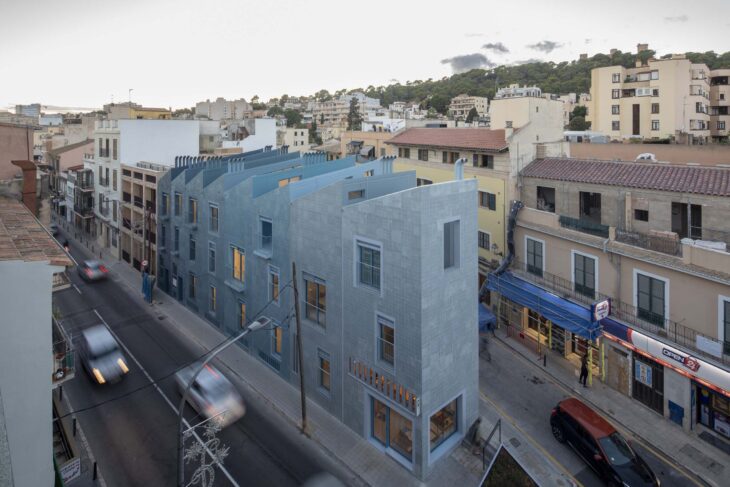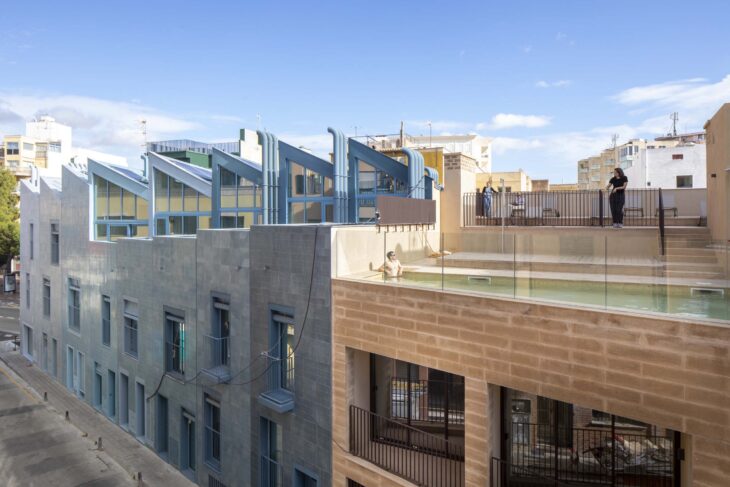 "In terms of urbanism, the concept revolves around the diversity of the buildings. Where some of the designs are more suited to family homes, others are more suited for apartments for singles or couples; where some buildings are fully residential, others bring commercial functions into the mix. This diversity of people and spaces will help bring back El Terreno's lost vibrancy."
MVRDV founding partner Winy Maas.
On the other side of the Gomila Center, located on a prominent street corner, is Las Fabri-Casas, a set of row houses with a saw-tooth roof completed with blue ceramic façades. Tucked behind this is a low-carbon apartment building constructed of compressed earth blocks, with a communal rooftop swimming pool that offers views towards the nearby Bellver Castle. Finally, across the street on the Plaza Gomila itself is the green building La Plaza, a transformation of an existing building that hosts a revival of the historic bar Bellver, offices, and a communal rooftop with views of the bay and the cathedral.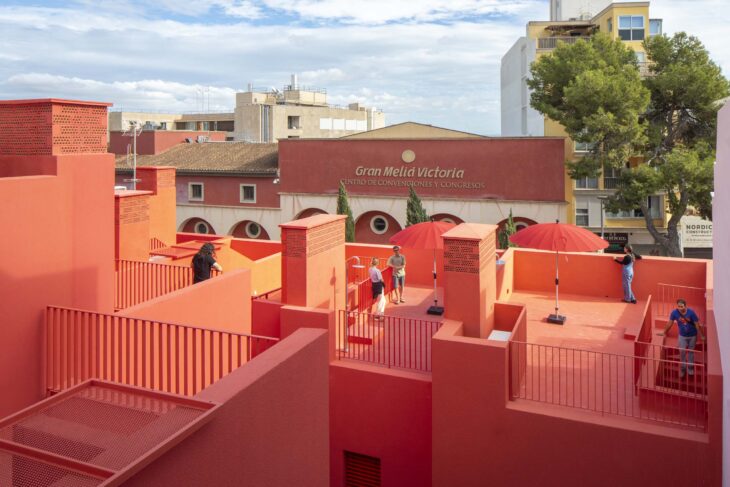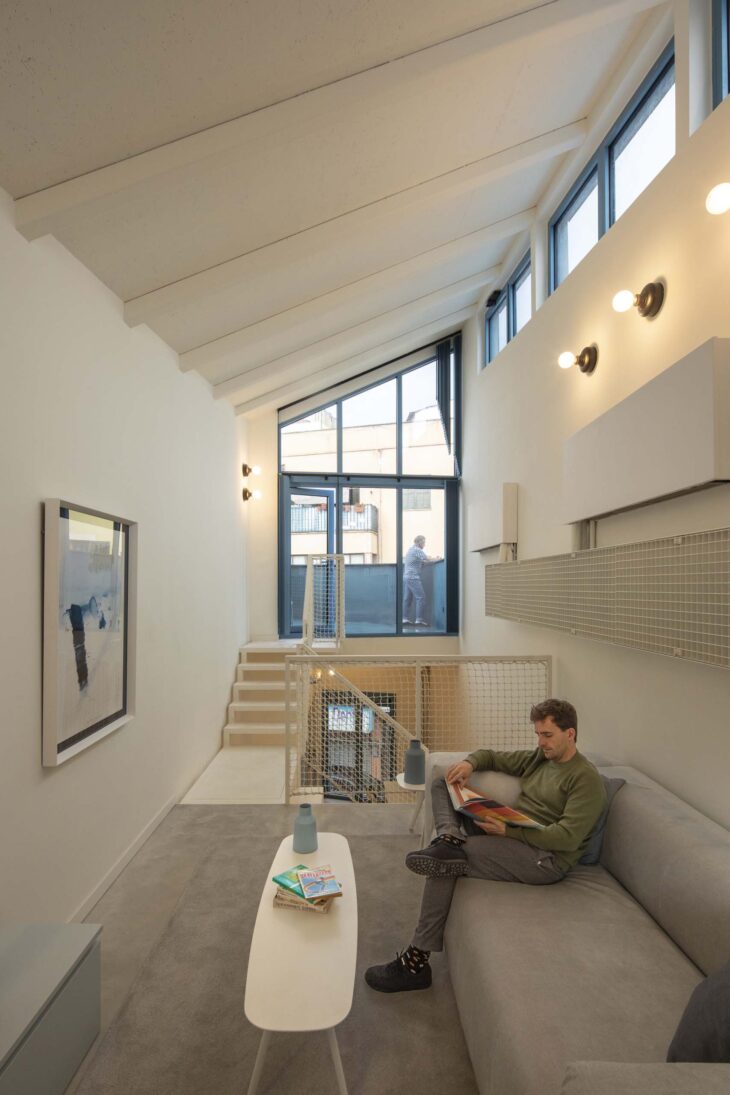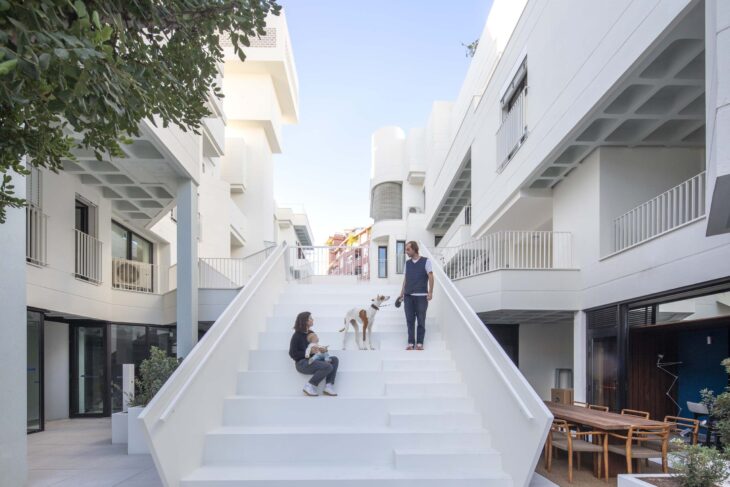 Las Fabri-Casas, a row of houses with a saw-tooth roof and blue ceramic façades, sits on the opposite side of the Gomila Center, at a prominent street corner. A low-carbon residential building made of compressed earth blocks is tucked behind it. It has a shared rooftop pool with views of the surrounding Bellver Castle. The green building La Plaza, a renovation of an existing structure, is located across the street on the Plaza Gomila itself. It has a reopening of the historic tavern Bellver, offices, and a shared rooftop with views of the cathedral and bay.
"The Gomila Project activates a new centrality in Palma, a new meeting and reference point not just for the people in the neighbourhood, but for all the citizens. The project has been very well received, bringing back good memories that Palmesanos had of the area"
Guillermo Reynés, founder of GRAS Reynés Arquitectos.
The yellow Casa Virginia and a modest villa close to the Gomila Center, both renovations of adjacent buildings, will be added to the complex in the project's later phases.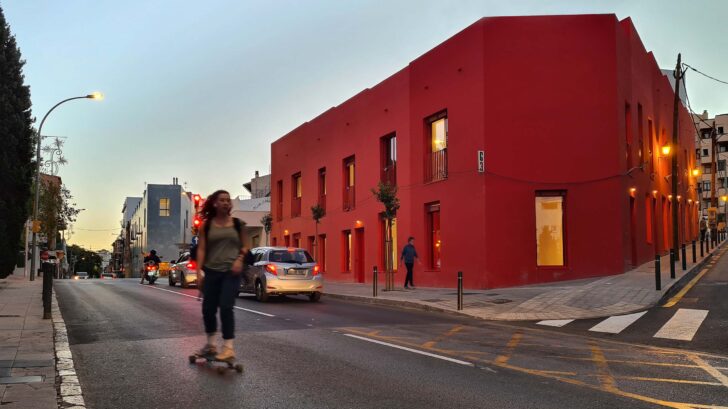 Find more projects by MVRDV: www.mvrdv.com