Arq. Pablo Gagliardo has recently completed work on his latest residential project in Argentina.This exquisite single-family residence is situated in a private gated community in Funes, a charming town just a short distance from the bustling city of Rosario.
The property in question features a singular access point from the internal circulation of the surrounding neighborhood and is situated with north-south orientations. The present scenario entails contemplation of the house's implementation on the designated site.
The exterior of the structure reveals two distinct volumes that operate cohesively as a singular entity.
The lower volume exhibits a more enclosed materiality and is situated lengthwise towards the eastern boundary of the site. The strategic arrangement of the building design effectively minimizes exposure to the street, prioritizing the privacy and serenity necessary for the bedroom area. This block serves as the functional core of the house, accommodating essential service areas including the kitchen, bathrooms, storage spaces, and garage.
Through the consolidation of these various functions within the smaller volume, the primary block housing the communal space can be liberated. The design of this space features a striking contrast to the previous block's controlled opening. Instead, it boasts complete glazing on all sides that come into contact with the outside. This design choice allows for visual permeability and a constant connection to the lush greenery of the garden.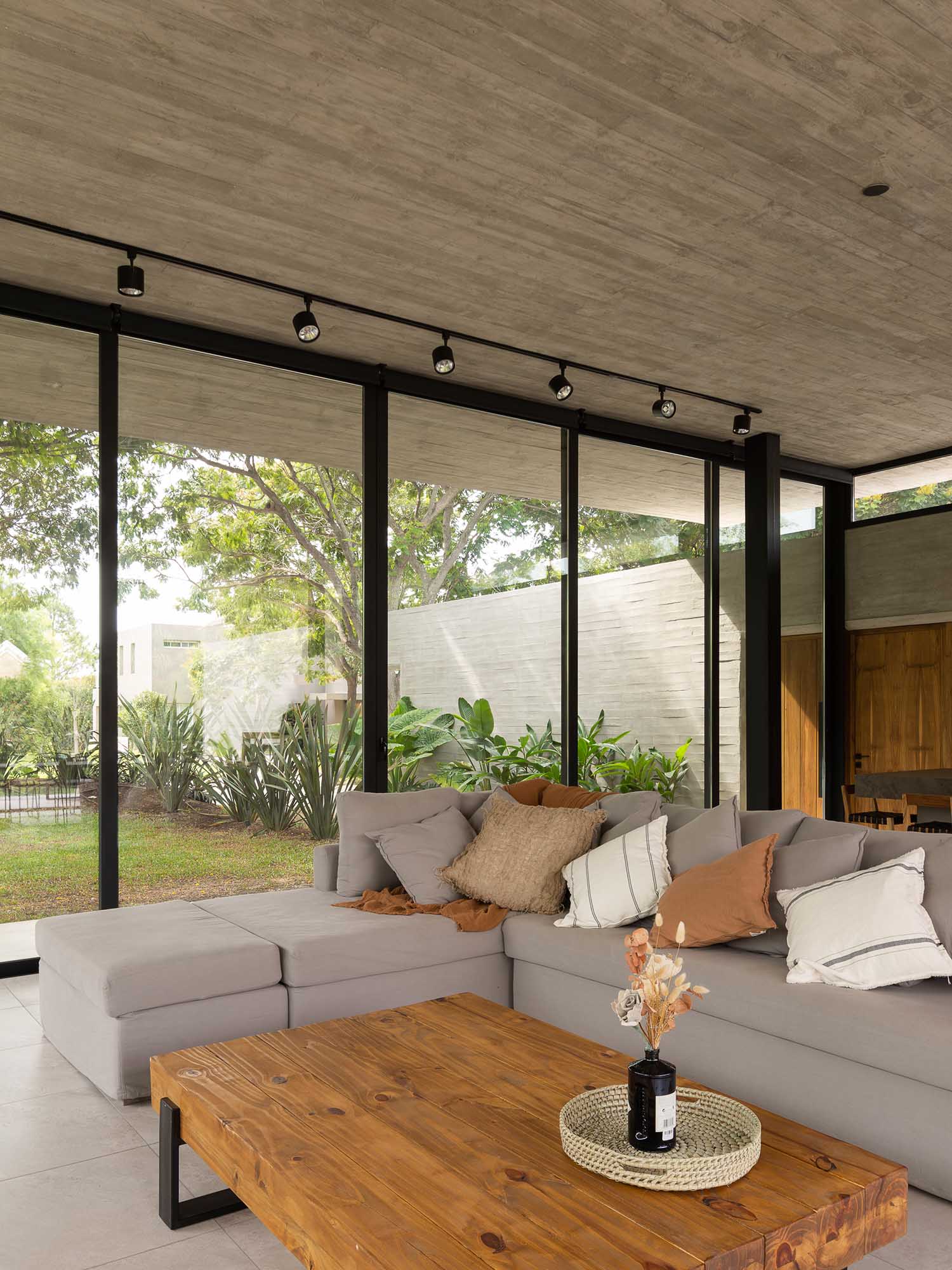 The elevated space is crowned with a sleek, reinforced concrete roof that appears to hover above it. The gallery is seamlessly integrated with the main living and dining areas through expansive sliding openings, effectively eliminating boundaries and connecting the interior with the exterior. This clever arrangement effectively doubles the available space and surface area.
The rear portion of the lot is utilized for the development of the exterior space, resulting in a distinct visual separation from the street. The design culminates in an infinity pool seamlessly integrated with the verdant hues of the rear garden.
The chosen approach for the structural and enclosure elements is the utilization of reinforced concrete with exposed boards, which serves as a practical solution. The use of concrete in combination with slender metal columns and expansive glass surfaces creates a sense of weightlessness, allowing the slab to appear as if it is effortlessly hovering over the central social space, which serves as the focal point of the residence.
Project information
Name: Casa JP
Location: Barrio Kentucky Club de Campo – Rosario
Architect: Arq. Pablo Gagliardo
Collaborators: Sebastián Larpin, Lucía Galfione, Cecilia Alianak, Denise Fernandez, Clara Rovere, Julieta Puntarello
Engineers: Orengo y Asociados
Landscaping: Gabriela Rinesi
Surface: 264.50m2
Year: 2022