Cadence Architects have recently completed their latest residential project in India – Hosapete Mane House. Located in the picturesque town of Hospet, Karnataka, this site boasts a favorable north-facing orientation. The home was envisioned by the architects as a harmonious composition of interconnected volumes. In order to attain a sense of seamless flow within the space, the designers meticulously examined an animated section that dynamically evolves throughout the length of the residence. The dynamic roof profiles of the house contribute to an engaging interplay of volumes and spaces within the interior, resulting in a truly immersive sensory experience.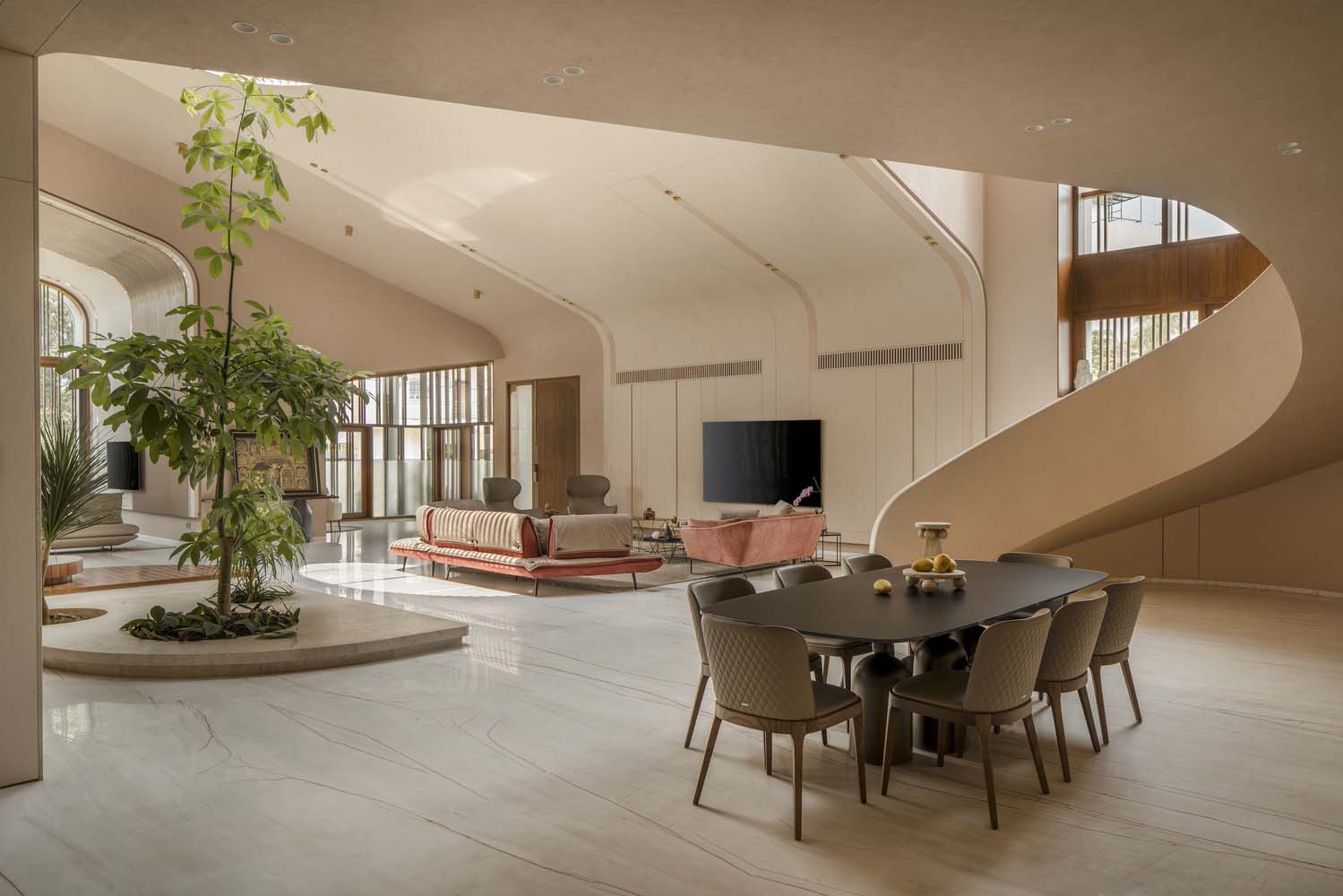 In response to the challenging climatic conditions of Hospet, the architectural design was thoughtfully devised to strategically shield the dwelling from the intense rays of the sun in both the western and southern directions. Simultaneously, the residence was oriented to embrace the serene garden area, creating a harmonious connection with the natural surroundings in the northern and eastern directions.
The conventional concept of an open-to-sky courtyard has been creatively reimagined as a captivating 'Landscape platform' featuring a dynamic operable skylight. The skylight features a motorized glazing system that offers the convenience of adjustable ventilation, allowing for the efficient release of excess heat during daylight hours. The muted finishes within the interiors gracefully envelop the architectural shell, skillfully highlighting its inherent geometry while imbuing the space with a comforting sense of warmth.
Project information
Architects: Cadence Architects – cadencearchitects.com
Year: 2023
Photographs: Studio Recall
Manufacturers: Cattelan Italia, Curio Casa, Gamma, Jaipur Rugs, Ligne Roset, Poliform, Saba, Ventura, vibieffe
Lead Architects: Smaran Mallesh, Vikram Rajashekar, Narendra Pirgal, Rejin Karthik, Suresh B Mistry, Aayushi Zaveri
Landscape: 3 Fold Design
City: Hosapete
Country: India