Mondejar & Figueroa recently completed the refurbishment project of this stunning private residence in Barrio Juniors, Córdoba, Argentina. To oxygenate the rooms and the interactions with the existent vacant spaces, a large intervention of wall substitution was carried out. As a result, the organization is built around little patios that highlight household life and the plot's proposed scale. The design is divided into three patios that allow for a smooth shift to smaller proportions. Discover more after the jump.
From the architects: The RB house proposes a refurbishment on an existing house located in Juniors, city of Cordoba, Argentina.
The house is outlined for a married couple that is returning to the city to live in a traditional neighborhood in the pericentral area.
The characteristics of the neighborhood suggest to develop an introvert house, with little relationship with the street, prioritizing the interior spaces.
It is performed a significant intervention of wall substitution to oxygenate the rooms and the relationships with the preexisting empty spaces.
Therefore, the organization is developed among small patios that allow to highlight the domestic life and the suggested scale for the plot.
The lay out is carried out in three patios that allow the gradual transition to more intimate scales.
A new functional rearrangement was performed, locating the entrance over a lateral, separating the daytime and nighttime areas without interferences.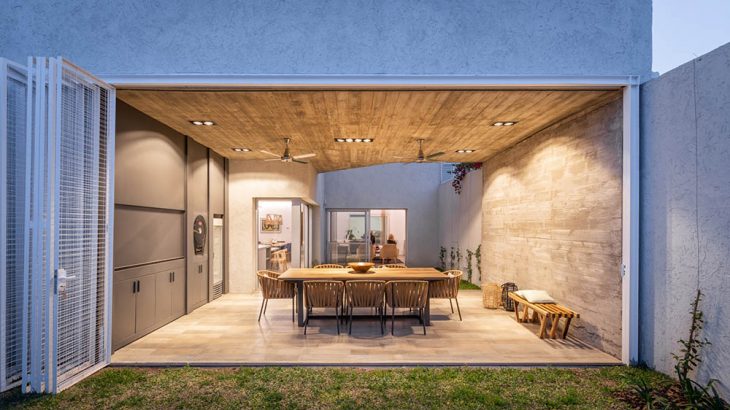 On the ground floor, living room, dining room and kitchen were integrated by demolishing the existing walls, always being linked with the green areas proposed, establishing the facilities in lateral strips that surround the backyard.
The building was developed with market materials, hollow bricks and precast joists.
The substitutions were done with metal profiles that were hidden afterwards because of the irregularity of the location of them.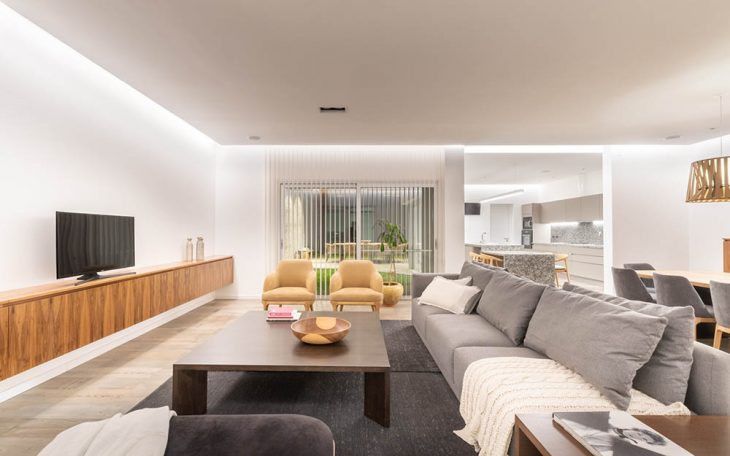 The foundation system of the ground floor was preserved, and a new structure was proposed for the higher floor, lightening the loads through two types of foundations.
The protection system for the house is materialized horizontally in the edges of the patios, obtaining in this way a permanent and direct relationship with the common spaces.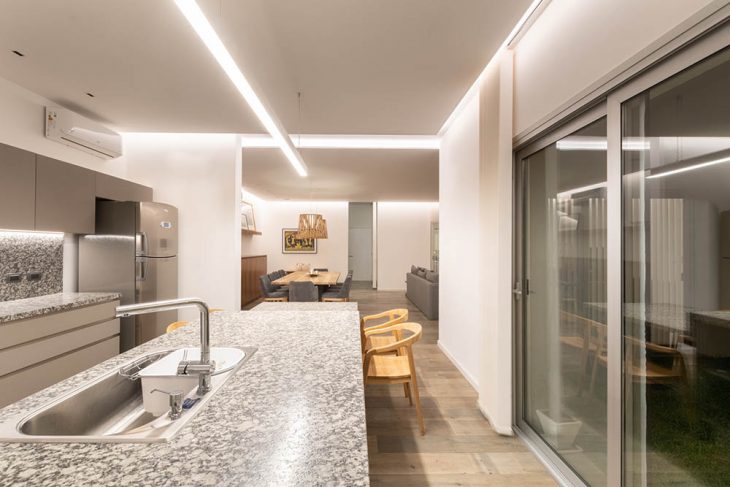 The proposal seeks to obtain illuminated spaces, in plain relation with the green areas, recovering the use of all the spaces suggested.
The finishes were done in thick whitewash for the exterior, and plaster for the interiors, with exposed concrete walls in the entrance area and an exposed concrete slab in the barbecue area.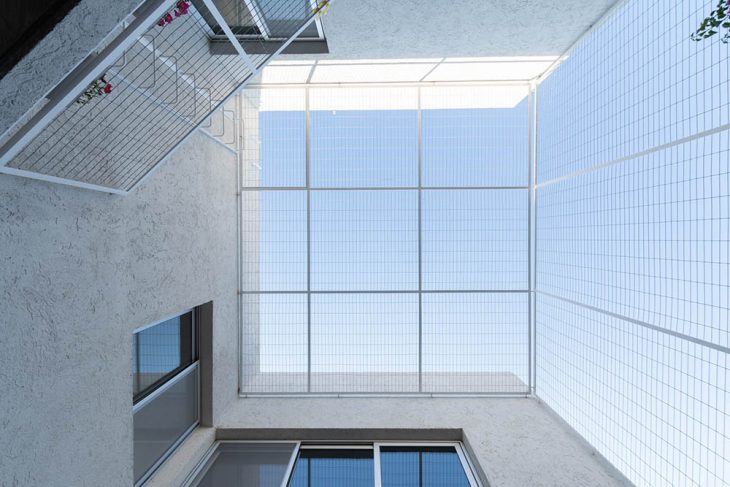 The facade is stark, flat and silent, avoiding to perceive what is discovered in the interior.
The proposal pursues to solve with austerity a new cycle of a neighborhood house, that is distant from the current living choices.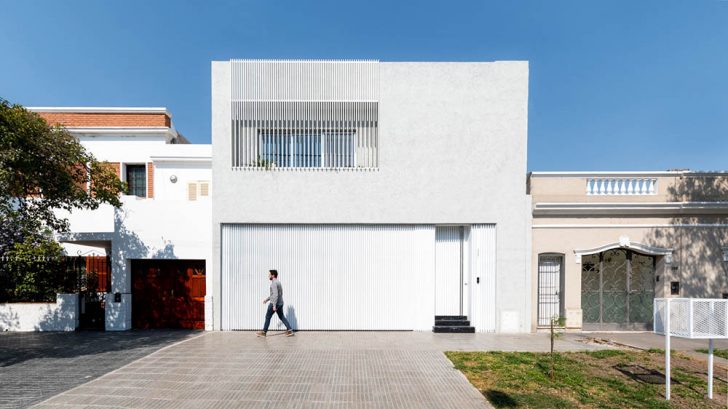 Project Name : Casa RB
Architecture Studio : Adolfo Mondejar + Francisco Figueroa Astrain, arqs.
Country: Argentina
–
Completion year: 2020
Surface: 370.80m²
Location: Barrio Juniors, Córdoba, Argentina