KiKi ARCHi has recently completed work on this stunning townhouse in Shenzen, China. The house had a very different appearance before. In China, the colonial aesthetic and intricate decorating were formerly popular, but they are no longer appropriate for modern life. After briefly living in the "past tense" setting, the home's owner, a sane and sensible lawyer, made the decision to hire KiKi ARCHi to renovate the space and make it more comfortable for his family to live in.
The original house is not ideal, but the "complicated" household needs to return to the "lightness" to fit the daily lives of three generations. The structure with only one side of windows contains a basement, three levels above it, and an attic. With the exception of the upper attic with skylights, the inside is therefore mostly dark, and the internal loft structure adds an unsteady visual impression. It's also a shame for the owner's family, who enjoy being outside, because several modest balconies linked to the building were once squandered due to climate and mosquito issues.
In order to seamlessly integrate the internal and outdoor spaces, KiKi ARCHi proposed the idea of a "breathing house" and concentrated on the three keywords of "light," "air," and "flow." Secondly, in order to address the lighting issue, the designer attached two sets of skylights to the roof above the stair hall. Thus that natural light may enter each floor and illuminate the stair hall, the skylight can flow through the split level's structural openings.
The home's façade underwent a significant alteration at the same period. A unique white mesh window fitted to the existing balcony framework transforms the balcony into a partially outdoor area. The mesh windows are ventilated, anti-mosquito, and anti-corrosion coated, making them ideal for usage in southern Chinese towns. Certain mesh windows are replaced with glass in accordance with the height and angle of view to create a pleasant viewing effect. Its new façade is contemporary and light, providing privacy while also being breathable.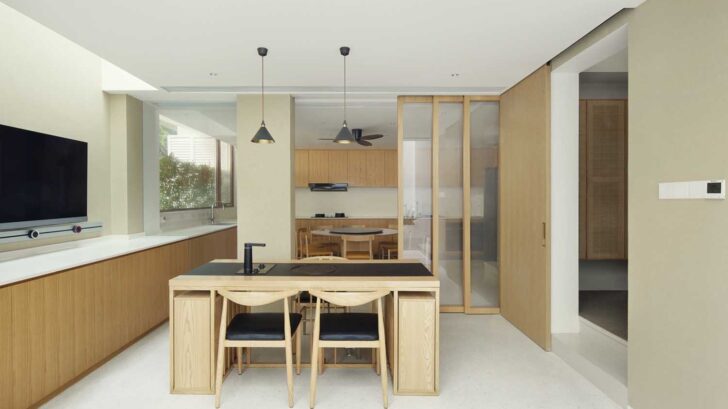 Project information
Project Name: Breathing House
Project Location: Shenzhen, China
Element: Residence
Design Firm: KiKi ARCHi – kikiarchi.com
Director: Yoshihiko Seki
Design Team: Saika Akiyoshi, Tianping Wang
Site Area: 140㎡
Building Area: 450㎡
Design Period: 2021.08.01 – 2022.01.01
Construction Period: 2022.01.01 – 2023.01.01
Material & Brands: Diatom mud-Shikoku / Tile-Terrazzo / Facade-stainless mesh
Photography: Eiichi Kano / Tony Tan