Heliotrope Architects designed this stunning water-side Portage Bay residence taking inspiration from Seattle's maritime heritage. Tucked into a small city lot along the water's edge, the house was designed to live like a studio loft for a bachelor who values privacy, a central location to reside in the city, and a convenient spot to park the float plane.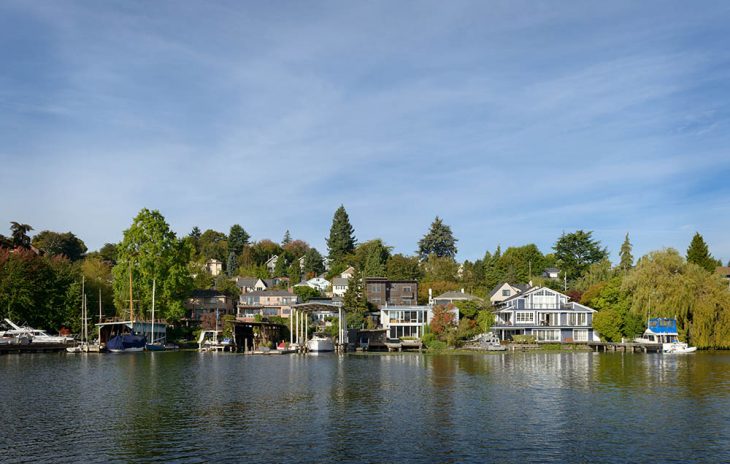 Living, cooking, and sleeping all occur in one volume distributed over two floor levels, sized and shaped to envelope the occupant in a protective refuge. The kitchen is small and streamlined with equipment paired down to the essentials. Bathing happens in a below-grade spa or a master bath with a Japanese style hinoki tub overlooking the lake.
We talked to Mike Mora, AIA, Principal at Heliotrope Architects about the design process, the inspiration behind it and the the main challenges designing a water-side home. Discover more after the jump.
Could you briefly introduce the concept behind the Portage Bay project?
Hard shell on the outside, and softness on the inside.
What was your inspiration behind the project?
There a many maritime industrial sheds along the waterways of Seattle's sound and lakes, inspiration was taken upon these utilitarian metal and wood clad structures.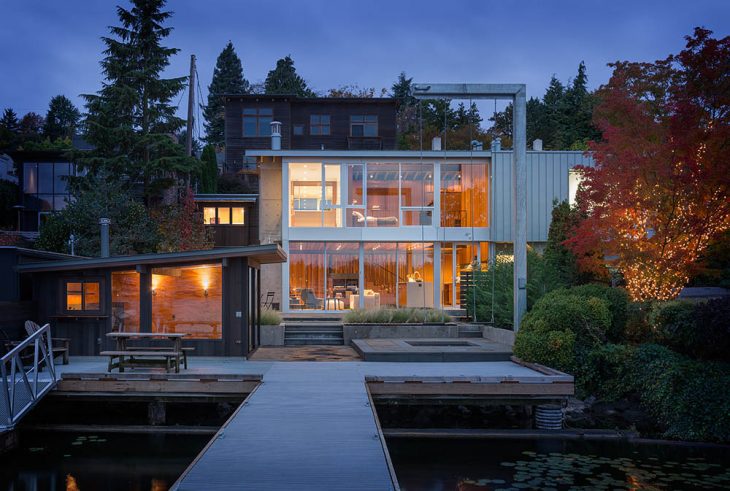 In what way was the client involved in the design process and how much freedom did you get while shaping the project?
The design process of the home involved the client from start to finish. It was a dialogue on how to capture his lifestyle in an efficient architectural form between the density of waterfront properties along the lake.
Sustainability wise what are the main features of your design?
The home was a remodel, and the project relied on the reuse of the existing foundation and footprint of the existing home. The home was also designed to be small and efficient, not being any larger than it really needed to be, and built to last for generations to come.
What design features were used to insure the privacy of the future residents?
Hidden from the street, the building has a protective shell of zinc and aluminum – a refined version of the maritime industrial sheds found throughout the waterfronts of Seattle. Water-side, the house becomes more transparent, with prospect-views over the houseboats of Portage Bay, the University of Washington, and the Cascade Mountains.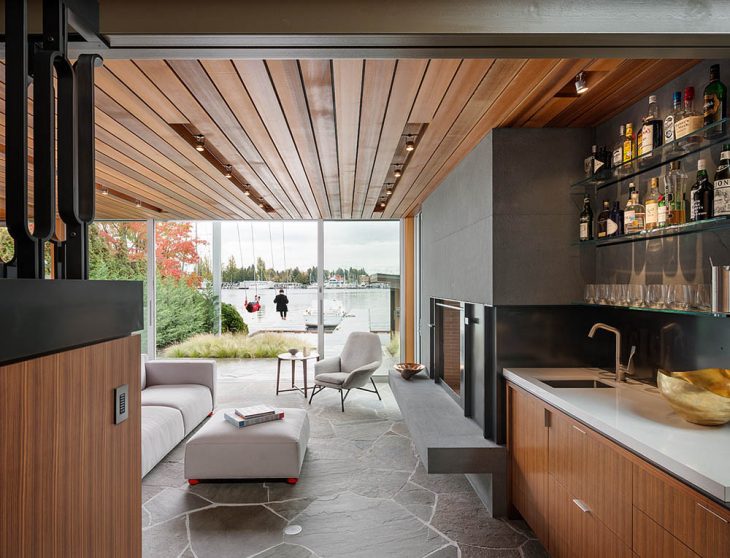 Could You tell us more about the materials that were used in the project?
Zinc and Aluminum where used on the exterior for the protective shell, to contrast with the interior cedar clad walls and walnut cabinetry.
What were the main challenges designing a water-side home?
The main challenges was to work closely with the builders on the constructability. With it's narrow access from the street and full waterfront access, getting material and equipment on to the site was extremely difficult. Also the challenges of adapting the new structure between the old existing structure.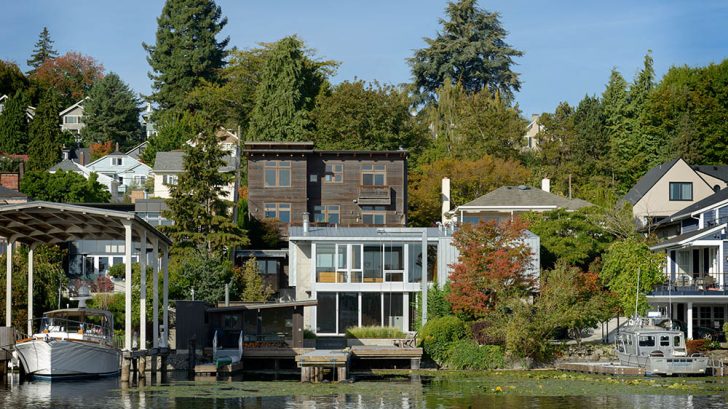 Project Team
Architecture: Heliotrope Architects
Contractor: ESMB, Inc.
Architectural metals: Company K + Decorative Metal Arts
Landscape: Jonathan Morley of the Berger Partnership
Furnishings: Inform Interiors
Photographer: Aaron Leitz