Atelier BOOM-TOWN designed this stunning private residence in Shefford, Canada for ceramicist Sophie Manessie, her spouse Damien and their children. It is a convergence of household, work, and creative spaces. The house is split into three major volumes that follow the land's topography. A ceramics studio and a garage are located inside the volume that is just barely submerged into the mountain on the back façade.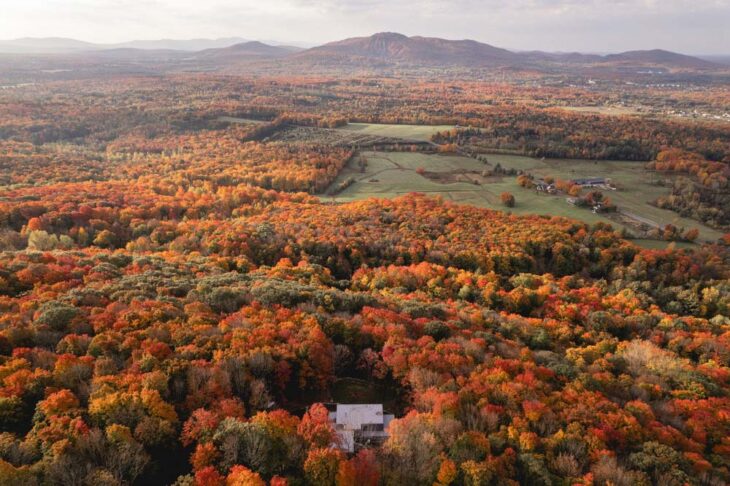 The master bedroom, its bathroom, and storage areas are located in a smaller, Corten steel-clad volume. The space below houses a home theater. A sizable entrance on two floors of the main volume, which faces south, looks out into a woodland and Mount Bromont in the distance. West of the building, the outdoor patio is covered by the roof. A rooftop patio is located on the Corten block's east side and may be accessed from a nearby room.
While the oxidation of the Corten block picks up the iron rocks found in this area of the mountain, the variable width white cedar siding aids in blending and even concealing the home in the forest. The whole north façade is covered in a grey steel roof, shielding the house's outlines from the highway above.
It is also a meeting and reception venue for family and friends. These openings allow for unique connections with the terrain and surrounding nature. These numerous apertures, sometimes wide, sometimes more intimate, give distinct views and adapted sunlight, such that the work rooms open onto different panoramas than the family areas. Sunlight, like nature, enters the rooms from all sides, placing the occupants at the center of an architectural-nature interaction. The bottom floor patio connects the main room to the outside world.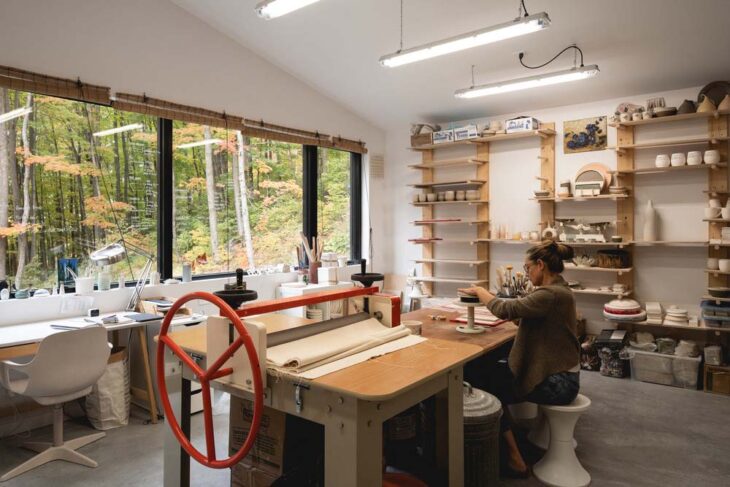 The orientation of the house was given special consideration in order to incorporate some elements of passive solar design using the thermal mass with the floor slab and the openings to the south, while using various methods to create sunbreakers on the south facade to avoid overheating in summer. Cross ventilation is also possible due to the fenestration. The wall insulation was upgraded using compositions with up to R46 insulation values, as well as roofing with R62 values, lowering the house's running expenses.
Project information
Wood siding: Maxi-Forêt
Steel siding: MAC architectural / Privus Design ( Corten steel)
Cabinetry: Ateliers Jacob
Staircase: Escalier Distinct
Fireplace: STUV America
Doors & windows: Fabelta
Plumbing and ceramics: Ramacieri Soligo
Photograph: Raphaël Thibodeau
Find more projects by Atelier BOOM-TOWN: www.boom-town.ca