No Architects restored a 1920s Prague villa to its original glory, complemented with complete technical modernisation and layout adjustments. The interior, which was meticulously planned and executed, not only echoes the original architecture's architectural purpose but also quietly draws inspiration from Japan and the UK as well as the customers' personal experiences.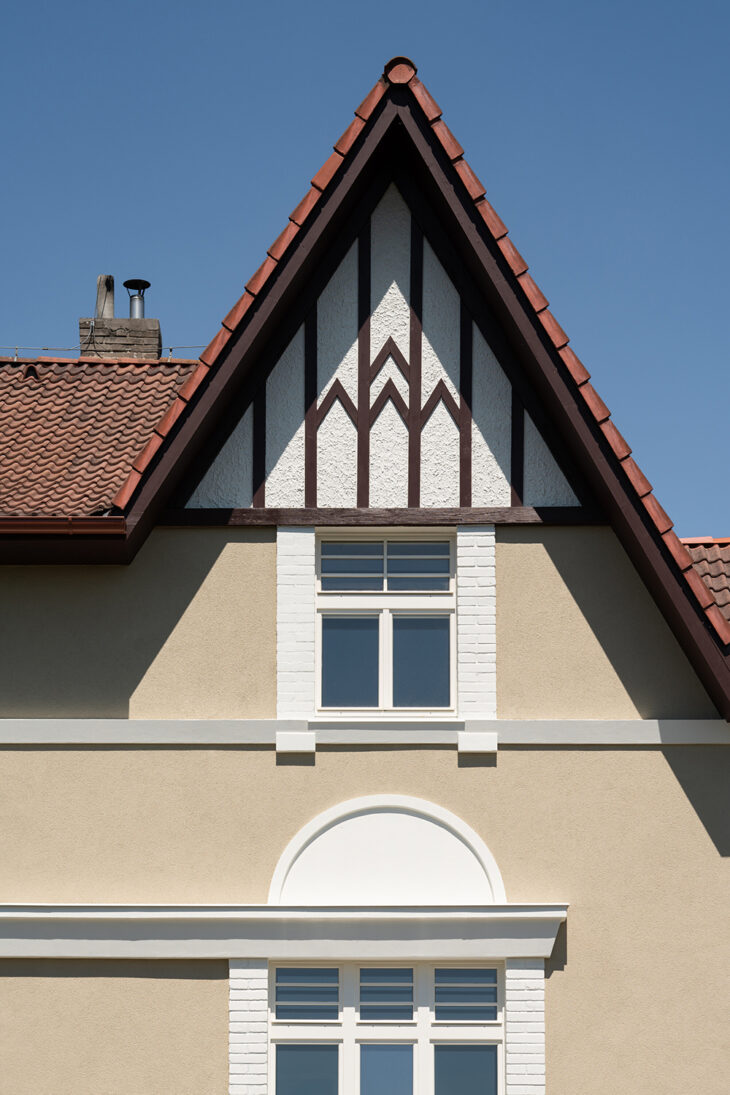 We don't even know the authors of the original generic nostalgia of late First Republic villas, unlike many avant-garde modernists, but even after more than a century we understand them. People built houses here in historicizing styles simply because they wanted to feel like they had always been there. So that they and their households could more easily put down roots here.
Even though a thorough makeover was required, the architects chose to stick with the original plan, including the garden. They painted over the asymmetrical spots, cleaned up the home, and repainted it.
The three bathrooms' hot water for washing is provided by a quiet air-water heat pump, which also provides warmth. Underfloor heating guarantees the bottom floor's thermal stability and comfort. In the basement and exercise area, as well as above with the bedrooms and dressing room, individual and quick-control heating components are conceivable. Managing rainwater or installing complex cabling naturally takes into account user comfort and safety.
When we first approached this particular house, it did not look like a posh residence. Although a complete renovation was necessary, we did not compete with the original idea and decided to stay true to it, including the garden.
The property has undergone a layout makeover in addition to a whole technical modernization. It has been expanded in keeping with the original design by adding two extra rooms and a bathroom, as well as a direct link between the kitchen and the garden. The interior thoughtfully blends the customers' unique life experiences as well as inspiration from both the UK and Japan, while also empathizing with the original architecture's design goal The architects have created one special entrance to a child's fantasy world as a memorial to the original creators.
Studio: No Architects – www.noarchitects.cz
Author: Jakub Filip Novák, Daniela Baráčková, Lenka Juračková
Project location: Prague
Project country: Czech Republic
Project year: 2020
Completion year: 2022
Built-up Area: 173 m²
Gross Floor Area: 245 m²
Usable Floor Area: 175 m²
Plot size: 750 m²
Photographer: Studio Flusser – www.studioflusser.com
Collaborator: Collaboration: David Hromada
Landscape architect: Living in green
Joinery products: CZ interiéry