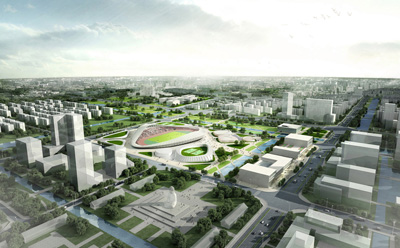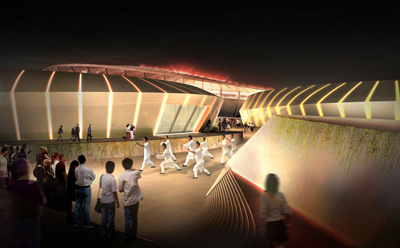 Project: The Nantong Sports Center
Designed by HENN Architekten
Project Team: Leander Adrian, Daniel da Rocha, Martin Henn, Anthony Hu, Alan Kim, Agata Kycia, Paul Langley, Jeewon Paek, Emil Pira, Klaus Ransmayr, Wei Sun, Mu Xingyu
Consultants: Schlaich Bergermann & Partner, Wabe-Plan
Local Partner: Tshinghua University Architecture Design Institute
Area GFA: Sports Stadium 50,000sqm; Arena 13,690sqm; Swimming Hall 11,872sqm; Badminton Hall 11,037sqm; Table Tennis Hall 10,955sqm
Location: Nantong, China
Website: www.henn.com
HENN Architects share with us their project for the The Nantong Sports Center located in the fast-growing Chinese city of Nantong. As a new landmark the project is envisioned to appropriately integrate the city's existing architecture, discover more images and architects description after the jump:
From the Architects:
The Nantong Sports Center is located in the city of Nantong in close proximity to Shanghai. The ancient roots of the city emphasize harmony between its people, their activities, and nature.
Located next to the government building and the new Nantong Urban Planning Museum, the sports center integrates smoothly with its local urban fabric. Assimilation is achieved by reinterpreting the city grid to maximize interaction with the existing East- West green axis. Extension of the central axis also promotes circulation between the ancient temple and neighboring commercial facilities.
The sports center establishes a hybrid of landscape, public space and athletic functions. Its diverse program comprises numerous recreational facilities in a wide range of scales. Smaller independent sports halls surround the central stadium, interconnected by a diagrid path network. This circulatory system seamlessly links all functions throughout the site, thereby providing athletes and spectators efficient circulation between all recreational amenitites.
Base modules for all buildings consist of unified diamond-shaped cells of various functions and pre-defined scales: Small (S), Medium (M), Large (L), and Extra Large (XL). Cells proliferate outward from the stadium cell, transforming in scale according to unique functional requirements (i.e. basketball courts, tennis courts, martial arts facilities, medical center).
As the epicenter of the complex, the stadium occupies an XL diamond cell, featuring a 400 M track and seating for 15,000 spectators. Structural components of the stadium include a ribbed framework and external translucent membrane. The intelligent night lighting scheme for the membrane illuminates the roof in a variety of color combinations.