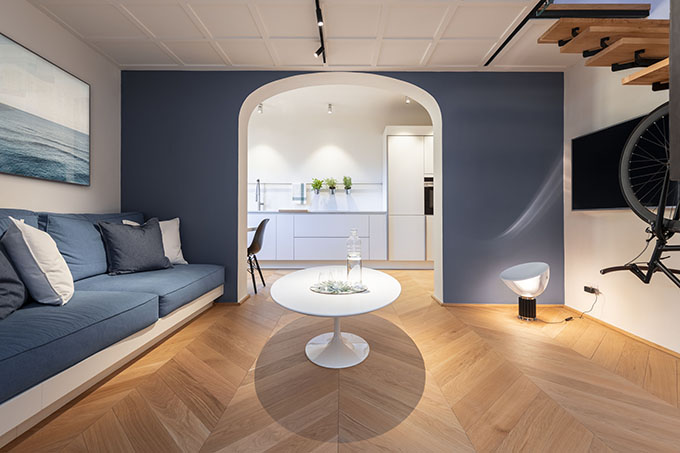 Studio Pierattelli Architetture has designed a 50-square-metre apartment in the heart of Florence. Developed on two levels, the flat has been completely reconfigured compared to its original condition. The furnishings are all tailor-made and their millimetric precision has freed up spaces, that domestic life can now enjoy, as they are not occupied by previous structures or facades. Take a look at the complete story after the jump.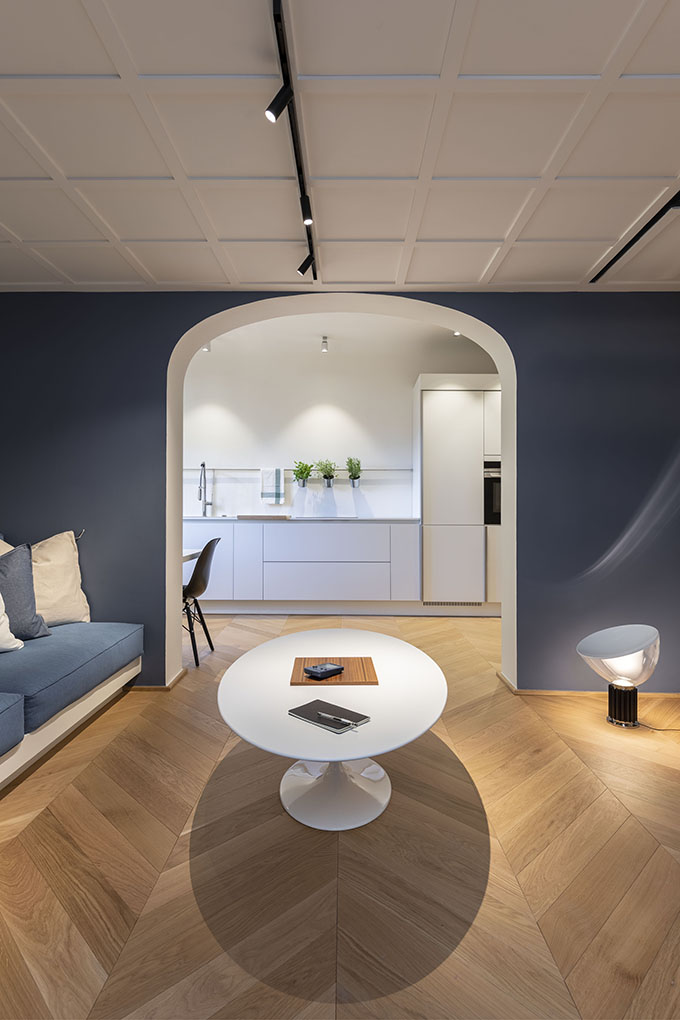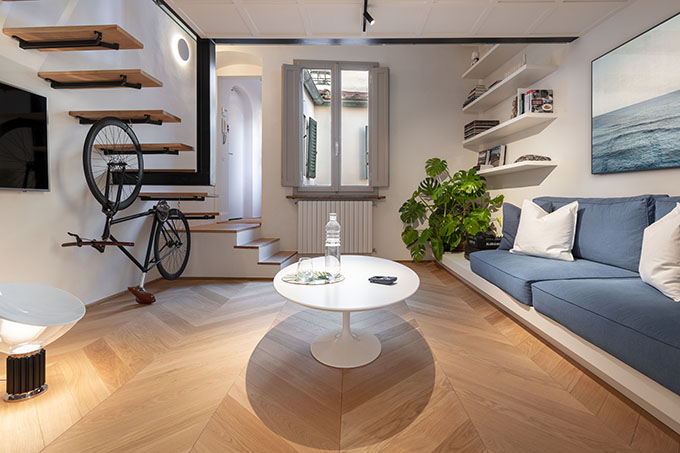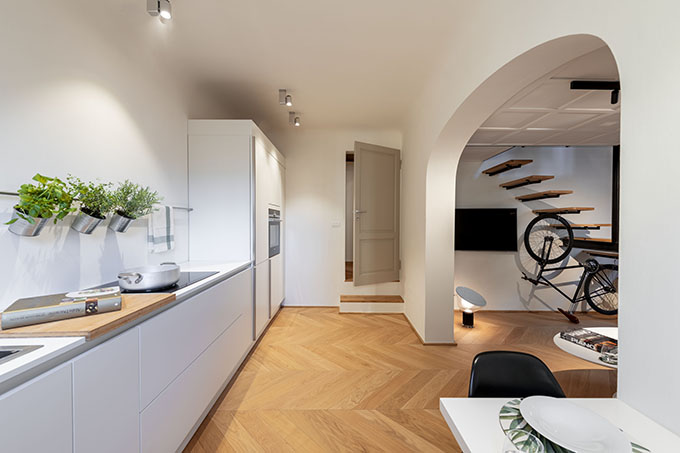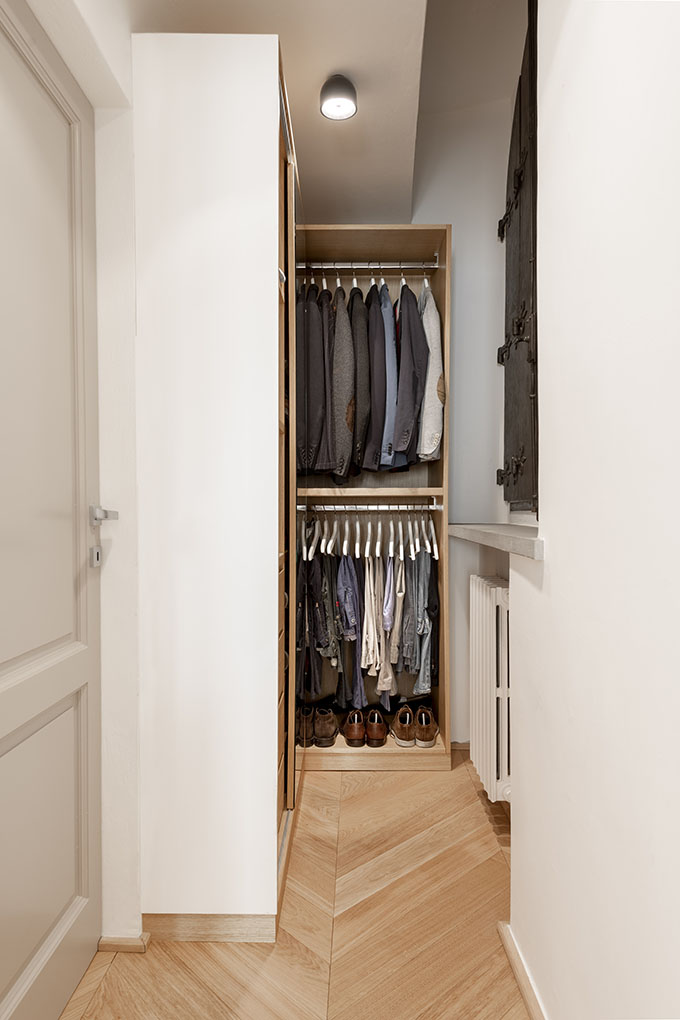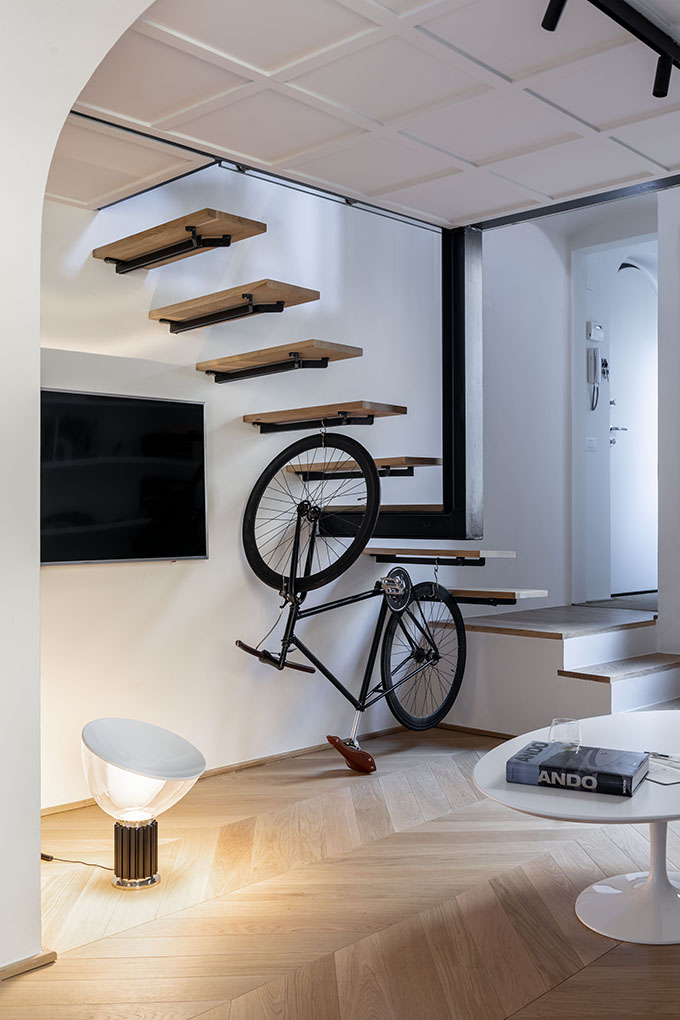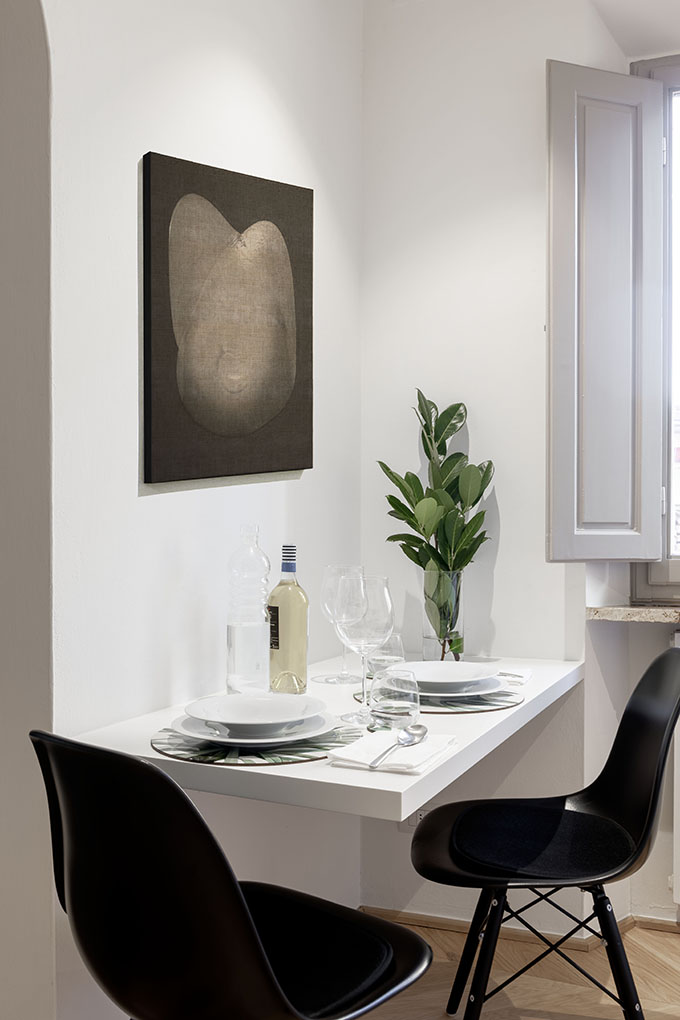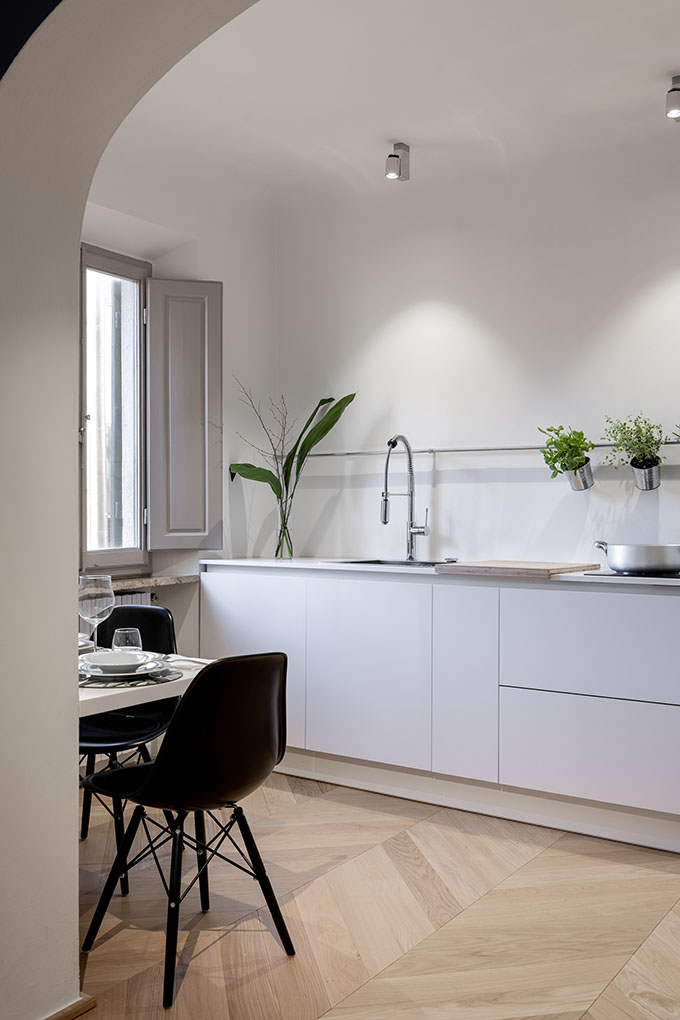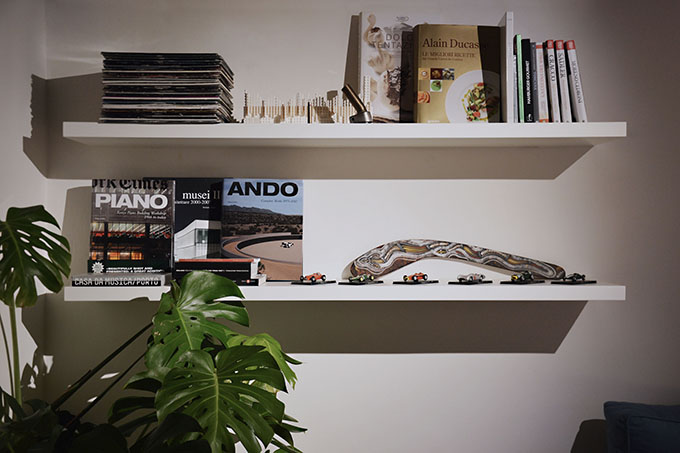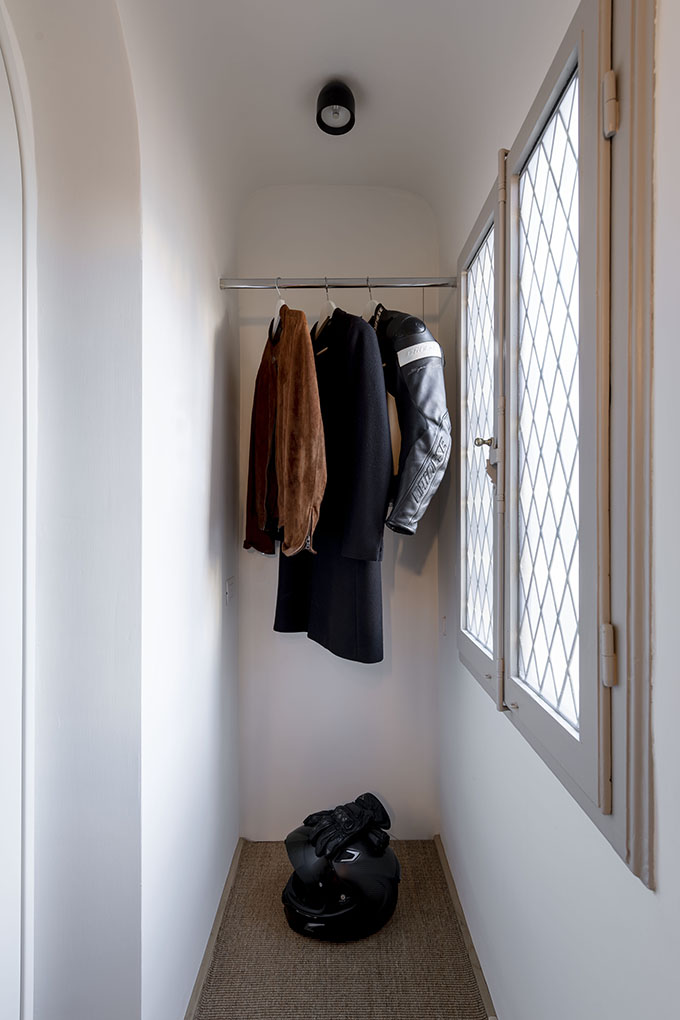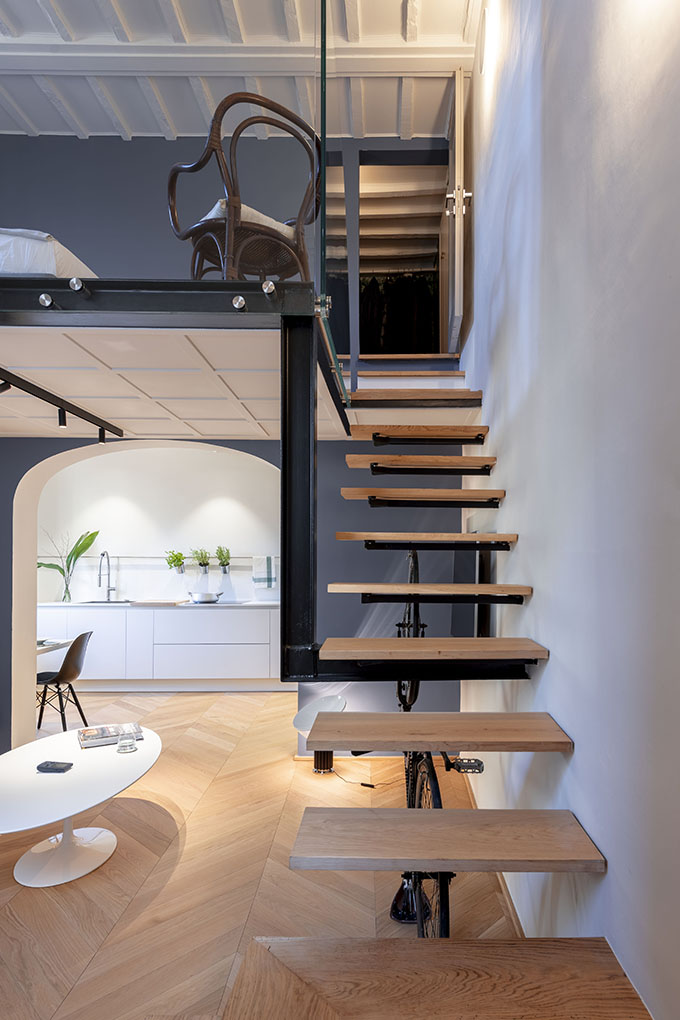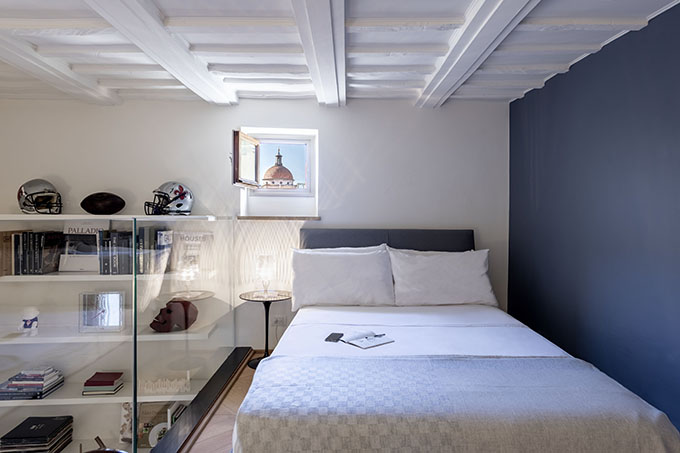 A restrained entrance opens onto a surprisingly large, double-height room, in which the vertical dimension contrasts with the horizontal main room below, used as a living area. A round arch characterizes the spaces, giving depth and proportion to the area: a true focal point around which both the gaze and living functions rotate. The arch becomes a scenic backdrop framing both kitchen and living room and determining the volumetric relationships between different spaces. In the centre, the Arclinea kitchen watches over the living area.
"We thought the apartment would have more breathing space without furniture scattered all over the place, which would have restricted freedom of movement and contributed to reducing the perception of space" say architects Andrea and Claudio Pierattelli. A lacquered wooden bench forms the base of the large made-to-measure sofa with its denim cushions; at the end of the structure a flower box gives life to a surprise green corner. A wall-mounted bookcase, also in lacquered wood, seamlessly connects the lower and upper rooms, giving character and function to the flat.
You go up to the sleeping area by a cantilevered staircase whose lacquered iron structure also supports a craftsman-made fixed bike. A glass balustrade provides protection for this upper level, delimiting the spaces lightly and with discretion. Its transparency and light permeability also contribute to create a uniquely harmonious room. The apartment jewel is the tiny window through which you can admire the dome of the Renaissance church of Santo Spirito.
The walk-in closets, located on both the lower and upper levels, ensure the necessary capacity without taking space away from the rooms. The choice of materials, colours and finishes is dictated by the need to maximise the permanence of light and desaturate the space by amplifying the perception of room depth.
The French herringbone parquet expands the apparent surface and helps illuminate the whole flat, thanks also to the natural shade selected. A palette of pale colours has been favoured throughout the dwelling, with the exception of the indigo blue wall and the matching sofa, which, by contrast, characterise the entire project.
Attention to detail is also reflected in the choice of furnishings, true design icons: the Taccia lamp by Achille Castiglioni by FLOS, the work of the contemporary photographer Wolfgang Uhlig, the Fort Knox projectors by Philippe Stark by FLOS, the elliptical Tulip coffee table by Charles and Ray Eames by Knoll (which, thanks to a simple basic replacement, can easily be converted into a dining table for six people).
Photography by Iuri Niccolai
Find more projects by Studio Pierattelli Architetture: www.pierattelliarchitetture.it