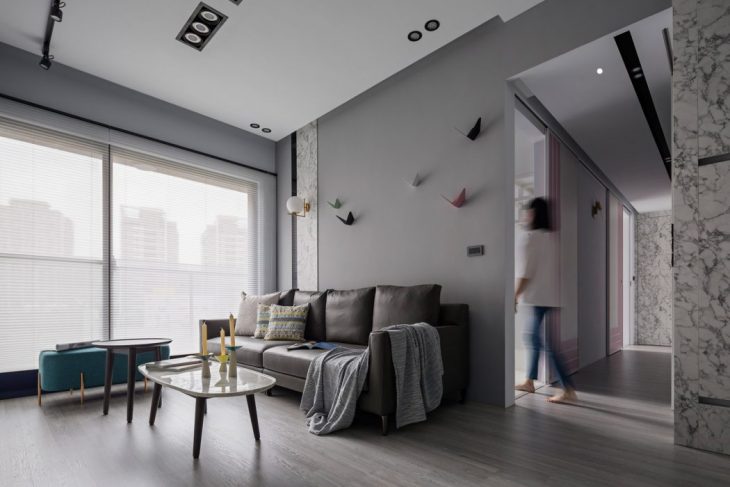 Shian Chi Interior Design designed this inspiring contemporary apartment located in Taiwan. Take a look at the complete story after the jump.
An astonishing compliment on the wonder of blue hole in Italy!
A mysterious ray of God-painted blue is that the sunshine reached to the deep sea and refracted on the surface of the water inside the hole. All the elements – the sun, the water, and the hole – formed the image of the marvelous blue sea.
This apartment is maxed two styles-Modern and Nordic, and it is designed by Shiang Chi Interior Design.
Bravely utilizing the blue light to the residential project, the space just presents a fine splendid fusion. The scenery is unique with different the day and the night. By soaking the atmosphere, people can produce an expectation to the space and yearn to experience the changes from the next ray of the light.
By using the marble-facing chipboard to replace wooden wall, the texture promotes to a pleasant aura in visual. The sight from the corridor is the end of Grotta Azzurra. Offering two visual arts to our customers, the sun light inserts into the space and launches an energetic day. In turn, at night, the space is a traveling extension of the magnificent memory in Italy.
The materials here coordinate the practical usage. The shadows of light present the memories. Each detail tells stories about the space.
As to living aspect, increasing multiple-function storage features makes the stander room create a flexible space. Heightening the door fades the original beam problem- uneven in height. These two methods create the sense of aesthetic and practical as possible.