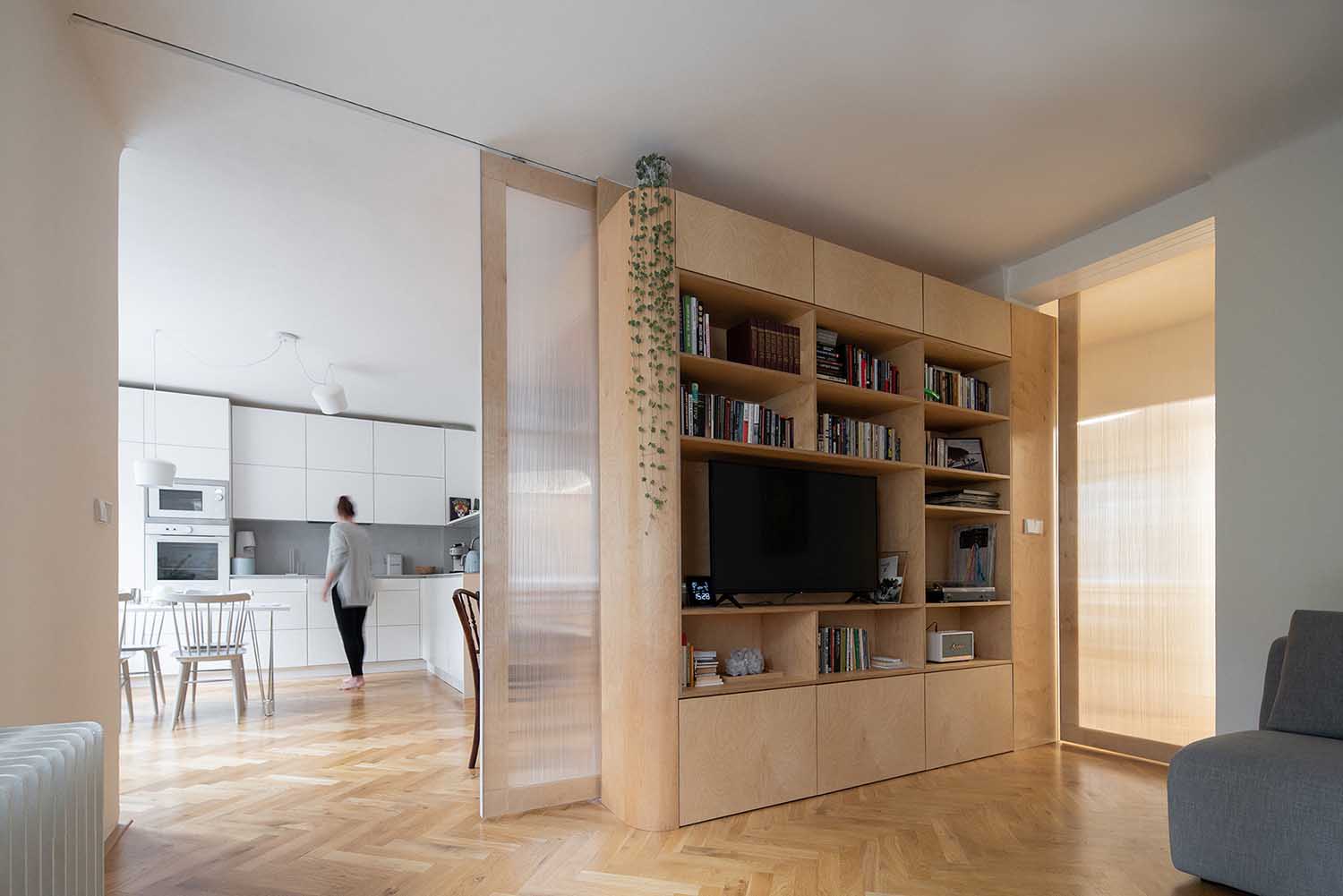 PAPUNDEKL ARCHITECTS have completed works on their latest apartment renovation project in in Prague, Czech Republic. In the quiet neighborhood of Bubenec, the apartment is located in a late 1940s-era house. A young couple chose to totally refurbish the apartment after more than three generations of the same family had lived there. They asked Papundekl architects for help as part of the apartment's generational change.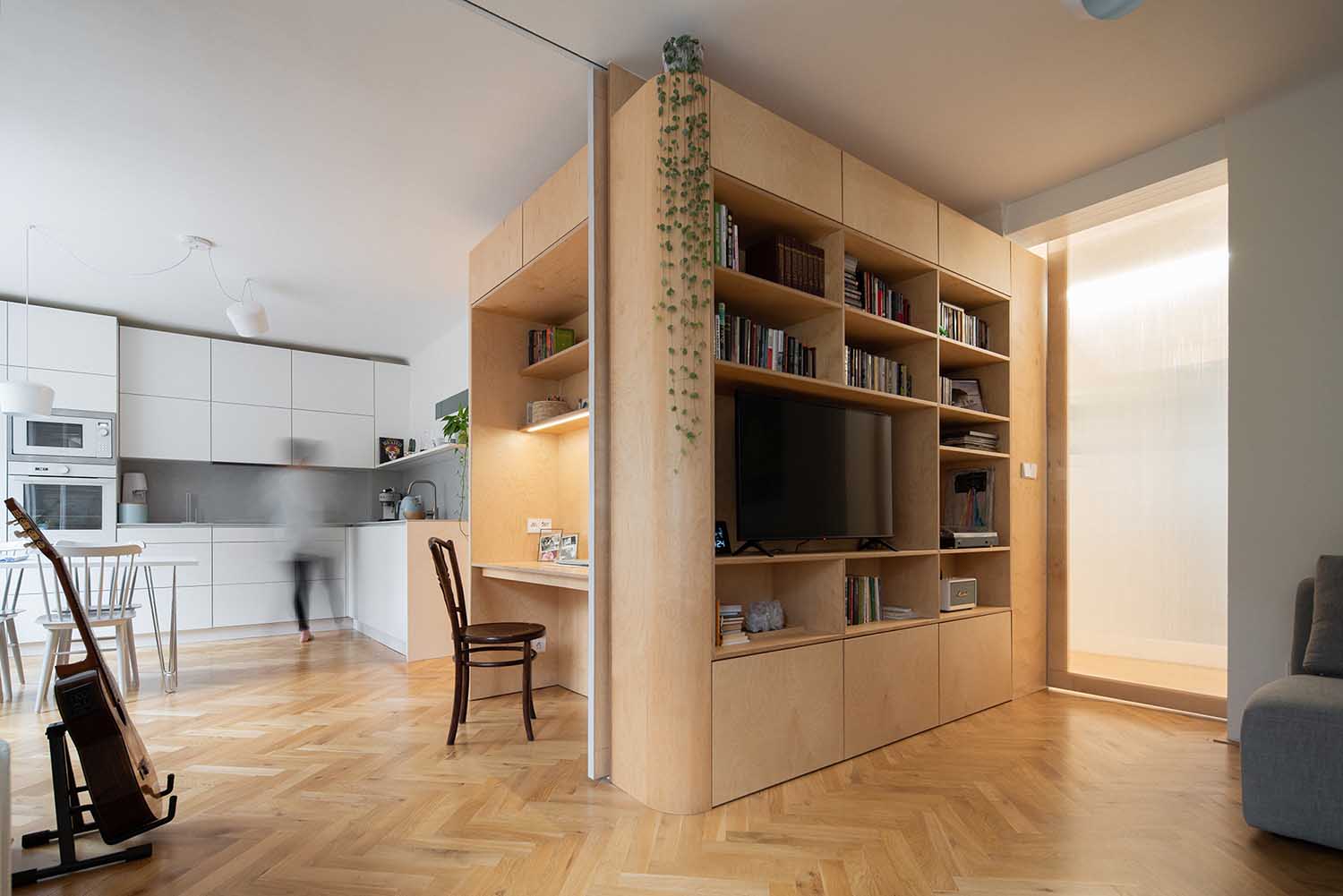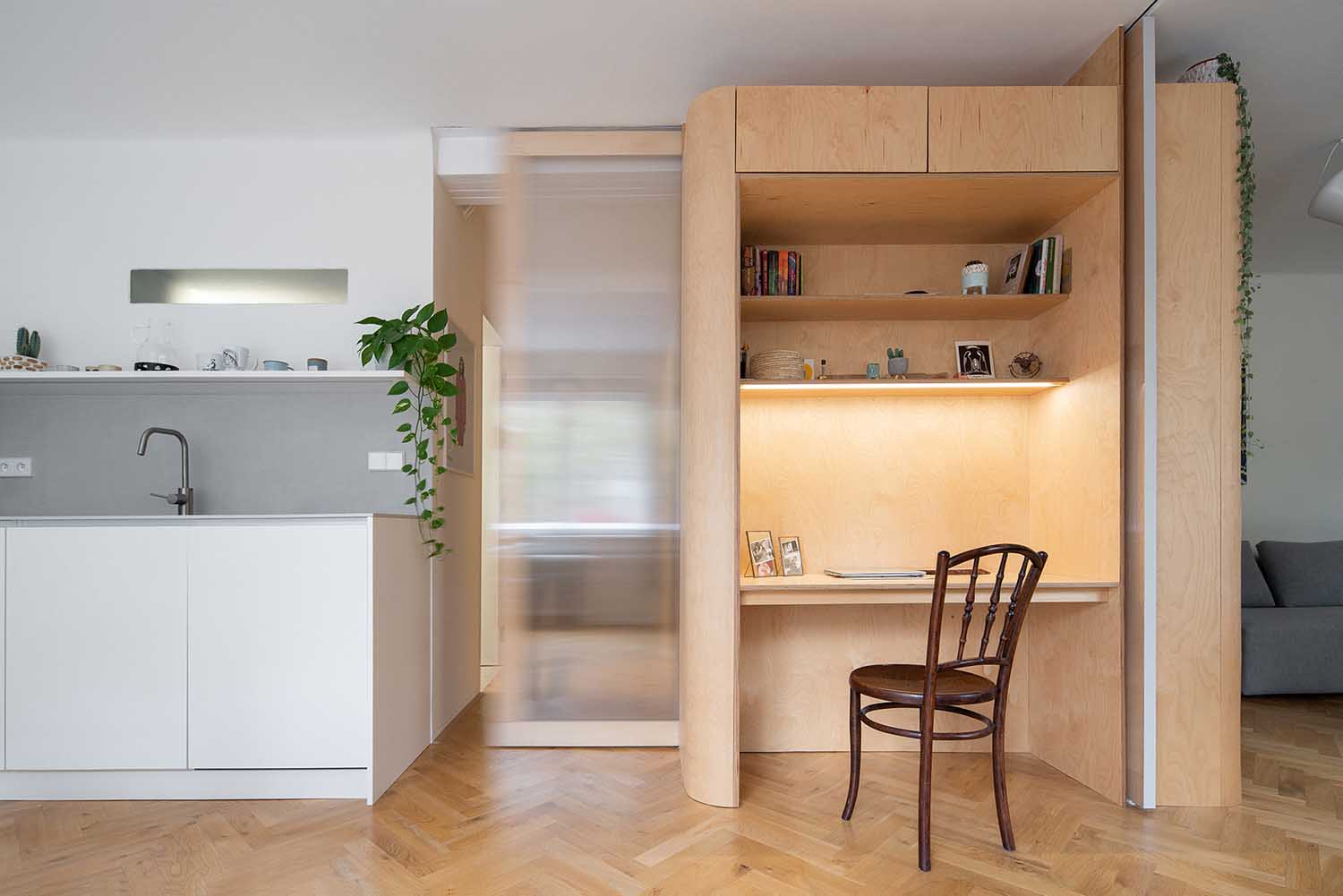 The apartment's initial layout was distinguished by a chaotic arrangement of amenities. The customers requested that the floor plan be rotated so that the bedrooms would be on the quieter north side and the living area and kitchen would be on the sunny south side with windows that look out onto the public courtyard. The "wrap-around" layout, which revolves around a central closet, seemed ideal in the end after the architects considered a number of different layout options, but it required significant structural alterations. A structural engineer was called in, and it was discovered that the house's construction did actually permit such alterations.
The center closet, which in its original configuration was hardly a practical walk-through storage area, was converted by the architects into a multifunctional furniture box. The apartment's primary design element evolved from its wooden core. The container has a desk, a boiler, a washer, and a dryer, and has storage areas and a big mirror facing the corridor. It also has a secret utility room.
The hallway is integrated into the apartment's living room because to the box's rounded corners, which improve the way the space flows. The polycarbonate sliding walls in the box are translucent and can be utilized to divide the various areas.
The original rooms were connected to create a nice living space with a large kitchen, access to the terrace, and views of the nearby park. The apartment's amenities have been changed to better meet the demands of its current occupants. The toilet has been moved closer to the apartment's entrance, a useful utility room has been added, the hallway has built-in storage, and the bedroom has a separate dressing room.
The other built-in furniture is constructed of light gray laminate, unlike the furniture core, which is composed of birch plywood. The flat now has brand-new parquet flooring, while the bathroom, toilet, and utility room all have cement floors.
Project information
Client: private
Location: Prague – Bubenec
Project: 2020
Completed: 2021
Usable Area: 82 m2
Architects: PAPUNDEKL ARCHITECTS – papundekl.cz
Authors: Jan Bárta, Šimon Bierhanzl, Marek Fischer
Photographer: Alex Shoots Buildings – www.alexshootsbuildings.com