Atelier 38 has transformed an old 1910s furniture house in Olomouc's historic center into a Czech Radio building. The design highlights two strong existing architectural features: the structural frame and the central atrium. One of the first monolithic reinforced concrete frames constructed in the old Austria-Hungary encloses a white atrium that, lighted by a continuous skylight and adorned with visible structural features, forms a sacral core that interacts with the surrounding spaces. Discover more after the jump.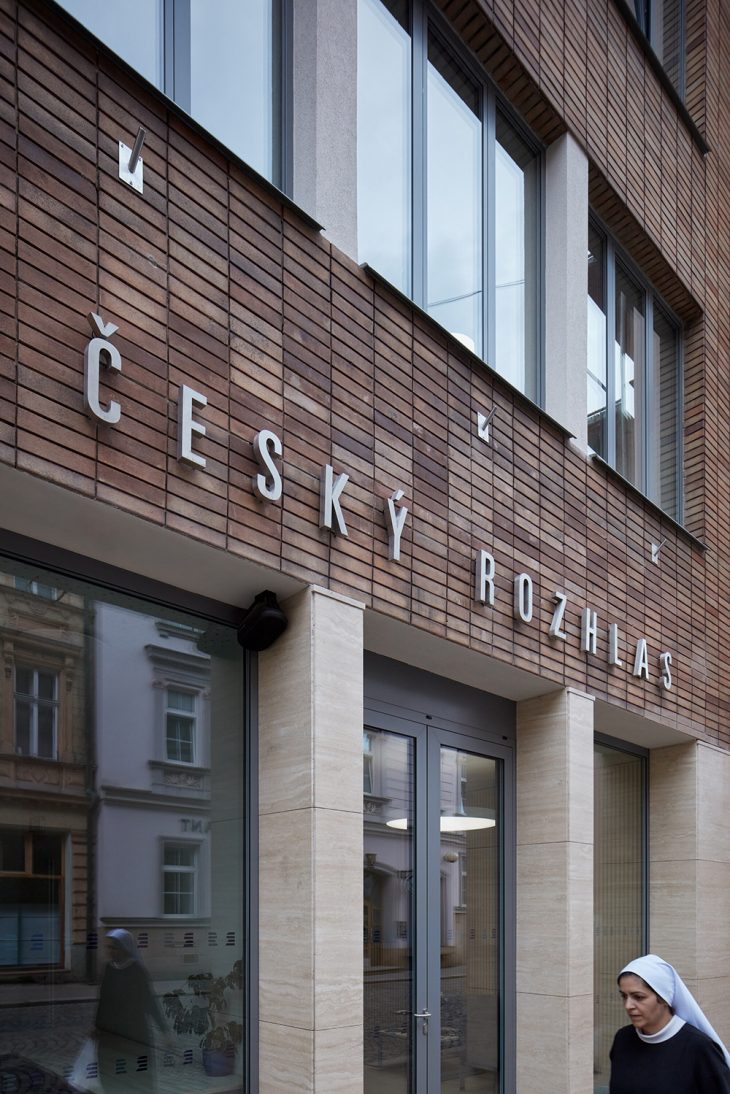 After the destruction of a residential structure with a commercial ground floor area, the department store for furniture tradesman Franz Klein was established on the original narrow and deep Gothic site in 1911. The design was created by architect Christoph Glaser, who was influenced by Vienna's Gerngross/Herzmansky department store. It was a structurally, operationally, and geographically revolutionary building in 1911, one of the earliest monolithic reinforced concrete frame implementations not only in Olomouc, but also throughout Austria-Hungary. Following war damage, the original all-glass Art Nouveau front was restored in 1946 in the manner of late functionalism and outfitted with ceramic cladding designed by architect Jaroslav Česal. The atrium's sculptural "sacral" core area with sales galleries and roof illumination was preserved. The home performed its intended role during the communist regime during the 1990s. However, mineral wool was put on the glazing horizontal steel framework on the third level for thermal insulation purposes, preventing upper natural lighting.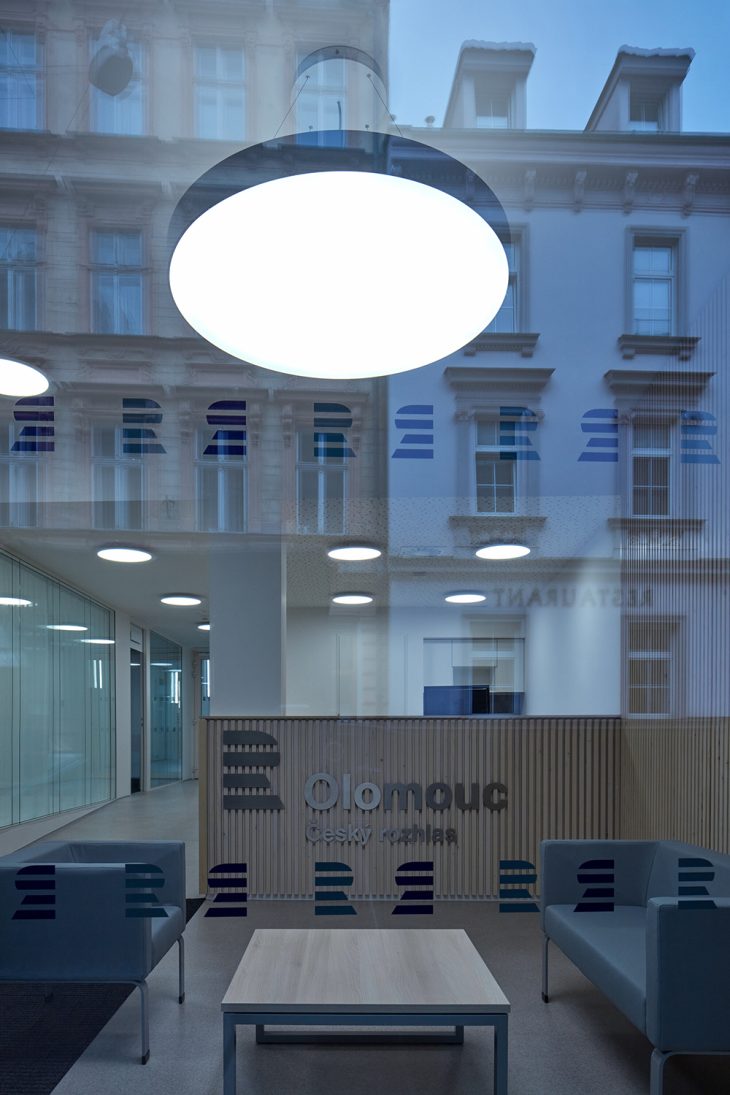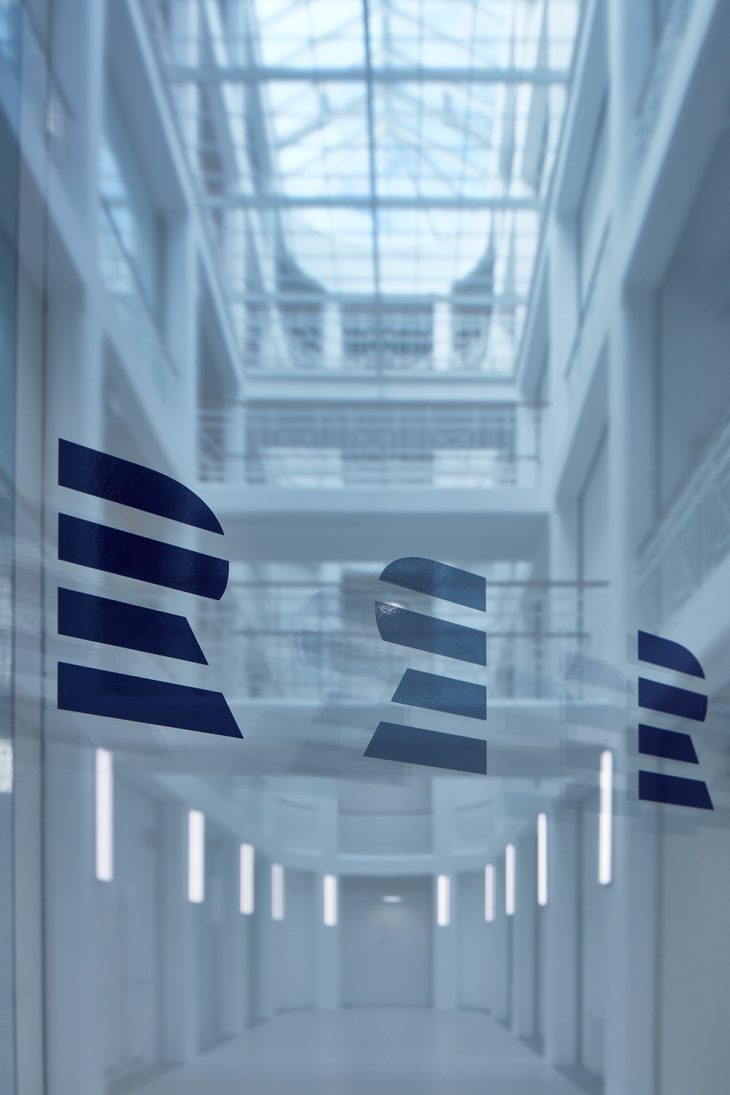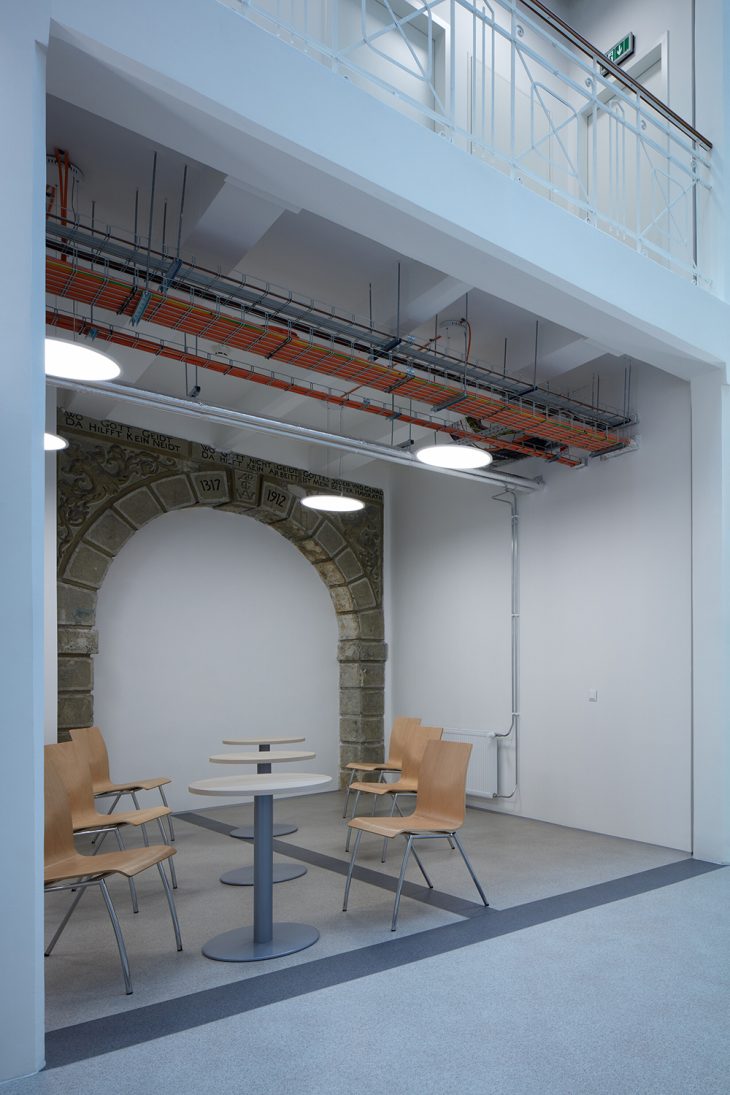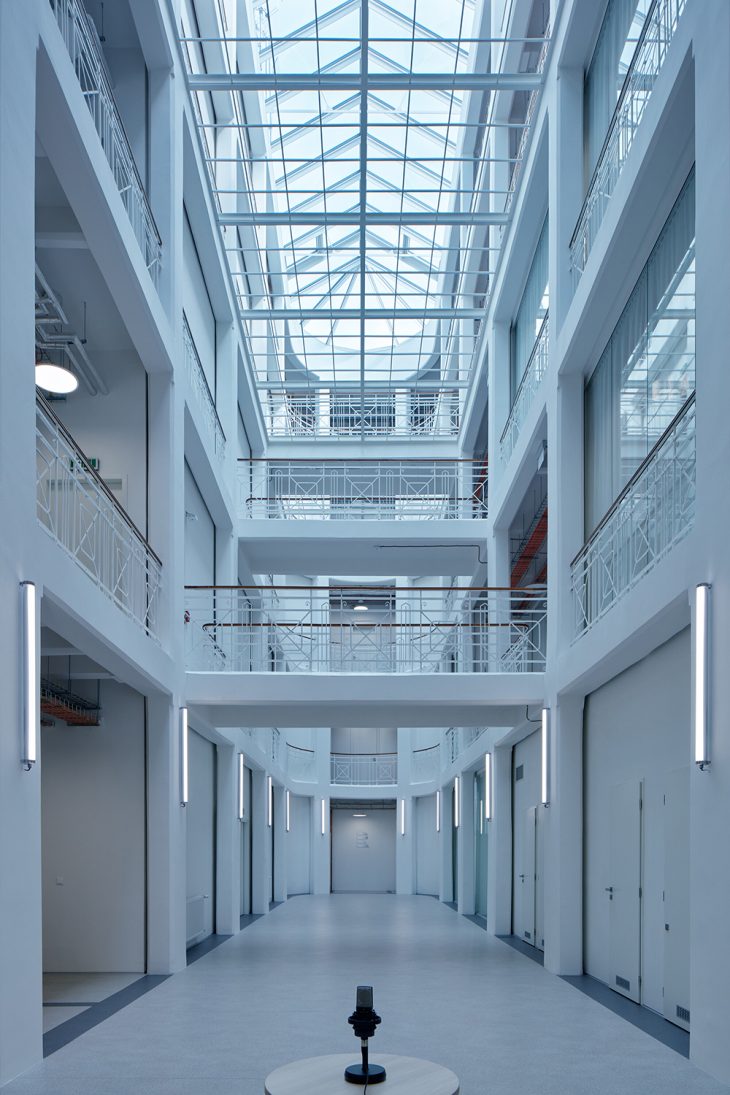 The building had to be modified to accommodate the new operations of the Czech Radio as well as modern static, fire, thermal-technical, and sanitary regulations.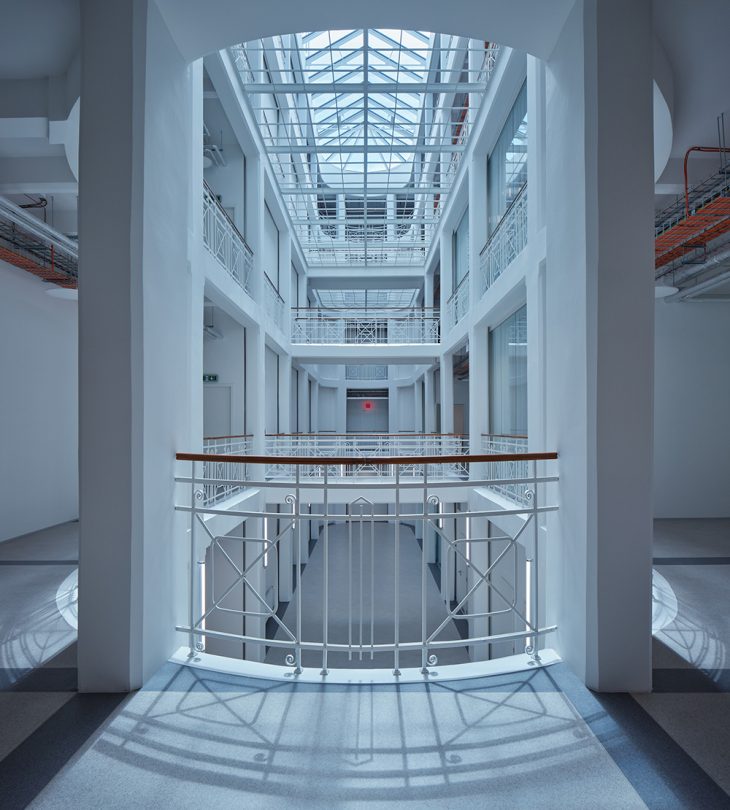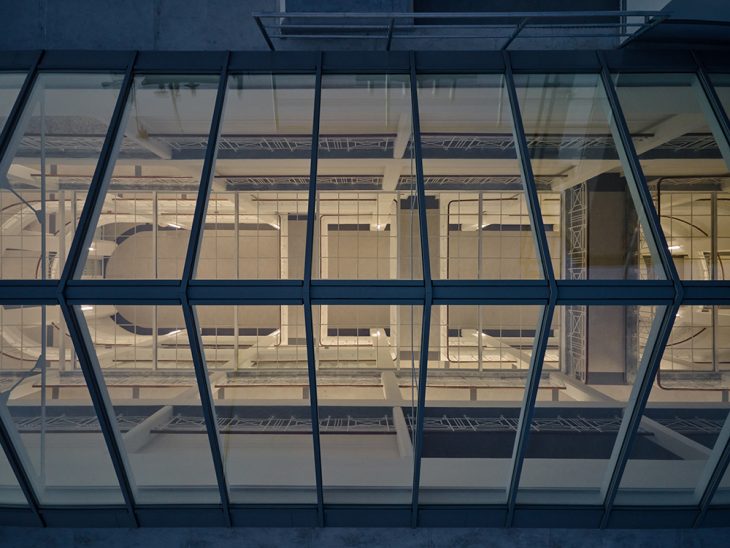 All installations are visually led, coordinated, and engage in an artistic technical conversation with the original underlying structure without repressing it. Technologies are a colorful overlay in an otherwise colorless world. The galleries' area has been split to the greatest degree possible by glass walls, allowing it to move freely and connect with the atrium's core space. The potential of adding into the existing skeletal structure influenced the design and size of the broadcast studios, control room, and self-service studios. The studios' design and materiality are subjugated to the necessities of spatial acoustics; white dominates as it does throughout the structure, with a belt of blue night sky – aether through which radio waves spread.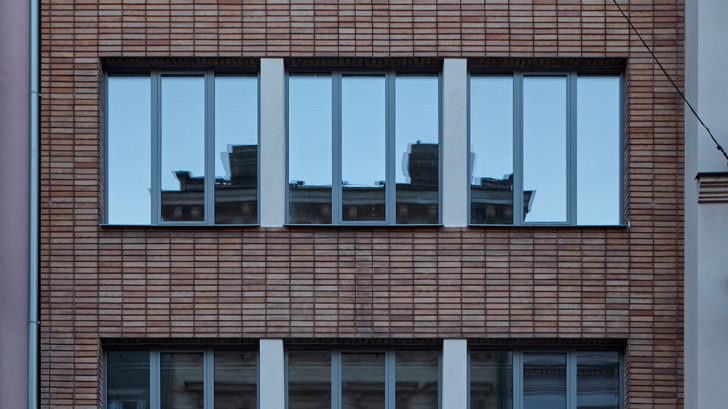 Studio: Atelier 38 – www.atelier38.cz
Author: Tomáš Bindr, Martin Struhala, Hana Staňková, Pavel Malček
Studio address: Porážková 1424/20, 702 00 Ostrava – Moravská Ostrava, Czech Republic
Project location: Pavelčákova 2/19, Olomouc
Project country: Czech Republic
Project year: 2019-2020
Completion year: 2022
Built-up Area: 642 m²
Usable Floor Area: 2270 m²
Plot size: 642 m²
Dimensions: 12324 m3
Cost construction: 2 760 000 €
interiors: 240 000 €
Client: Český rozhlas (Czech Radio)
Photographer BoysPlayNice – www.boysplaynice.com
Collaborator Statics: Marpo [Radan Sležka, Martin Sležka]
Building / room acoustics: AVT Group [Martin Vondrášek / Karel Motl]
Electrical engineering: Elektro projekce [Ondřej Křemen, Hana Matušková]
HVC: Atelier 38 [Lukáš Onderka]
Ventilation and cooling system: Mario Design [Marek Nos]
HVAC: CM Projekt [Marek Cabal]
Fire-resistance: JaK-Fire [Jaroslav Kutač]
Metering and regulation: Petr Pawlas