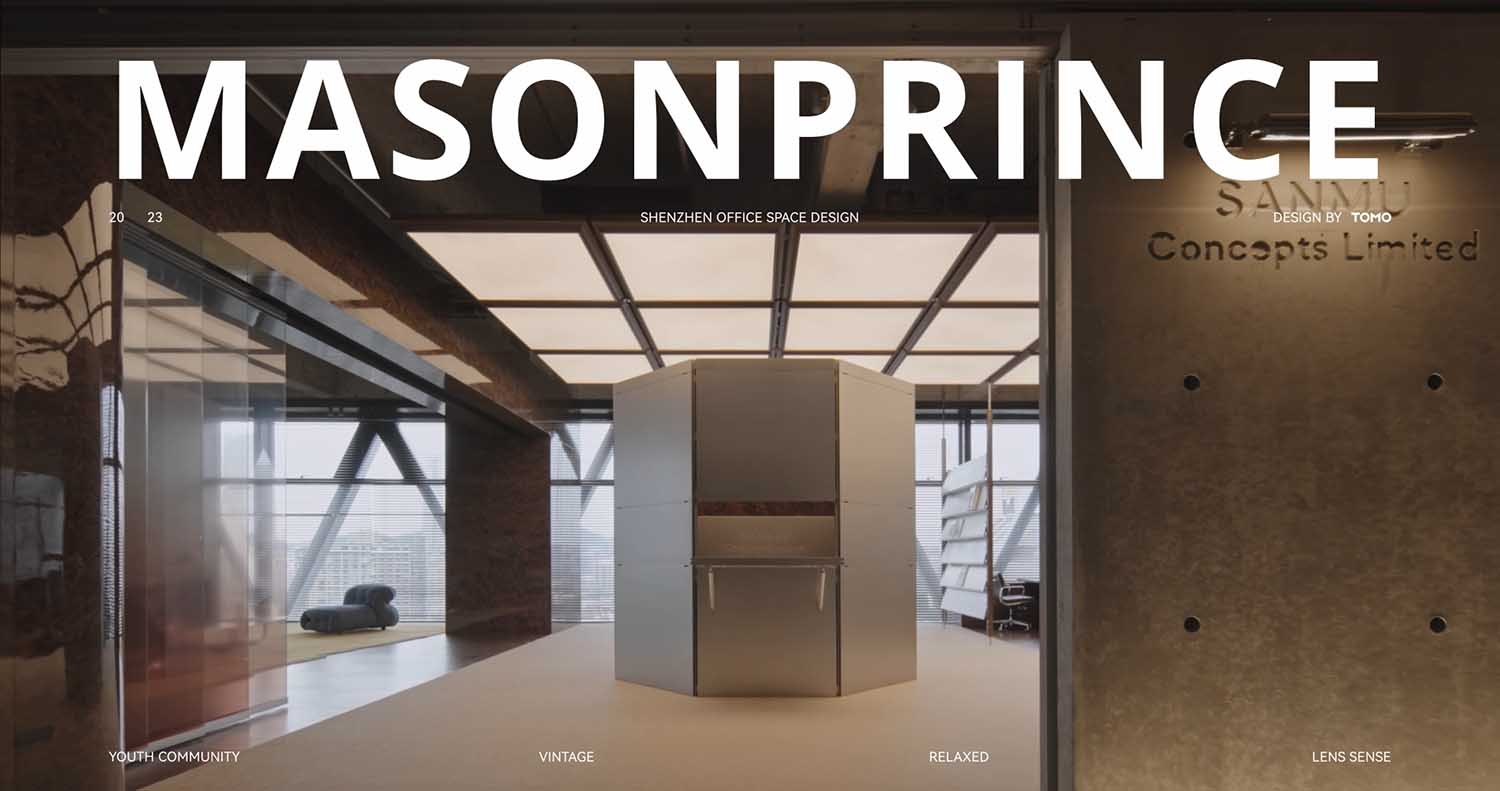 Chinese fashion brand MASONPRINCE has unveiled its groundbreaking Shenzhen office in collaboration with TOMO, a design studio known for pushing the boundaries of creativity. The MASONPRINCE Inspiration Hub showcases the brand's commitment to a "classless fashion collectivity" and challenges conventional notions of office design.
The collaboration between MASONPRINCE (MP) and TOMO sought to create a unique brand experience that transcends traditional online concepts and mainstream frameworks. The resulting office design intertwines retro classics and futuristic elements, embodying the rebellious essence of MASONPRINCE and offering an ever-evolving aesthetic experience.
The project, spanning 1000 square meters, boasts an array of visually captivating spaces that seamlessly blend contrasting elements, creating an atmosphere that reflects the brand's philosophy of fashion freedom for the younger generation.
Infinite Possibilities in the Elevator Hall
The journey begins in the elevator hall, a visual masterpiece featuring hanging decorations that showcase various materials and monograms. This dynamic space allows for a myriad of textures and endless possibilities, reflecting the brand's commitment to vibrancy and versatility.
Brand Visual Identification at the Main Entrance
The main entrance serves as a portal to a world where classic architectural elements meet retro ambiance. Exposed concrete walls and ceiling beams evoke nostalgia, creating a space that can transform into an office, showroom, or art gallery.
The Octagonal Pavilion – A Hub of Innovation
At the heart of the office lies the octagonal pavilion, a unique creation embodying the spirit of MASONPRINCE. This central hub seamlessly integrates reception, coffee bar, and refrigeration areas, promoting open communication and harmonious coexistence between futuristic craftsmanship and functionality.
Principal Designer Office – Avant-Garde Fashion
The Principal Designer Office extends classic architectural elements into a space that harmoniously blends artistic wood grain material with avant-garde fashion. Symbolic details, such as anti-slip icons representing the brand's three brothers, add a personal touch to the design.
Fashion Wardrobe – Versatility in Design
A corner of the office transforms into a cozy living room area, merging cityscape views with classic concrete walls. Thoughtfully designed modular storage cabinets and a convertible shooting venue showcase the brand's adaptability and creativity.
Fusion of Time and Space – Classic and Fantasy Elements
The overall design seamlessly blends classic designs from the 1950s and 1960s with futuristic elements, creating a sense of dislocation caused by the interweaving changes of time and space. TOMO's innovative products are strategically placed, reflecting the rebellious spirit of MASONPRINCE.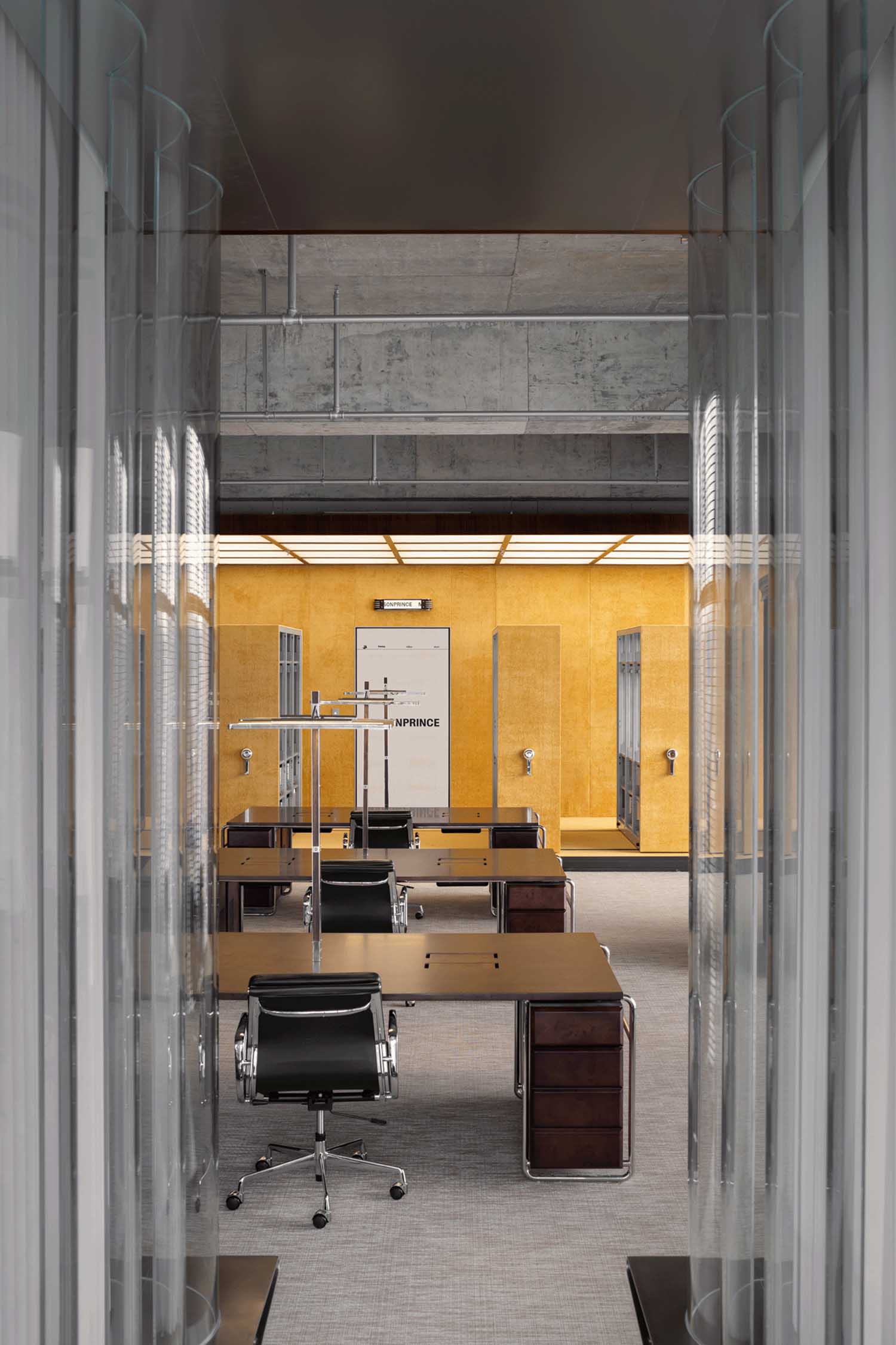 Principal Executive Office – Consistent Design Language
In the Principal Executive Office, the design approach remains consistent, featuring a suspended volume, curved glass, and wooden textures. Each functional space maintains a unified look while incorporating exquisite details to create distinctive atmospheres.
Avant-Garde Experimental Design Language
By continuously exploring, creating, and reshaping, TOMO has successfully showcased MASONPRINCE's core values through avant-garde experimental design language. The office, transformed into a fashion show field, perfectly embodies the brand's unique style, reflecting a blend of classic retro and futuristic design principles.
Project information
Project Name: Masonprince Office
Client: Sanmu
Location: Shenzhen. China
Area: 1000sqm
Completion Time: 2023
Studio: Tomo Design, To Acc
Chief Designers: Uno Chan, Xiao Fei
Design Team: Psyun, Jason, Jennifer
Decoration Design: Tin, Ho Ching
Brand Promotion: Tomo Pr Tuantuan, Sunshine Pr – – www.tomodesign.cn
Photography: Free Will Photography
Technical Support: Ycwork
Construction Supervision: Lao Jingyang, Kong Fansheng, Xie Qide
Main Materials: Fair-Faced Concrete, Engineered Burl Wood, Dark Wooden Flooring, Matte Stainless Steel, Gradient Glass, Woven Rug