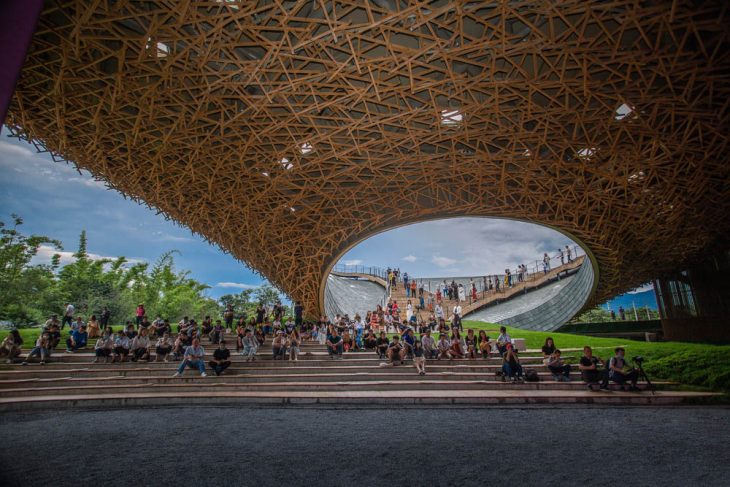 Studio Zhu-Pei recently completed works on the Yang Liping Performing Arts Center in the city of Dali, China. The Performing Arts Center is located between Dali Cangshan Mountain and Erhai Lake. Inspired by local nature and climate, the performance center uses a composition of big canopy roof and flowing topography to invite users into an open plaza. Inspired by Chinese Yin Yang theory, an open plaza underneath the canopy roof is generated by both an outdoor amphitheater– Yang and an indoor theater — Yin, where become a central stage once the huge sliding door is opened. The big canopy is floating above ground forming a roof-space to build a tension with a few landscape hills. People are following throughout the building from in and out, top and bottom. Discover more after the jump.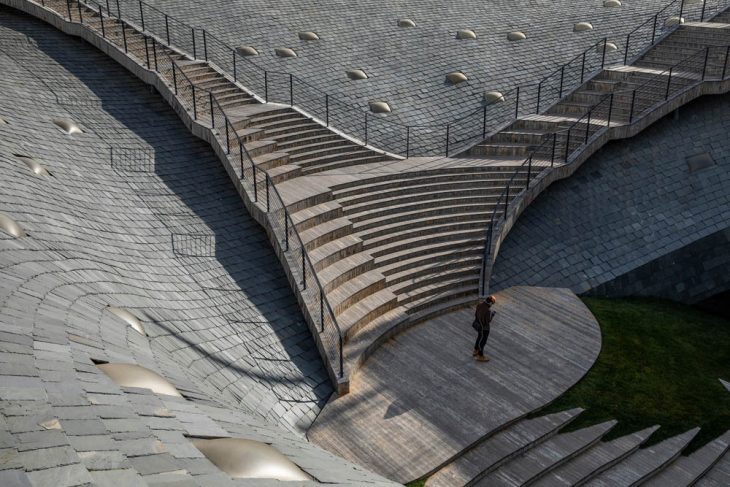 From the architects: Situated between the Cang mountain chain, rising 4,000 meters in height, and 40 kilometer-long Lake Erhai, the city of Dali was a significant stop on the ancient tea and horse road, and is now an important tourism destination. The old town has largely been preserved and still has some remains of the historic city wall and gate towers.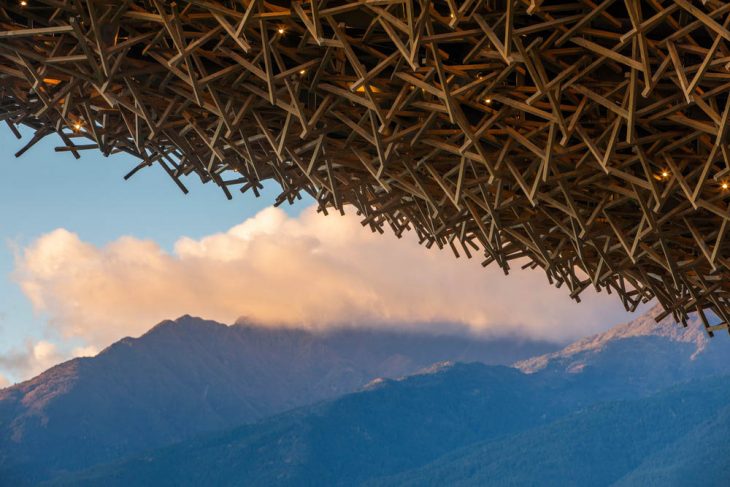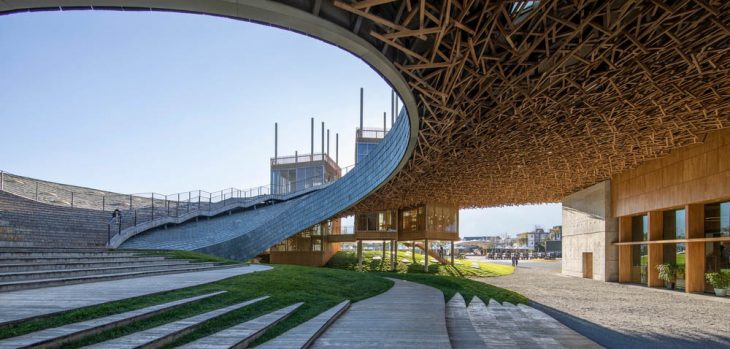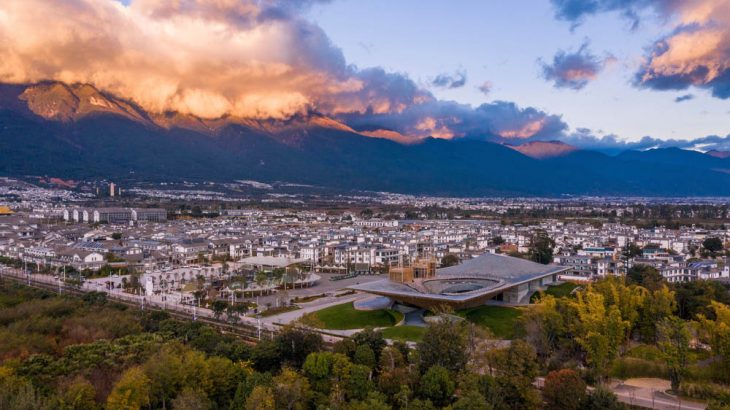 Inspired by the powerful surrounding landscape, Zhu Pei searched for landscape-related references to solve the architectonic challenges for the Performing Arts Center. A widely cantilevered rectangular roof spans across a built landscape of free-flowing indoor and outdoor spaces, some of which can be combined as an interacting spatial system. As with mountains and valleys, the strong shape of the roof reflects the more organic landscape below and points to the old Chinese principle of yin and yang, where two opposites combine together to form a whole. Formally expressed as organic-shaped hills, the partly sunken spaces transform into a natural garden landscape, promising a high experiential quality that extends inside to the public theatre.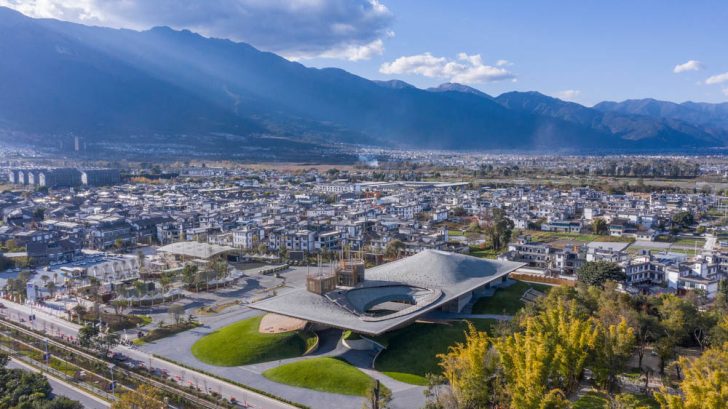 Program
Theatre; Amphitheater; Rehearsal hall / Multi-functions hall; Café/Tea/Restaurant; Design shop; Office; Loading and back of house function.
Design: 2014-2015
Completion Year: 2020
Area: 8,155sqm
Architecture, Interior and Landscape Design: Studio Zhu-Pei – www.studiozhupei.com
Design Principal: Zhu Pei
Lead Designer: Edwin Lam, Shuhei Nakamura
Project in Charge: Virginia Melnyk
Design Team: You Changchen, Han Mo, He Fan, Liu Ling, Wu Zhigang, Gary Poon, Ke Jun, Wang Peng, Wang Zheng, Ding Xinyue, Feng Chaoying, Chen Yida, Han Yi, Lin Wendi, Du Yao
Consultants
Theater: dUCKS scéno, Creative Solution Integration LTD.
Structure: Professor Fu Xueyi, Master of National Engineering Survey and Design
MEP: CCDI
Facade: Shenzhen Dadi Facade Technology CO., LTD.
Lighting: Ning Field Lighting Design CO., LTD.
Acoustic: China IPPR International Engineering CO., LTD.
Client: Dali Yang Liping Grand Theatre Co., LTD
Construction: The Third Construction CO., LTD. of YCIH
Photography: Jin Weiqi, Zhang Yao