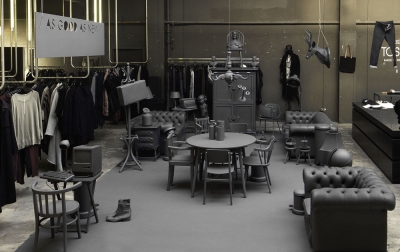 Project: AsGoodAsNew pop-up Shop
Designed by i29 Interior Architects
Location: Amsterdam, Netherlands
Website: www.i29.nl
Talented creatives at i29 Interior Archtiects studio share with us images of their AsGoodAsNew pop-up Shop installation. It marvelously presents the new AsGoodAsNew furniture label, to find out more about the concept behind the design continue after the jump:
From the Architects:
On 20th september 2012 the first batch of brand new second hand furniture is presented in a pop-up shop during a festive launch party. For this occasion, i29 interior architects designed an installation to present the new AsGoodAsNew furniture label.
Four years ago, i29 where asked to design a new office for Gummo; the recycled office, an advertising office in Amsterdam. As Gummo were only going to be renting the space on the first floor of the old Parool newspaper building in Amsterdam for two years, i29 convinced Gummo to embrace the mantra of 'reduce, reuse, recycle' to create a stylish office space that would impact as little as possible on the environment or their wallets. i29 developed a theme that reflects Gummo's personality and design philosophy – simple, uncomplicated, no-nonsense, yet unquestionably stylish with a twist of humour. Everything in the office conforms to the new house style of white and grey. All the furniture was locally sourced via Marktplaats (the Dutch eBay), charity shops and whatever was left over at the old office. Everything was then spray painted with polyurea Hotspray to conform with the new colour scheme house style. The interior of the office was, just like the building itself, re-used.
It was a sensation on- and offline, so a lot of praise and a few awards later, we've now decided to make a range of brand new second hand furniture available to the public. It's made in exactly the same way as everything in the award-winning office – We find old stuff we like. We fix it. We cover it with our special blend of solvent-free grey matter. Then it's As Good As New. Now, another shared collaboration between Gummo, i29 and Krimpex resulted in the online AsGoodAsNew shop: www.thisisasgoodasnew.com and a pop-up shop in SPRMRKT. To present our new label, i29 collected all different kind of 'home accesoires' such as vintage sofa's, chairs and lamps to create an installation as a substitute of a living room, fully wrapped in a grey coating.
"Everything in SPRMRKT's recycled home is covered in a mat, dark grey nuance, which gives the little shop a highly conceptual look with arty vintage furniture mixing in perfectly in SPRMRKT's high-fashion universe. " – Nelleke Strijkers, owner of SPRMRKT.
Under the motto 'reduce, reuse, recycle', As Good As New collaborated with the design company Vipp. A limited edition of customized vintage Vipp pedal bins is available in the 'AsGoodAsNew' pop-up shop in fashion- and vintage store SPRMRKT.