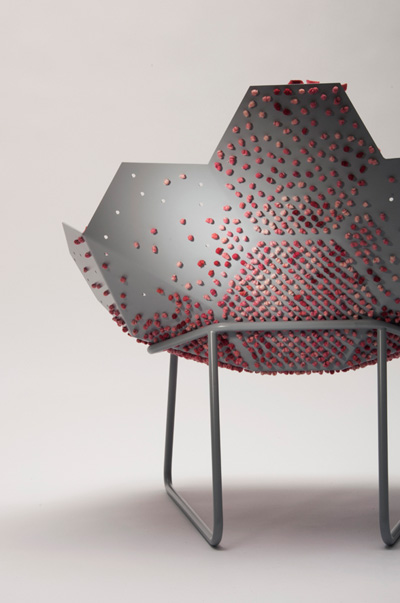 Project: Blush Chair
Designed by Sofie Brünner
Website: sofiebrunner.com
With an eye catching take on geometry designer Sofie Brünner creates the Blush lounge chair. For more images and designer description continue after the jump:
From Designer:
Blush is a unique lounge chair that aims at stimulating the senses. Working from the concept of haptic design (design that stimulate the sense of touch), Blush has a contrasting and playful appearance that invites the user to explore the materials, construction and comfortability.
Sofie wanted to use contrasts to stimulate and provoke the viewers' expectations to the chair.

"Throughout childhood we collect a mass of tactile (haptic) knowledge through touching, licking, hearing, tasting and smelling, as we cannot yet communicate in any other way. As we learn to talk and write, the haptic knowledge becomes more of an unconscious knowledge that we utilize without knowing it. But if I were to ask you to lick the wooden floor on which you stand, you would know exactly how the texture would feel on your tongue, without actual physical contact. It is this "silent" knowledge that I'm trying to evoke and provoke with the Blush Chair", Sofie explains.

The chair consists of a faceted hard aluminium shell in which a perforated pattern has been laser-cut. Using a brush binding technique,the holes are upholstered with strips of hand printed felt. This results in a slightly cruel-looking shell with a soft and tactile front upholstery and a pixel-like upholstered back. The contrasts between the shell and the upholstery is to make the viewer uncertain of the tactile experience that he or she is about to encounter when getting in contact with the chair.

Overall Blush has a surprisingly austere expression that is softened by the blushing felt loops that flourish across the chair.