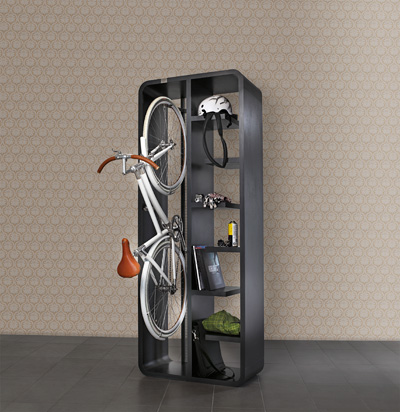 Project: Bookbike
Designed by BYografia
Website: www.byografia.com
Designers at BYografia thinking outside the box among CD's and books find a place for a bicycle on your shelf. View more of this charming design after the jump:
From the Designer:
Beautifying that of which can't be hidden, we are in the presence of a container able to place order and constantly exiled object, and social terms: the bicycle.

The gesture required for the housing of the bike doesn't require particular strength.

The anchorage system is simple, immediate, efficient and adjustable in height, allowing it to be used even by the younger generation. The symbiosis between CD's books, objects and bikes creates a powerful symbol inside a home, in a moment in which the search to express in one's home elements that speak of the personality and passions of those that live there is ever more frequent. The structure and it accessories are available in opaque chalk white or iron grey anthracite, the hook is positionable in various heights. The base is equipped with adjustable legs to guarantee the stability of the structure. If the structure is required to sustain very heavy loads wall fixing is advisable for Book Bike.
The structure can be assembled and disassembled immediately and with simplicity.