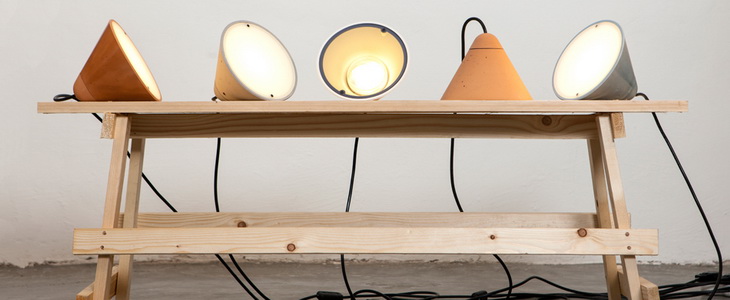 Another concrete lamp named Bullet, and this time it comes from the studio Itai Bar-On who partnered with Tel-Aviv based designer Oded Webman.
From the Designers:
Studio Itai Bar-On is presenting the Bullet Collection, concrete lighting – a series of lamps in different sizes, tones and finishes made of concrete. This collection is a first collaboration between Studio Itai Bar-On and Tel-Aviv based designer Oded Webman. The studio specializes in fine concrete castings of 3-dimensional wall tiles as well as flooring and furniture. The Bullet collection celebrates the qualities of the material and its vast possibilities of production. The lamps can be either hung or laid on the floor or shelf.

Various colors are available, such as white, grey, dark grey, orange, blue and yellow.
Project: Bullet Light
Designed by Itai Bar-On, Oded Webman
Website: www.itaibaron.com & cargocollective.com
Photoshoot: Yael Engelhart