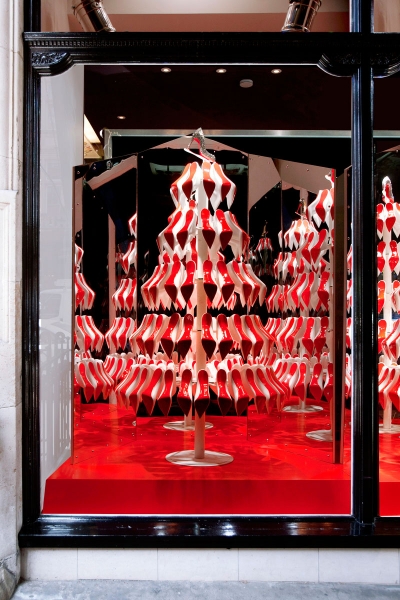 Project: Christian Louboutin's Christmas Tree
Designed by StudioXAG
Location: Paris, France
Website: www.studioxag.com
Photography: Susie Rea
The fantastic Christian Louboutin's Christmas Tree window displays are work of StudioXAG creatives, who bring the joy of Christmas season with shoe maker's legendary red sole on display.
From the Architects:
Inspired by traditional festive motifs, Christian Louboutin's windows feature a bespoke Christmas tree display which consists of specially cast lasts of the iconic Pigalle shoe. The white last is finished with the signature glossy red sole and arranged in concentric levels to create the recognisable tree form with support of a tonal metalwork structure inspired by shoe racks found in the designers Atelier in Paris.
To add a dynamic edge, the trees rotate and are enclosed by a triple mirror screen, amplifying the scene and drawing focus to the hero product which sits in pride of place atop the tree.