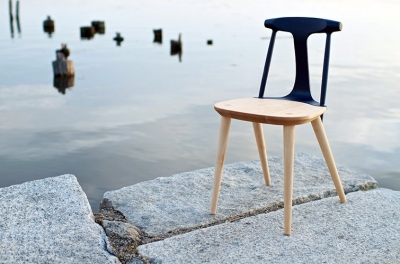 Project: Corliss Chair
Designed by Studio DUNN
Website: studiodunn.com
Reminiscent of a classic American hardwood construction Studio DUNN designers have created the Corliss Chair.
From the Designers:
The spitting image of revolution. The Corliss Chair cleverly integrates traditional American hardwood construction in its maple seat with a graceful, comfort driven, and handcrafted aluminum backing. Its true connection a secret between them, this union of sustainable and recyclable materials harmoniously joins along a curved plane. Paying homage to George Corliss, the founder of the first independently-powered steam engine, the chair naturally innovates any setting.