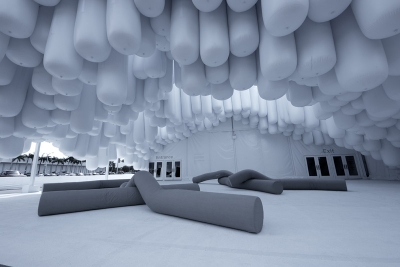 Project: Drift Pavilon at Design Miami 2012
Designed by Snarkitecture
Location: Miami, Florida, USA
Website: www.snarkitecture.com
Photography: Markus Haugg
The showstopping design of Drift Pavilon at Design Miami 2012 created by the talented architects at Snarkitecture.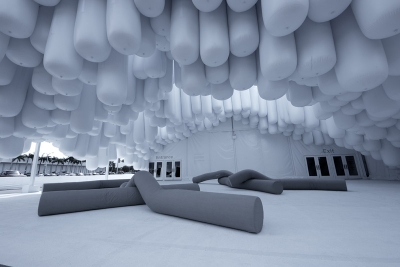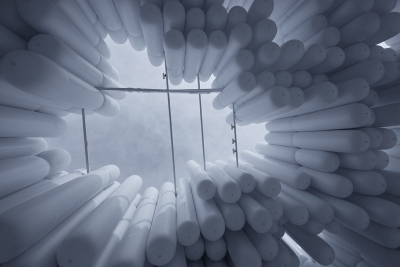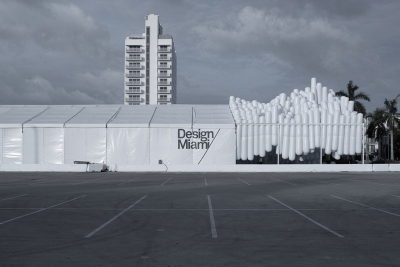 From the Architects:
An entrance pavilion for Design Miami/ 2012, Drift creates an unexpected moment within the context of the familiar white vinyl tent, reformulating the material to create a floating environment. Inflated tubes are bundled together to create a topographical landscape in suspension: an ascending mountain above and an excavated cavern below. These long cylinders are arranged vertically to infill the area of the entrance courtyard, and then lifted to create areas of circulation and rest for the visitors entering and exiting the structure.

Filtered light passes between the tubes of the inverted landscape creating a space both interactive and contemplative. Apertures in the canopy above frame views of the Miami sky and allow natural light and fresh air into the interior. The lightness of the floating tubes underscores the mass of the enormous installation, visible from a distance of several blocks. Drift identifies the entrance courtyard as a site of activity and design. The rising landscape becomes a beacon for visitors approaching Design Miami/ while the excavated cavern presents a moment of exploration before entering the fair.