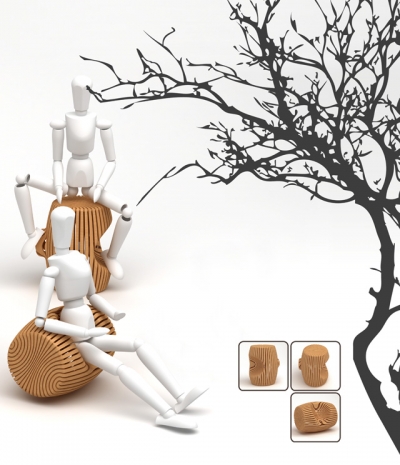 Project: Enjoy sitting : Multi function
Designed by Ryan Jongwoo Choi
Website: www.ryan-j.com
Enjoy sitting design is work of Ryan Jongwoo Choi who with a revolutionary idea tries to help everybody sitting long on a chair in one posture.
From the Designer:
How long does a chair keep our pleasure? It is difficult for people to sit long with one posture. So, I suggested a chair that can enable people to feel pleasure in modern society that works to be done being seated are increasing. The main concept of the product above is freedom while being seated. Most of all, I studied behaviors we can show using chairs, and made one that can satisfy the typical needs of people. (needs to sit on the high/low places, needs to gather or spread legs, needs to lean comfortably).

I got inspired from pine trees to represent the product above. Because I thought the irregular figures of pine trees provides freedom of behavior more than that of modern products when they are adjusted to chairs. I used growth ring as motif to have one feel nature within modern sense for I got inspired from irregular pine trees. I installed a prop to support and fix the product. This product is designed to help to satisfy basic instinct of human beings focusing on functional aspect rather than on pleasure coming from shapes.