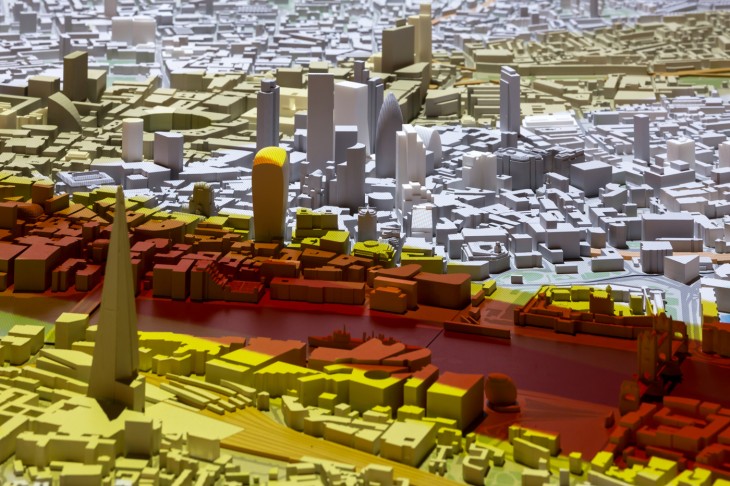 Talented creatives at New London Architecture (NLA) have unveiled an interactive model of London in the NLA galleries. The model is 12.5 metres long, it is created to inform tourists as well as Londoners allowing them to learn about the past and future of London.
RELATED: Find more projects from London on ArchiSCENE
NLA, London's foremost independent forum and think-tank on the built environment, marks its 10th anniversary this year with a comprehensive series of exhibitions, research projects, events and tours exploring the capital's development. At the centre of the 2015 programme is the launch of the New London Model. The model replaces its predecessor, first unveiled at the organisation's inception a decade ago, the day after the announcement that London had won the Olympic bid. Built by Pipers with data supplied by Ordnance Survey, the 1:2000 scale model covers more than 85 square kilometres of London, 19 Boroughs and approximately 170,000 buildings, including 34km of the Thames with its corresponding 21 bridges. It extends from King's Cross in the north to Peckham in the south and the Royal Docks in the east to Old Oak Common in the west. A sophisticated projection and lighting system allows buildings and major infrastructure projects to be digitally animated across the surface of the model. Controlled by touchscreens, visitors are able to call up detailed information and key facts on London's newest buildings and future projects that will help to define the capital. The model is the city's only physical manifestation of how London will look and progress as new buildings and developments are given the go-ahead. – from New London Architecture (NLA)
The NLA galleries are located at The Building Centre just off Tottenham Court Road.
All images © Paul Raftery
Further reading www.newlondonarchitecture.org.