Project: Perkins+Will Website
Designed by ATTIK
Website: www.attik.com
Global creative agency ATTIK has announced the launch of a new website presence for the renowned commercial architecture and design firm Perkins+Will. The new site, designed and developed completely in-house at ATTIK, goes live with full functionality today at www.perkinswill.com.
For designers description and images of their design continue after the jump: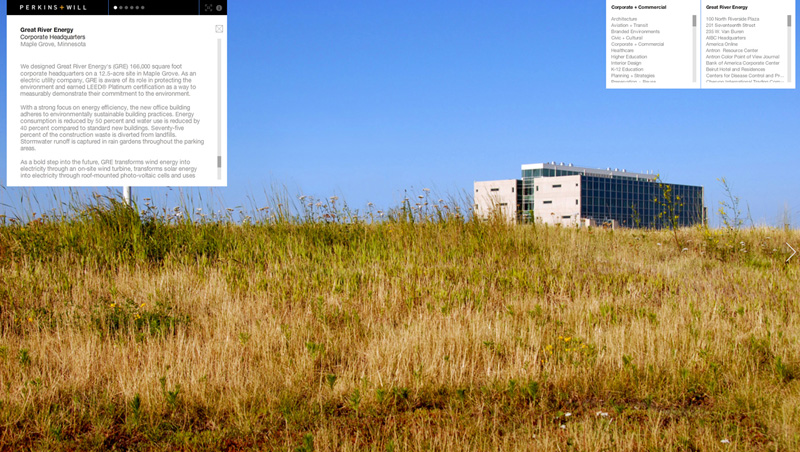 Perkins+Will is a global interdisciplinary design practice that provides architecture, interior design, urban design, branded environments, adaptive reuse and strategic planning services. Currently celebrating its 75th year in business, from humble beginnings, the firm has built its reputation worldwide by prioritizing client relationships, as well as architecture and design excellence.

To clearly present Perkins+Will, and showcase the principle of "ideas + buildings that honor the broader goals of society," ATTIK's director of interactive services Robyn Glennon and her colleagues completely redesigned and rebuilt the renowned firm's website, including a custom content management system (CMS), front-end site code, and the development of unique tools tailored specifically for its business. ATTIK also optimized the site for iPhone/Android and Blackberry smartphones. Anyone accessing the site with these devices will access key content produced especially for mobile users.
"We had very ambitious goals for this project," said Phil Harrison, CEO for Perkins+Will. "We wanted the site to feel simple and intuitive – to be visually beautiful – while also demonstrating the full breadth and complexity of our large and diverse practice – using advanced technology. We feel that ATTIK's team was able meet these goals by integrating superb design with robust technology."
"The target audience for Perkins+Will's website is current and potential clients, but it must appeal credibly to the design/architecture community as well," said Glennon. "Given the firm's extensive body of work and numerous areas of expertise, delivering a large volume of content through a system that simply and proactively answers users' needs was extremely challenging. Another priority was allowing each project to retain its own individuality in a manner that didn't become redundant. We worked collaboratively with the Perkins+Will team throughout the project to achieve success. The new website provokes interest, motivates discovery and connects people."
To allow site visitors to choose their own navigational paths through the site and organically answer questions as they explore their interests, ATTIK's design approach elevates key content and dynamically links related items. Their solution also has the benefit of allowing multiple authors and editors to have their own private version of the website, and to be able to work on the contents simultaneously without interrupting others' workflows.
Following its innovative implementation of cloud-based technologies earlier this year which helped their "Reinvent The Wheels" reality series for Scion deliver more than 5TB of data per month and reach hundreds of thousands of viewers, and other decentralized solutions that were key to the development of the agency's recent DarkerSideofGreen.com and LexusDarkRide.com projects for Lexus, ATTIK has been named to Amazon's Web Services Solution Providers Program. Those successful experiences led them to leverage the Amazon Web Services technology stack for Perkins+Will's new website.
"Our approach enables us to act quickly, both at project inception and in response to the growth our solutions inspire," explained Paul Hulett, ATTIK's principal design technologist. "Increased capacity is available in minutes and can be provisioned by the system itself. We consistently leverage our expertise to provide quicker project starts, lower costs and simplified migration to larger computing resources as required to accommodate system growth."
ATTIK's developers also implemented the Drupal CMS with the firm's own proprietary publishing layer, delivering a design that is HTML5 and iPad compatible, while also supporting multiple mobile views. A dynamic PDF generation system capable of generating thousand-page PDFs was another key feature of ATTIK's proposal; to enable it, ATTIK used the open-source FPdf PDF generation engine, developing custom page-numbering extensions that have now been contributed back to the open-source community. ATTIK's integration of a stand-alone Adobe Air application also allows Perkins+Will to showcase their latest work from their desktop and on-the road.
"Seeing the goals that we set out to achieve from the earliest conceptual meetings with Perkins+Will realized brings a very strong sense of pride, but the simplicity of the overall site experience is the most gratifying," added Stu Melvin, ATTIK's senior designer. "The ability to cross-link categories from direct selections within the site is an intuitive tertiary feature that groups up and presents users with relative content to their selections. And finally, we feel that featuring full browser and full-screen imagery is the project's most successful focal point."
Earlier this year, Perkins+Will received a 2010 National Building Museum Honor Award for its commitment to civic innovation in design, construction and education throughout its 75-year history. To experience Perkins+Will and learn about its many, industry leading achievements in sustainable design, please visit www.perkinswill.com.