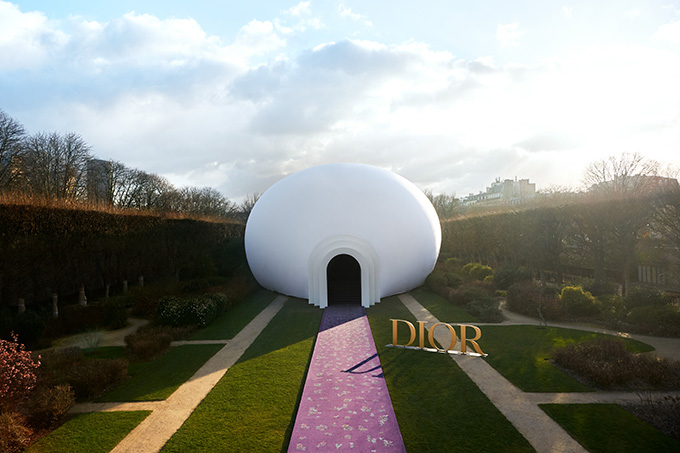 American artist Judy Chicago designed this stunning installation called 'The Female Divine' unveiled at the Dior haute couture Spring-Summer 2020 show. The artist designed a spectacular set reproducing an immense goddess figure that she originally designed in the 1970s. The installation will be open to the public for one week following the presentation. Discover more after the jump.
On the occasion of Dior's haute couture show, the installation by American artist Judy Chicago, The Female Divine, will be exhibited in the garden of the Rodin Museum.
At the invitation of Maria Grazia Chiuri for the Dior spring-summer 2020 haute couture show, Judy Chicago designed a spectacular set resembling a sacred environment with a series of banners that pose a series of provocative questions.
The Creative Director pays particular attention to the history of feminist art, both in terms of formal inspirations and her approach to true creative collaborations. Her exchanges with the Nigerian author Chimamanda Ngozi Adichie, the American poet Robin Morgan and the Italian artist Tomaso Binga formed the starting points for her latest collections.
For Maria Grazia Chiuri, fashion and its mediatization in the contemporary context constitute a unique framework for the transmission of stories that go beyond clothing. From the decor to the tailoring, each collection establishes a discourse rich in meaning. Since taking over the Creative
Direction of the House's women's collections, she has explored the different facets of feminine identity — inclusive, plural and universal — like a personal and militant update of the House's heritage. This new dialogue hence chimes perfectly with her approach while offering the artist, a leading figure in American feminist art, the opportunity to present a monumental work in the heart of Paris.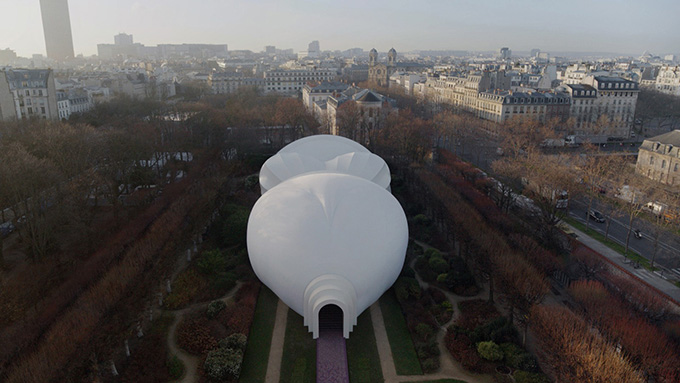 The Female Divine
is conceived as a proposition: that of an alternative history which sees the matriarchal principle (observed by anthropologists in societies up to the Bronze Age) continue to the present day. Judy Chicago invites us to reconsider the roles and power relationships that determine, through the lens of gender, the way we live together today.
This anthropomorphic architectural structure notably harks back to one of her most memorable pieces, The Dinner Party (1974-79), while raising contemporary issues. Judy Chicago wishes to thank Maria Grazia Chiuri and Dior for providing her and her photographer husband, Donald Woodman, with the greatest creative opportunity of a lifetime.