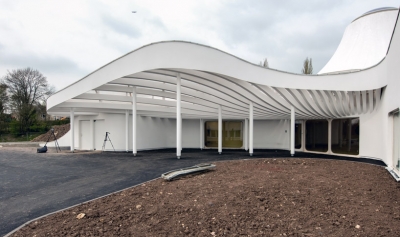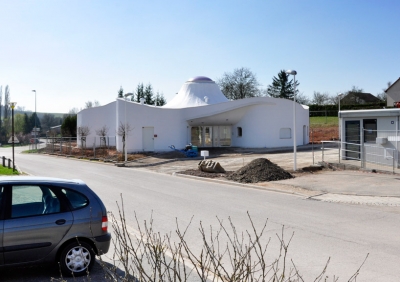 Project: Childcare Facility
Designed by Paul Le Quernec Architecte
Assistant Architects: Damla Oktay, Michel Grasso, Benjamin Ringeisen, Guillaume Jenny
Engineering Firms: Hn Ingénierie,Structural Consultant Solares Bauen, Consultant Specialized in Fluides & Environmental Consultancy E3 Économie, Construction Economist
Contractors: Muller, Wig France, Mathis, Lorscheider-Lorenzini, Bonecher, Ergenekon, Rucho-Sippel, Smf, Ugur Deniz, Appel, Prinz, Peintures Réunies, Keip, Houllé, Spirk, Cuisine Pro
Client: Communauté de Communes Du Pays Boulageois
Location: Boulay and Piblange, France
Website: paul-le-quernec.fr
Paul le Quernec Architecte's have successfully implemented their innovative prototype of a childcare facility on two locations in France. Both buildings have a similar shape, and take up to 1000 square meters of space on a floor plan reminsicent of a flower shape. Their design provides a space with no hidden areas, which makes the daycare itself tremendeously easier and safer. At the same time the architects have achieved a unique visibility connection between interior and exterior playground space. And of course sharp angles, every parent's worse nightmare are virtually extinct.
Discover more of the design after the jump: