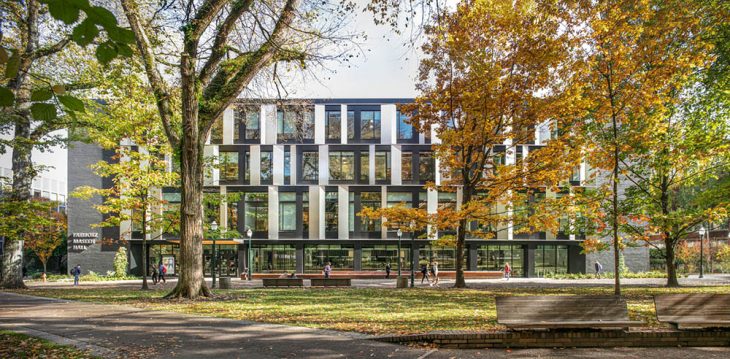 Portland based architecture studio Hacker recently completed their latest project – Fariborz Maseeh Hall at Portland State University, an academic building interior and exterior renovation. Located in downtown Portland, Oregon, the project transforms a fortress-like building originally built in the1960s into a modern, interactive light-filled academic hub. Driven by a desire to create an engaging, open, and humane experience, the design improved connectivity, wayfinding, and accessibility. With emphasis on access to daylight and connections between indoor and outdoor spaces, Fariborz Maseeh Hall now connects to both active thoroughfare and park settings present on this urban downtown campus. Discover more after the jump.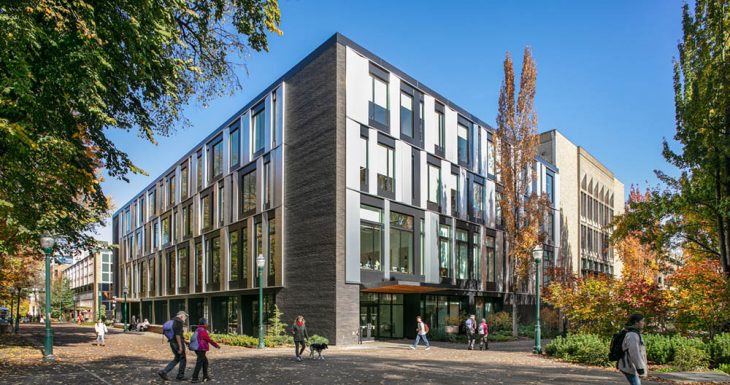 From the architects: The task, transform the outdated fortress-like 1960s Neuberger Hall (currently named Fariborz Maseeh Hall) into a modern, interactive, light-filled academic hub. The five-story building was originally built in the Brutalist-style, a common campus aesthetic which reflected the pragmatic and inwardly focused buildings of thatera. A half-century later, these buildings represent the antithesis of the open, flexible environments called for today.Evolving this building to meet the current needs focused on three key strategies: 1) re-centering the design to the user—the students, faculty, community members, and others who use the building; 2) prioritizing life-cycle and life safety upgrades to the building as a whole; and 3) engaging with owners, contractors, consultants and subcontractors in collaborative, fine-grained decision-making that preserved as many opportunities as possible to support all Portland State University students.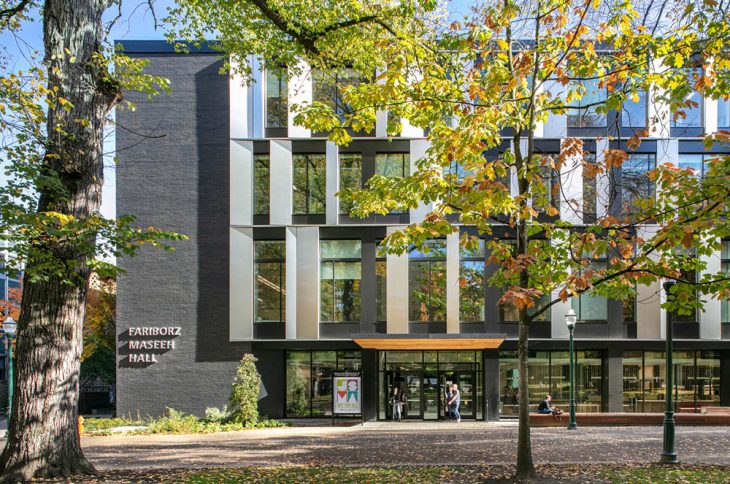 The design concept repositions the building—which functions as a central student hub with classrooms, lecture halls, student services, and faculty offices—through a series of interventions, renovations, and expansions. The result is an engaging, open, and humane experience. With an emphasis on access to daylight and connections between indoor and outdoor spaces, the 250,000-square-foot building now enhances campus function, while better connecting and responding to its urban setting.
The original building was completed in two phases, 1961 and 1969. The two elements are now joined by a common floor plan, while their distinct exterior appearances are preserved. Through a rigorous programming exercise, the removal of 20,000-square-feet of floor area for the light well reduced only 3,000-square-feet of assignable space, while improving program efficiency and flexibility with the additional floor area at the interior with access to daylight. Exterior facades were upgraded through new curtainwall systems. That increase visibility while enhancing energy performance.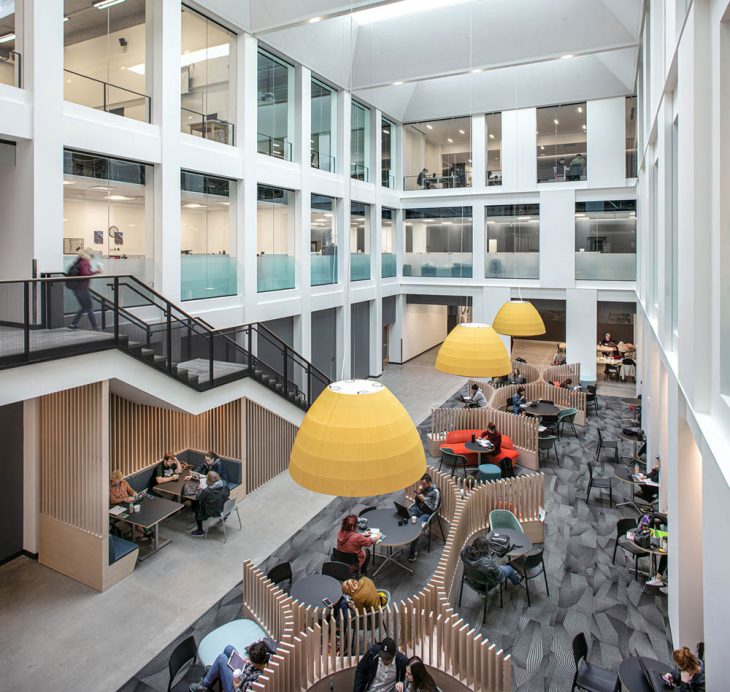 A new central light well brings daylight into the heart of the building, and a more transparent facade provides visual connectivity to the outdoors. The new floor plan nowprovides students, faculty, and staff with enhanced opportunities for cross-pollination. Improved ground floor program distribution also now provides visual and physical connections between the plaza and park amenity spaces and expands opportunities for more student activity and interaction outside of the classroom. The physical connections are improved through a continuous accessible floor plan with full ADA access and enhanced way finding. Previously closed-in hallways and circulations now have unobstructed line of sight between the building's eastern and western perimeter.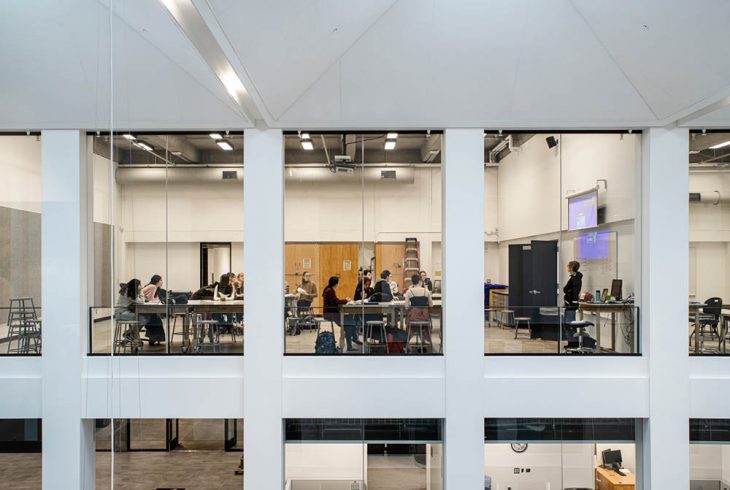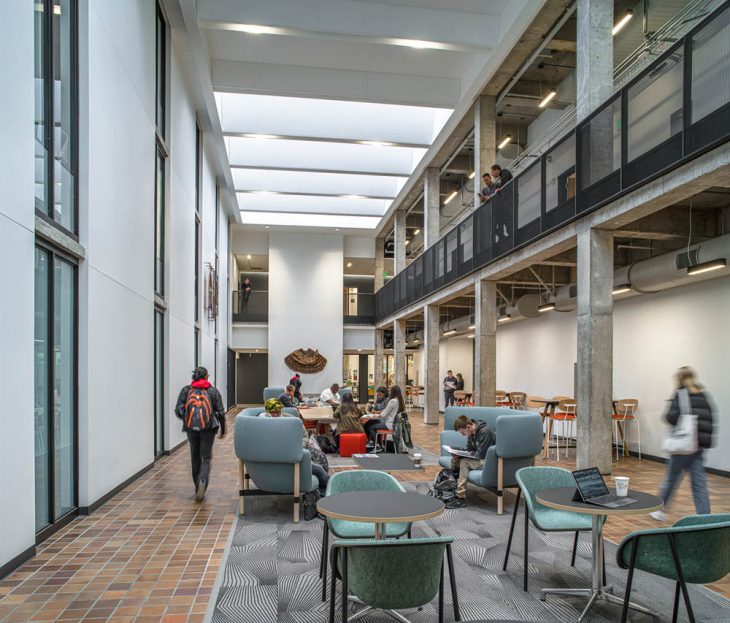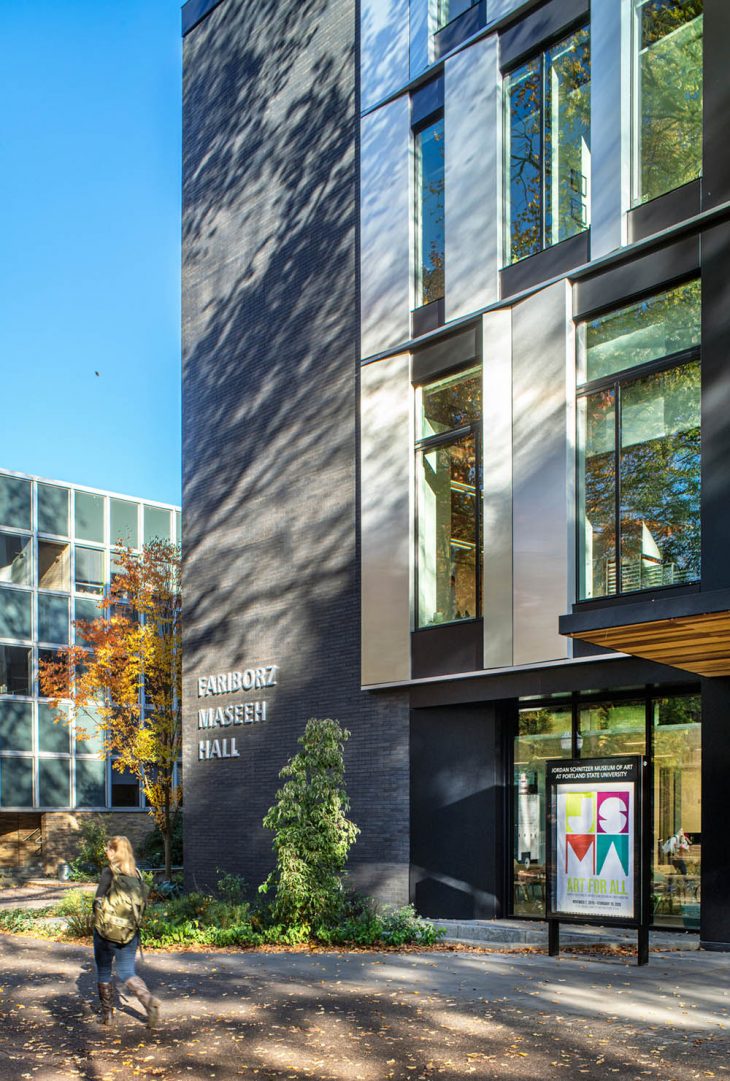 By renovating Fariborz Maseeh Hallrather than demolishing and rebuilding, the team was able to preserve the embodied carbon of the building and substantially reduce carbon emissions. Together, the combination of replacing all windows with high performing substitutes and the increased daylight into the building, reducesthe building's energy demand by 25% from the CBEC baseline model of buildings of similar size and use.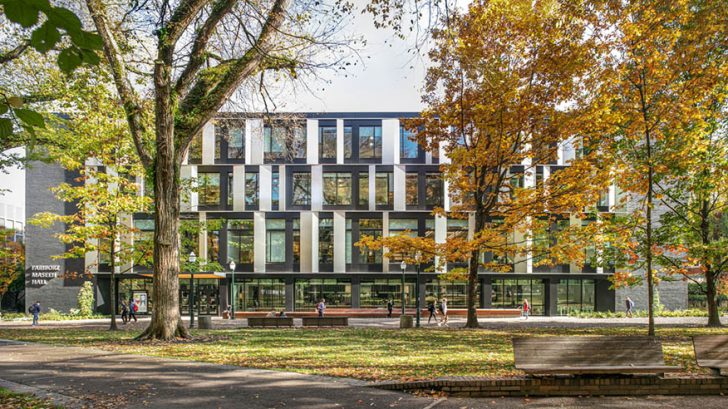 Hacker Design Team
David Keltner – Design Principal
Jennie Fowler – Interior Design Principal
Nick Hodges – Project Manager
Rashmi Vasavada – Project Architect
Matt Leavitt – Project Architect
Sonia Norskog – Interior Design
Jake Freauff – Design Team
Shawn Glad – Design Team
Marissa Jordan – Design Team
Brendan Hart – Design Team
Alex Palmer – Design Team
Vijayeta Davda – Design Team
Brad Smith – Design Team
Consultant Team
Architecture and Interiors: Hacker – www.hackerarchitects.com
Contractor: Fortis
Landscape: Mayer / REED
Civil Engineer: KPFF
Structural Engineer: ABHT
Mechanical & Plumbing Engineer: PAE
Electrical Engineer: Reyes Engineering
Geotechnical Engineer: GRI
Lighting: Biella Lighting Design
Acoustical Engineer: Stantec
Façade Building Envelope: RDH Building Science
Historic/ SHPO: Architectural Resources Group
Sustainability: Lensa Consulting
Photography
Pete Eckert