Your workspace acts as a public portrayal of your business, no matter what type of workspace it is; even those who drive for a living must strive to ensure that they can impress their clients with the overall look of their car or vehicle.
Clients may see your workspace for a variety of reasons. Many visit offices for meetings and other business matters; others will simply be there to use your services. However, no matter why they are viewing your working area, the overall look should be a key reflection of your company's style, branding, and goals. Research has discovered that a well-thought-out workspace not only improves the overall visual aesthetic but can also boost the productivity and enthusiasm of employees. If you are no expert in interior design and need some advice on how to make the best of your workspace, this guide will give you some helpful hints to keep in mind when trying to impress clients:
1. Consider the use of space
Regardless of how much space you have to work with, from a huge two-story office to the dashboard on the company car, ensuring that you're making the best of it will improve both the visual aspect and efficiency.
For office space, for instance, you should consider the most effective layout of the room for employees, and take the aesthetics into account. You may consider incorporating glass screens between desks to give employees their own privacy while working or opt for an open-plan layout for collaboration purposes. The option you choose will be heavily dependent on the nature of employee's daily tasks; for example, if employees spend a significant amount of talking to customers via phone, partitioned sections, or cubicles would be ideal to limit noise, while frequent collaboration and teamwork between staff would be better-suited to free-flowing design.
2. Incorporate striking pieces
As soon as a client walks through the door of your premises or climbs into your car, they will make an instant judgment; therefore, making a good first impression matters. This can be achieved through the use of striking décor pieces, which have the power to break the ice by becoming a key talking point and potentially even build on the professional relationship. Where possible, you could even incorporate artwork and commemorative pieces within the space which relate to the business in some way, whether it be a monumental achievement or a nod to the business's history.
If you are a company that transports clients from A to B for business matters following an office meeting or your entire business model involves driving, ensuring your vehicle is also equipped with statement assets is sure to further impress guests. A great option here is to install double din dash kits complete with all of the electronic features needed. A fancy radiowill provide a smooth and comfortable drive and also look great. You could perhaps even re-upholstered seats in branded tones.
3. Focus on natural lighting
The most welcoming and productive workspaces are those which are filled with natural light, as it allows employees and clients to feel more in tune with the world around them as opposed to trapped and isolated. Although artificial lighting can be used to brighten up dark office spaces, long-term exposure can be a major distraction and also have an impact on health and well-being.
Enhancing natural light within your office premises can be achieved with the installation of roof lights or wall-to-floor windows across the exterior wall. What's more, adding reflective materials such as mirrors to bounce light from one surface to another will give the illusion of a lighter and brighter space without the need for structural adjustments.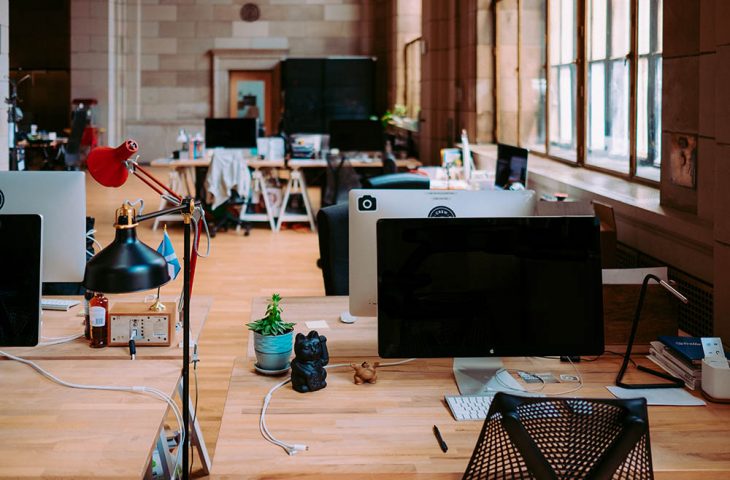 4. Consider the use of color
While many individuals prefer neutral tones within their homes, the opposite should be achieved within a workspace to stimulate energy and creativity. Bold tones have the ability to raise employee motivation by creating a more inspiring, optimistic, and enthusiastic environment which will certainly rub off on clients when they pay a visit to your premises or use your services.
Red and yellow tones are those which spark vitality in the likes of office spaces and meeting rooms, while cooler tones such as pale blue and mint green are ideal for zones of relaxation such as staff rooms or bathrooms. However, for company cars, you may consider that choosing a brighter color could make it easier for clients to spot you.
5. Get rid of clutter
Clutter can easily build up in any type of workspace due to the number of items needed throughout the day to fulfill various duties. However, it can make the space appear disorganized and inefficient, which doesn't make a great impression. With this in mind, it's important to evaluate which items are needed and can be stowed in storage furniture which matches the interior style and those which can be discarded to better organize the space.
You can find storage solutions for every workspace imaginable, including a car!