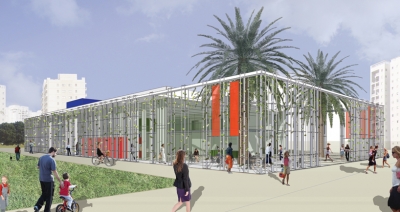 Project: Green Walls
Designed by Golany Architects
Design Team: Galit Golany, Yaron Golany
Agronomists: Israel Galon, Danny Elmalich
Floor Area: 1650 sqm
Location: Ashdod, Israel
Website: www.golanyarchitects.com
Golany Architects share with us their work on Green Walls project in Ashdod Israel, the specially designed walls create the all important shade and help the climate control of the project.
Find more of the project after the jump:
From the Architects:
Green Walls for shade and climate control surround this building, designed by Golany Architects for the city of Ashdod, in southern Israel.
The building is located right in the centre of the city, and is intended to become a centre for young people, where they can obtain information and direction in matters of higher education and career planning. The building is designed to reflect the younger spirit, also in setting an example in its environmentally responsible design.
The design choice to envelop the building with green walls derived from both the environmental benefits, and the urban context. The site is surrounded by a dense city fabric. We wanted the building to distinguish itself from its immediate urban environment, by designing it as a non-building.
The design of the facades is based on colonnades that serve as urban passages, and provide shading and climate control. The columns are formed as frames to support the growth of vines, relying on the Mediterranean region's long tradition of using vine-covered pergolas to escape the heat.
The building and the columns were designed to be effective, whether or not they are covered by plants. The design process was monitored by an agronomist, who assisted in the selection of vine species, and in the provision of optimal conditions for growth, to ensure that the concept of green walls could be attained in reality with minimum maintenance requirements. Thanks to the selection of plant species and the simple cultivation method, the expected water consumption via irrigation of the vines is negligible.
The vegetated elevations are more effective in moderation of the temperature in the building and its immediate environment than built shading solutions, as plants do not store and re-radiate heat. Instead, they contribute to further cooling through evaporation and transpiration. Plants also improve air quality, and their positive influence on our mind and soul is indisputable.
To reduce energy consumption farther, natural north facing light is abundant, along with natural ventilation with good circulation.