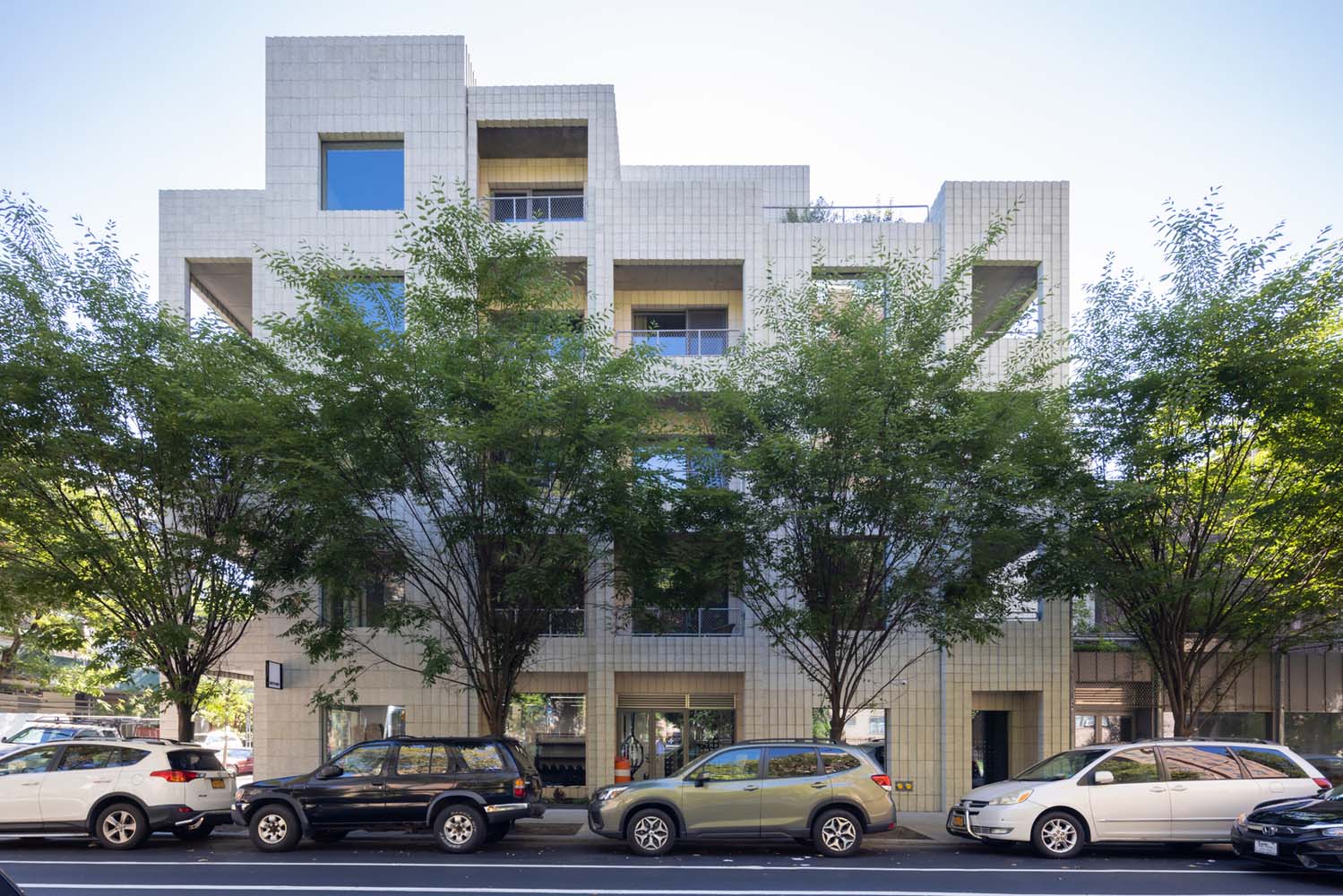 Architecture studio SO-IL has recenlty completed works on 450 Warren, an apartment complex in the formerly industrial area of Gowanus. The area is richly diverse in historic housing models, ranging from row house brownstones to towers surrounded by green.
Our design frees urban multi-unit dwellings from traditional protocols. We engage with what makes the city more livable: conversations with the outdoors and conversations with others.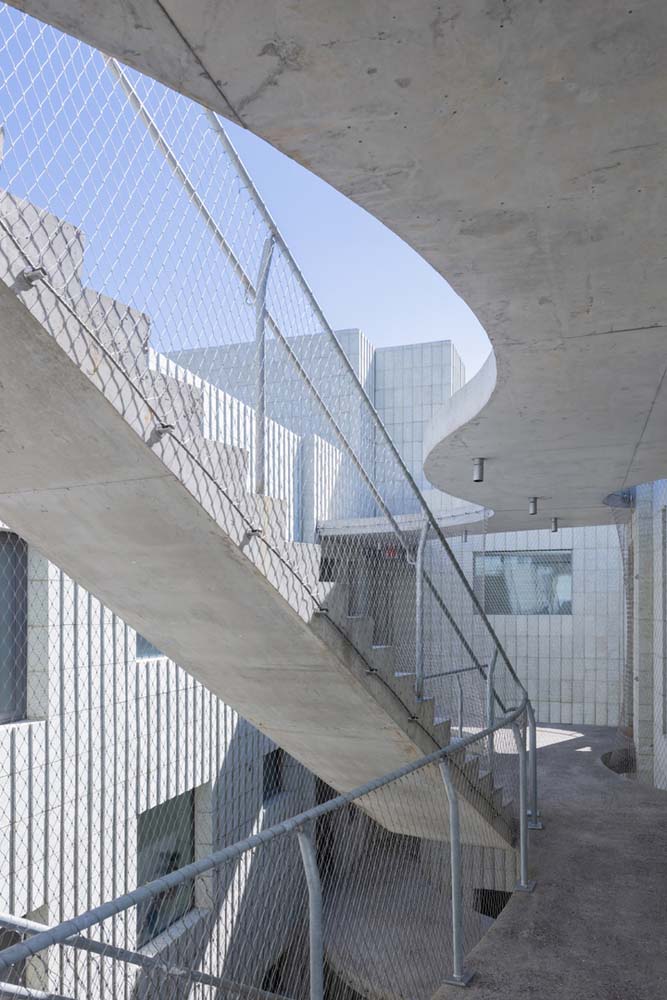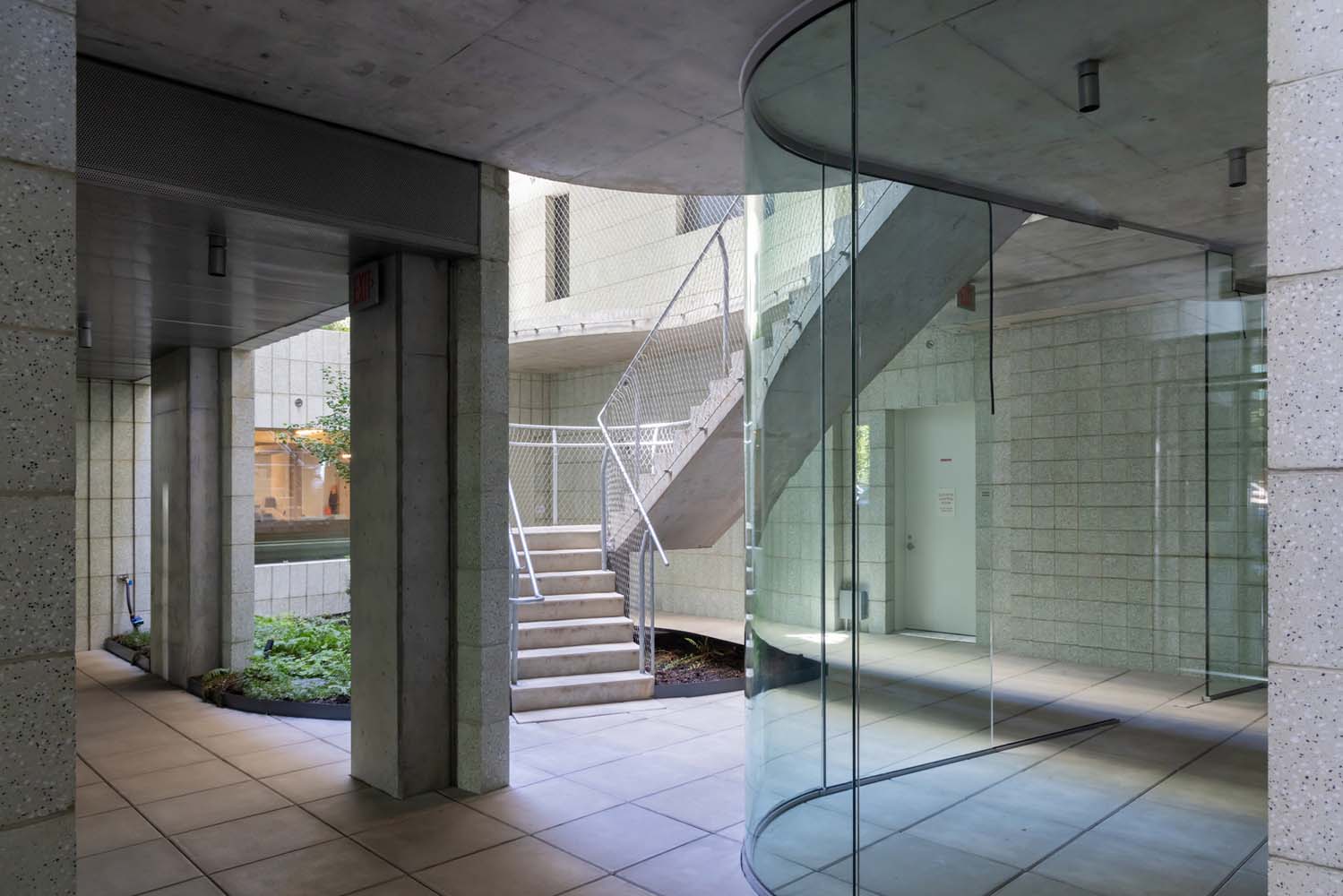 A spacious landscaped courtyard at the center of 450 Warren connects to the residences by concrete walkways that are suspended in the air. The curved platforms are covered in a flexible cable net similar to those found in aviaries and other zoo enclosures, a surprising method of providing fall protection that takes some getting used to. This is in contrast to the strictly orthogonal lines of the remainder of the building. The exposed concrete slabs have electric heat tracing for snowmelt in colder months. Each slab mimics the contour of the one below it to provide the necessary covered walkways.
Each volume and courtyard is surrounded by textured brickwork, and shadows flow across various orientations to track the changing of the seasons.
A community entails both casual connection and shared spaces for socializing and resting. Neighbors view one another's comings and goings across the way, and a shared entry courtyard encourages discussion. Translucent materials enable light and the passage of the seasons to infiltrate the activity within the building.
We believe open space and green make living in proximity to one another more sustainable.
Contrasting places for seclusion and intimacy are another aspect of community life. The entrance to each flat is on the outside. A front porch marks the beginning of the transition to private space and, like neighborhood front stoops, serves as a boundary between indoors and outside as well as between social and private space.
Living spaces are divided into indoor and outdoor zones according on how they relate to the courtyards' surrounding environment. Each living space is extended outdoors by spacious terraces. Master bedrooms are shielded from the street by private balconies. Every apartment in a courtyard is permitted three windows on each side. A variety of window sizes creates environments with shifting natural light and framed views of surrounding courtyards and neighborhoods.
Project information
Architects: SO-IL – so-il.org
Area: 5016 m²
Year: 2022
Photographs: Iwan Baan
Manufacturers: Schöck, Carl Stahl, Guardian, MetroPolder, Reynaers
Structural Engineers: Silman
MEP: ABS
Geotechnical Consulting: GZA
Lighting Consultants: Lighting Workshop
Landscape Consultants: Gowanus Canal Conservancy, Brooklyn Grange
Principal In Charge: Florian Idenburg
Principal: Jing Liu
Project Architect: Ted Baab
Architect In Charge: Karilyn Johanesen
Designers: Deok Kyu Chung, Alek Tomich, Danny Wei
Expediter: Vittaco
Specifications: Aaron Pine
Building Envelope: Laufs Engineering Design
General Contractor: KSK Construction Group
City: Brooklyn
Country: United States